How To: Use Outlook.com as a free custom domain email host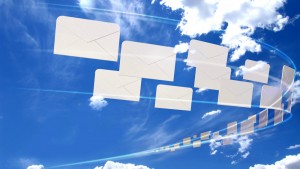 Google shocked the tech world back in December of 2012 when, out of nowhere, it announced that Google Apps Free Edition was going bye-bye. I was also a bit disappointed to hear about this, as it provided a free way for clubs and small businesses of 10 users or less to leverage the power of Google Apps for their email, calendaring, contacts, etc.
Yet as a consultant to numerous clients supporting clients on the Free edition, who knows the unreasonable expectations they sometimes hold the (free) service to, I can see Google's justification for pruning the bushes here. We can all agree: it was good while it lasted.
Luckily, there is another stable (and also completely free) option for those who want to route email for their custom domain through something other than terrible POP or IMAP email through their webhost. I've got nothing against webhosts themselves -- but their 'free' email solutions are horrible. From GoDaddy to 1and1 to the other big boys all advertising their 'free' email services, none of them are worth their weight in salt.
Enter Outlook.com. Yes, that fierce new competitor to Gmail that is quickly picking up steam. BetaNews writer Mihaita Bamburic pitted it head to head against Gmail, and while he claims it doesn't topple Gmail (yet), it is still a very solid solution to free email. And Microsoft has been doing anything but sitting on its heels with this new cloud service.
In a self-boasting blog post on the Outlook blog, Microsoft wanted to ensure we all knew that the platform has hit 400 million users as of May 2013; that it's the 'fastest growing email service' in history; and that the platform has received over 600 improvements in just 12 months since inception. Not a shabby resume for the service's rookie year.
But is Outlook.com Actually a Good Service?
The definition of good when it comes free cloud email service is highly subjective. Let's frame our discussion here on the same baseline so that expectations are appropriate. Google Apps Free Edition is dead. You may be someone that would have gone that route for your non-critical custom domain email needs, but instead you're likely just forwarding messages to another service, or worse -- having to put up with pitiful registrar or webhost provided POP or IMAP email. What other decent options do you have at this point?
Now that we've framed the debate on proper terms, you can either stick with using awful half-baked webmail through a webhost, or funnel it into a bloated Outlook PST file, or look to a more plausible alternative. Outlook.com is fully capable of working with your custom domain email with just a little elbow grease. I set my own personal domain up on Outlook.com and it took me no more then about 30 minutes. And no, I didn't have any experience doing this for any customers yet.
So what do I actually think of the service? For someone that lives in Google Apps, yet is fairly familiar with the Office 365 Outlook Web App experience, Outlook.com feels right at home in most ways (you can read my full thoughts on the new O365 OWA interface from my full Office 365 review). The interface is more than similar to Outlook Web App 2013; the two seem to have come from the same mother with a few nuances changed here and there. See below to understand what I mean: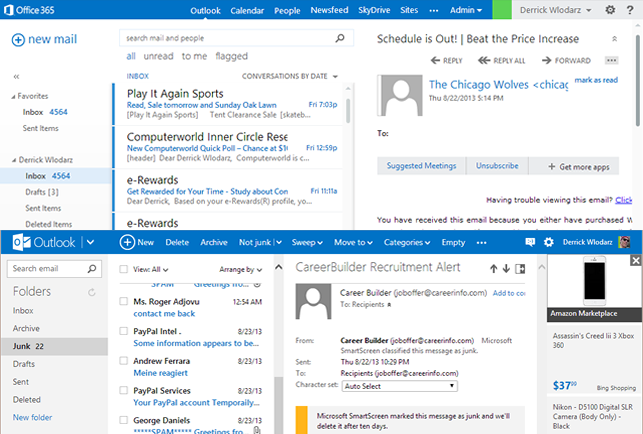 The Office 365 Outlook Web App 2013 experience (top) strikes considerable resemblance to the Outlook.com interface (bottom). From reading pane options, to a common blue top navigation bar, Microsoft is clearly unifying its cloud email ecosystem akin to what Google has between Google Apps and free Gmail. The biggest difference? An ad bar that straddles Outlook.com on the right hand side.
The similarities are not a bad thing, per se. I think Outlook Web App 2013 is a BIG improvement from what all previous versions had to offer (particularly pre-2010). It's partially why only recently have my customers become comfortable with ditching desktop Outlook in favor of Outlook Web App full time on Office 365. And I'm glad to see Microsoft taking cues from what's working on the commercial side of its offering.
The core workings of Outlook.com as a custom email domain host work the same as what any Outlook.com user already enjoys. Spam filtering, for example, is top notch and matches the pleasant experiences I have been seeing on Office 365. While Microsoft doesn't come out and say it publicly, there is a blurb on a tucked away Spam Filtering and Hygiene page in the Outlook Web App help center which alludes to Outlook.com using Exchange Online Protection.
EOP is the bona-fide powerhouse backbone that provides all things malware and spam filtering related for Office 365, and if it indeed is in use for Outlook.com users, then piggybacking Outlook.com for your own free email domain needs is a sizable win-win scenario (and a definite bargain).

Moving your email needs to Outlook.com? No need to ditch your aging AOL account, even if those scoundrels don't offer free forwarding service. Outlook.com supports native additional POP accounts that can be pulled right into your main inbox. Send and receive email from your legacy AOL, Yahoo, Comcast etc accounts with no effort after initial setup!
Microsoft even offers a fairly decent mobile app that is targeted at Android users (sorry iPhone folks) which mimics what the email experience is like on the Windows Phone side of things. And I happen to enjoy it. The app isn't getting the hottest reviews on Google Play, and I'm not dismissing all of the negativity, but in my own personal time with the app, I didn't experience any of the slowdown or gripes that some people highlight. It could be that I haven't spent enough time on it. Try it for yourself, I say, before passing judgement.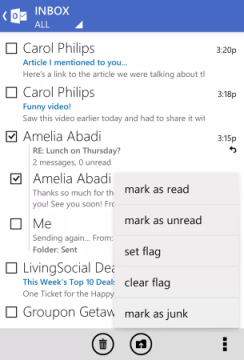 A screenshot from the Outlook.com Android app, culled from the Google Play listing, is shown above. If you've ever touched a Windows Phone before, you would be hard pressed to notice a difference. Folders slide in from the left side; there are extended options that are highlighted in the screenshot; and the buttons used are large and easy to use without making mistakes.
There Has Got to be a Catch
So what downsides could possibly exist to using Outlook.com for your own domain's email needs? There's no such thing as a free meal, and Outlook.com doesn't break that mantra. While many reviewers have focused solely on subjective opinions about usability and how the service (rightly or not) compares to Gmail, here are some solid objective topics that may sway your decision on the service:
(Slightly) Obtrusive Ads: If there is one thing Google does a better job of, it has to be keeping Gmail ads on the sly. Whereas Gmail has ads only shown when you are viewing email messages, in Outlook.com they are persistent throughout the entire browser experience. There is a dedicated vertical ad bar that eats about 10% of your screen real estate on the right hand side at all times. You can opt to pay the $20/yr USD to get rid of the ads, which is still a bargain compared to paying $48/yr for an Exchange Online Plan 1 Office 365 account. The $20/yr paid upgrade also eliminates the possibility of gripe #2....
Forced Closure of Dormant Accounts: Similar to what Yahoo does with their free email service, inactive users that do not login at least once within a 365 day timespan will find their entire email account contents wiped; messages will be returned to sender on new emails; and presumably, your account will go into email purgatory. If you are switching your email domain usage to Outlook.com this may not be an issue, but is still worrisome for users who may set up extra accounts to hold email from old POP/IMAP boxes. Guess that $20/yr upgrade looks pretty attractive after all.
No Support: Just like with the free Gmail service, you are truly on your own when things break or aspects of the platform don't function. Unlike the 24/7 support that Microsoft offers paid Office 365 customers, you don't get access to that by using Outlook.com. Most people would call this a reasonable expectation due to the service offering so much at no cost, but I just wanted to make this very clear. Too many Google Apps Free Edition customers I know think that just because they are on the same platform as paid users, they should be entitled to all of the same paid benefits. If you are looking to move a business email domain onto Outlook.com, know your risks before moving into these uncharted waters.
The bright side of Outlook.com which I did not point out yet is that there is virtually no storage cap on the service. Even Office 365 offers only 25GB inboxes with no upgrade capacity (as of yet). With Outlook.com, Microsoft says that the inbox size "
expands with your usage
" as time goes on. Good to know, especially with the quantity and size of messages we are sending and receiving these days.
So just like anything, Outlook.com has its upsides and downsides. But as a clear alternative to the free Google Apps edition which was wiped away, its a pretty positive option for those who do not want to keep using Outlook locally to store their PSTs or are tired of the 1990's SquirrelMail interface from their webhost's free email service.
How Can I Get My Domain Email Working on Outlook.com?
The procedure for switching your domain to use Outlook.com as its email backbone is pretty smooth, as long as you follow the instructions. Microsoft doesn't advertise these instructions publicly, but numerous individuals online have created similar tutorials since last year showing the same results. Is there a chance that Microsoft may pull the plug on this at any time? Sure -- but then again, Google shocked us when Google Apps Free Edition died, too.
I am going to walk you through a step-by-step process of turning Outlook.com into the funnel for all of your email for any custom domain you may own. Yes, this means you can potentially use this for business email service. If I said you couldn't I would be lying. But should you do so?
As an email service consultant to my clients, I would never recommend this for any sizable operation that needs 24/7 uptime and has to have an outlet of immediate support when things break. Some situations like a one person small business or a professional organization that has no IT budget may be justifiable. Just don't come crying to Microsoft if things don't work as intended at 3am when you need to get that proposal or other important email out.
With that said, as a host for a personal email domain, Outlook.com fits the bill nicely. My own personal website domain email doesn't have to be operating like clockwork, as it only deals with a handful of  messages per week (non-business related) and a little downtime won't hurt anything. So I decided to make the move and see what Outlook.com had to offer. The process was seamless and the transition took little effort.
Here's how you can do the same!
1) Sign into the Windows Live Admin Center. This is where Microsoft has tucked away the slightly-hidden area that initiate the capability for Outlook.com to connect with your domain's incoming email. This is located at: https://domains.live.com. You can click on the Get Started link on this page after signing in.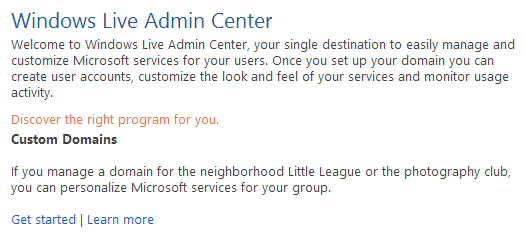 2) Plug in your custom domain name. From here, you need to merely enter your custom domain name into the proper box. And be sure that "Set up Outlook.com for my domain" is chosen just above the Continue button.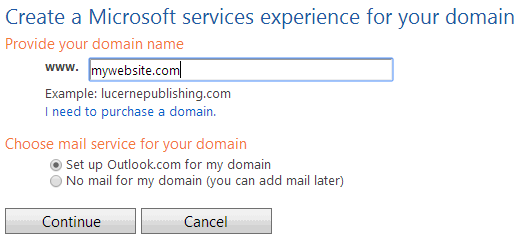 3) Confirm your settings look correct. This is where Microsoft ensures everything looks right, and also asks you to accept their TOS for Outlook.com usage with a custom domain.

4) Prove your domain ownership through an MX change. This is where you need to be able to login to your registrar to make the change which enable mail flow to hit your new host, Outlook.com. Be aware that this WILL start routing email to Outlook.com fairly quickly (depending on your TTL setting, or Time to Live, on the MX record currently set). Don't go past this step if you are unsure about using Outlook.com for your ongoing email needs.
The first graphic below shows the screen Microsoft presents which gives you the necessary information to change your MX record. The second is a sample shot from my domain registrar, GoDaddy, for changing the MX records in their DNS Zone Editor. This process is different on every domain registrar so beware and consult your registrar for correct instructions. Call support if necessary -- this step can have devastating consequences on potentially lost email.


5) OPTIONAL but recommended -- SPF Record creation. Some hosts like 1and1 do not allow for TXT records on their DNS settings area, which prohibits you from using this spam fighting feature, but most other reputable domain registrars support them. You can use the TXT record entry option on your registrar to add in what is known as an SPF record. This simple little entry allows other email services which enforce the functionality to fight spam that would otherwise mask itself as coming from your domain to others. It's not critical to have, but it does help put a dent in the toolbag of the scummy spammers out there masquerading messages with your email domain on them.

6) Add your email accounts, up to 50 of them. This is where you will now be allowed to create all of the addresses (or accounts) you need on your new Outlook.com backbone. You have full control as the administrator to make any combination of addresses, up to 50, and give everyone an inbox that needs one. This beats the 10 account limit the free Google Apps used to have, so in some ways, this is actually pretty neat! If you use Outlook.com to host your family's personal domain, you can give every uncle and aunt their own email account.
7) Sign into your new Outlook.com powered custom email account! Now that you have setup your account, you can freely sign into your inbox and start playing around. Go through www.outlook.com just like any traditional user, and use your custom email domain address and password you just created. If you got your steps right from above, you should see your inbox and you can even write your first email.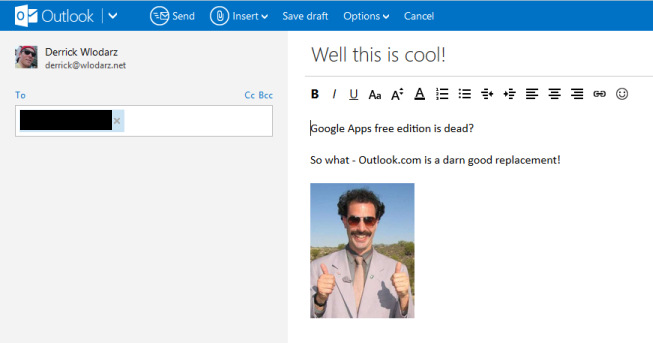 There may be a point where Microsoft asks you to verify your mobile telephone number in order to fight fake bot-created accounts, and this is also to be expected. I only had to go through this once and was never asked about it ever again. It looks a little something like this:

Even in light of some of the negatives like the slightly overbearing ads and a 365-day dormant account closure warning, the upsides from this completely free and plausible platform for your custom email domain needs are plentiful. Unlimited inbox storage space, check. Mobile access on all modern smartphones as well as on desktop Outlook, check. A darn good web interface that rivals Gmail... check as well.
I am going to continue testing the platform to see if I find any items which throw me a curve ball, but the service as a whole seems pretty straightforward. It will be interesting to see if Microsoft changes any of the functionality surrounding custom domains on Outlook.com in the future, seeing that the Windows Live Admin Center is chock full of references to the now-dying Hotmail platform and 'Windows Live' brand. It could be a throwback to Microsoft being in the middle of a transition with branding on their cloud services, or it could be the vestige of a soon-to-be-closed functionality. Only time will tell.
For now, I am making an educated guess and expect Microsoft to fully keep supporting this sly alternative to the now-dead Google Apps Free Edition. Besides, the writing is on the wall in Microsoft's bitter fight to keep Google at bay in the online services arena, especially with free email. They just integrated Skype connectivity with all Outlook.com users, and the 'Scroogled' campaign is by all means far from over. If you don't have the budget to pay for Google Apps or Office 365, then Outlook.com is a darn good option in my eyes.
Photo Credit: 2jenn/Shutterstock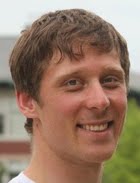 Derrick Wlodarz is an IT Specialist that owns Park Ridge, IL (USA) based technology consulting & service company FireLogic, with over 8+ years of IT experience in the private and public sectors. He holds numerous technical credentials from Microsoft, Google, and CompTIA and specializes in consulting customers on growing hot technologies such as Office 365, Google Apps, cloud hosted VoIP, among others. Derrick is an active member of CompTIA's Subject Matter Expert Technical Advisory Council that shapes the future of CompTIA exams across the world. You can reach him at derrick at wlodarz dot net.