Delta Airlines buys 11,000 Surface 2 tablets for its pilots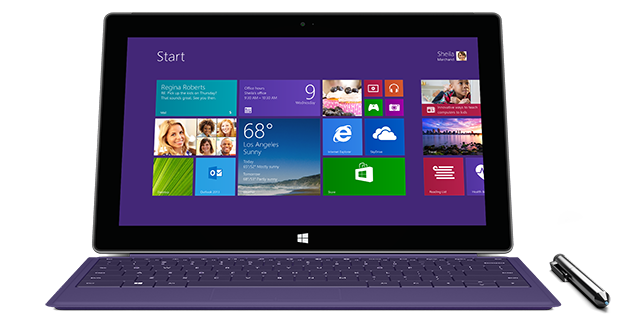 When I attended the Surface 2 event in New York City, I came away impressed with the new tablet. Its versatility and improved battery performance make the Windows RT device quite intriguing. While I like the Surface 2, it was the Blades that really impressed me -- I like the way that they could focus an experience on a particular task. Today, Microsoft announces that Delta Airlines is buying 11,000 Surface 2 tablets.
While the airline is not leveraging customized Blades, it has still found great value in Surface and the Windows RT platform. Microsoft says that Delta "is equipping its 11,000 pilots with electronic flight bags using the Microsoft Surface 2 tablet. Device rollout to pilots flying the Boeing 757 and Boeing 767 fleets will start later this year and all Delta cockpits are projected to be paperless by the end of 2014". It seems Delta is a fan of Windows as the company is also equipping its flight attendants with Windows Phone.
"The Surface tablets fully integrate handheld technology in the flight deck, streamlining organization of necessary materials and ensuring continuity of information accessed by pilots while giving them the latest tools to drive operational and cost improvements. The reduction of paper in the cockpit also reduces clutter and allows pilots to spend more time focusing on flying the aircraft as they will benefit from an intuitive user interface with functions to find key information faster without having to hunt for appropriate manuals in flight bags or page through paper documents", says the Redmond, Wash.-based company.
Brian Hall, Surface General Manager at Microsoft says, "this announcement demonstrates Delta's absolute commitment to bringing the best in technology innovation onto their flight operations. The full HD Surface screen and 10-hour battery life will be perfect for flights where Delta pilots will get seamless real-time data and visualization in a variety of lighting conditions. And then they can be productive off the plane with Microsoft Office and our click-in keyboard. We look forward to seeing how Delta amazes us with its Surface tablets".
While the Surface 2 improves safety and productivity, it will also save fuel and reduce the airline's carbon footprint. The Surface Tablet manufacturer says, "rolling out the Surface 2 tablets across the entire fleet and eliminating paper in the cockpit means the carrier will remove traditional 38-pound pilot flight bags maintained on board aircraft for each pilot. That critical weight reduction is expected to reduce fuel usage by an estimated 1.2 million gallons per year which translates to a 26 million pound reduction in carbon emissions -- the equivalent of taking more than 2,500 passenger cars off the road. Additionally, the tablet will cut the airline's paper usage by 7.5 million sheets annually and save an estimated 900 trees each year".
Overall, it seems to be win-win all-around. Reducing fuel usage and improving safety is always a huge plus. However, increasing Surface and Windows RT usage is also a great benefit to Microsoft. Quite frankly, knowing that Windows RT is essentially being trusted with human life is a big feather in the struggling operating system's cap; if a major airline is trusting its reputation to it, maybe consumers should too.