Windows Phone 8 finally gets Instagram, new apps and games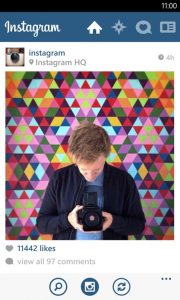 Alongside the new Lumia 1520 and Lumia 1320 Windows Phone 8 phablets and the Lumia 2520 Windows RT 8.1 slate, Nokia also announces a number of popular apps and games that are set to launch on Microsoft's tiled smartphone operating system.
Undoubtedly, the most popular new title to grace Windows Phone Store is Instagram. The photo-sharing social network will finally launch its offering "in the coming weeks", roughly a year after Microsoft introduced its latest smartphone operating system.
"Our ultimate goal is to bring Instagram to everyone who wants to use it", says Instagram co-founder and CEO Kevin Systrom. "We're looking forward to watching the Windows Phone community use Instagram to capture and share beautiful moments in the coming weeks".
It will be interesting to see how Instagram fares against what Windows Phone 8 has to offer in terms of third-party clients. My personal favorite is 6tag, that has a number of unique features which are not available in any official Instagram app, be it for Android or iPhone. That said, it is likely that the Instagram Windows Phone 8 offering will (rapidly) erode the third-party market, as more handsets get in the hands of consumers and Microsoft will showcase it in Store.
CamScanner is another new Windows Phone 8 app which will launch "soon", that allows users to scan, manage, edit, share and sync documents. Also coming soon are Nokia Camera (the merging of Nokia Smart Cam and Nokia Pro Cam), Nokia Storyteller (creates photo maps and picture timelines), Papyrus (handwriting note-taking app), PicFeed (creates and shares Instagram feeds), Plex (manages and shares multimedia content across multiple devices), Vine, ESPN F1 (Formula 1 coverage) and Vyclone Pro (video collaboration).
When it comes to games, Windows Phone Store will soon offer Asphalt 8: Airborne (car racing simulator), FIFA 14 (real football simulator), Danger Dash (adventure), My Talking Tom, Rail Rush (Lumia-exclusive for three months), Rabbids Big Bang, Rayman Fiesta Run (adventure) and Temple Run 2.
As far as available offerings go, we only have the InNote handwriting app and the phriz.be photo-sharing app, which are far from being exciting. Also keep in mind that Vine was previously announced during the Lumia 1020 unveiling, and has yet to arrive in Windows Phone Store. I advise you to take the "coming soon" estimates with a grain of salt.