Pandora adds Chromecast support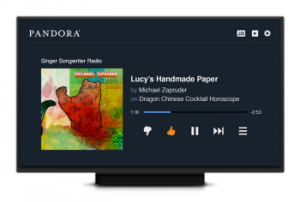 It has been less than 24 hours since music streaming service Pandora took the wraps off version 5.0 of its mobile app for Android, giving users a new tablet-friendly look and improved features. Now the company adds yet another update to the list, this time in the form of support for Google Chromecast.
"Today, we're excited to share that Pandora is now available on Chromecast, Google's new TV-connected device that wirelessly delivers online audio and video entertainment to the biggest screen in the home", announces Pandora's Tom Conrad.
If you are in possession of the little $35 dongle, then you will be able to 'cast' the music service to the TV and use a smartphone or tablet as a remote control. "Core Pandora functionality, such as Play, Pause, Thumb and Skip are all easily controlled via your mobile device for a seamless listening experience", the company explains.
Once the setup is complete then all further action takes place directly from the cloud and your mobile device is no longer required to keep the music going.
With this announcement, the company further strengthens its tv.pandora.com brand, which it thinks is the model of the future. "We believe the model of web standards-based apps running on the TV, controlled by a smartphone or tablet, is the winning formula for powering second screen experiences", Conrad explains.
To take advantage of this feature, users will need to have version 5.0 of the mobile app, which was pushed out to Android and iOS yesterday, and is free to download from the respective app stores.