Microsoft targets Samsung's Galaxy Tab 3 in new Surface RT ad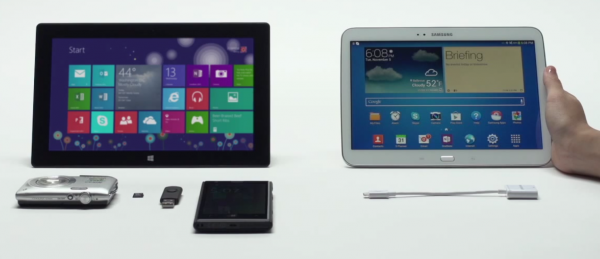 After pitting its Surface 2 against Apple's iPad Air (unsurprisingly, the former wins that round), Microsoft is now going after Samsung's Galaxy Tab 3 10.1 in a new Surface RT ad that focuses on the connectivity options offered by the two devices.
It is a no-brainer as to which one wins the battle in this new ad -- yes, it is the Surface RT. The slate comes out on top as the superior device because it allows users to connect an external display, connect a drive to the full-size USB port and charge it, at the same time. Meanwhile, the Galaxy Tab 3 10.1 is portrayed as the sore loser due to its significantly limited hardware design.
It can only do the charging part out-of-the-box through its microUSB port. But, the other tasks require the "purchase of additional connectors". Ironically, the Surface RT also requires an additional adapter to connect it to an external display -- this is openly said in the beginning of the ad.
This should not detract from the connectivity benefits offered by the Windows RT slate which, indeed, does allow users to do more things at once, but it slightly diminishes the impact of the ad.
The ad ends with a "No full-size USB? No thanks." message that will probably appeal to those seeking a tablet that can work as a laptop replacement. The ad, however, does not tackle other aspects of the tablet experience such as performance, build quality, software differences, apps and so on. Microsoft has carefully chosen its battle and won.
Pricing is not discussed either, but it does not have to be because viewers will do the work for Microsoft. After all, the ad was conveniently released ahead of Thanksgiving and Black Friday.
At the time of writing this article, the Galaxy Tab 3 10.1 is available for $299.99 at Samsung's online store while the Surface RT costs $199.99 -- with a "best price ever" tag -- at Microsoft Store, undercutting its competitor by $100. Make no mistake, this ad was specifically designed with Black Friday in mind, as consumers rush to purchase discounted products. Think about it: If you are looking for the best deal, which one would you pick?