KitKat surfaces in Android distribution charts, points towards quick adoption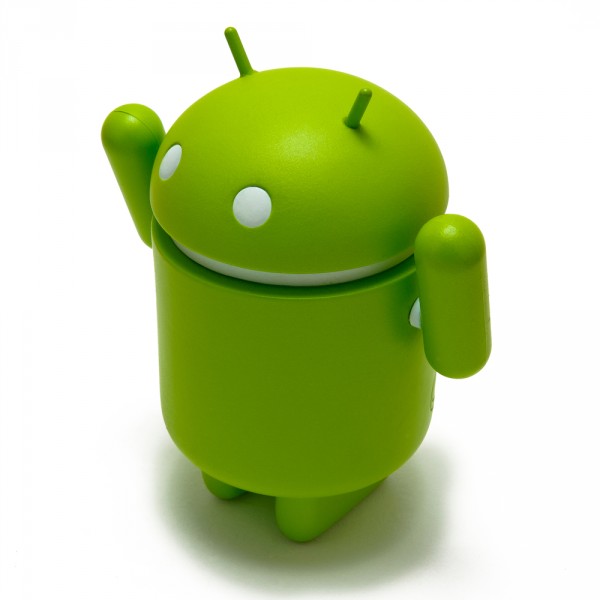 Even though just a little over a month has passed since Google released the Nexus 5, and even less since Android 4.4 started rolling out to compatible devices, KitKat has already made its way into the Android distribution charts. It is a very impressive achievement considering that it took the third Jelly Bean iteration more than twice as long to enter the charts.
Based on the number of devices accessing Google Play in the seven days ending December 2, the three Jelly Bean iterations continue to dominate the Android landscape with a whopping 54.5 percent share, up from 52.1 percent a month before. Android 4.1 is the most popular distribution, running on 37.4 percent of all registered devices. Its growth is barely noticeable, up from 37.3 percent in early-November.
Android 4.2 has also grown, slightly, in distribution level, to 12.9 percent from 12.5 percent. The third Jelly Bean iteration is also up, to 4.2 percent from 2.3 percent a month before. The two versions are a popular choice for manufacturers who continue to release software upgrades (for instance, Samsung just updated a number of its devices to Android 4.3) and new devices running the two iterations.
The newest version of the popular mobile operating system, KitKat, has reached 1.1 percent of all registered devices. Its quick rise can be attributed to Nexus 5 sales and software upgrades (compatible Nexus devices and some versions of the HTC One and Motorola Moto X have already received the update). The growth will continue once more manufacturers release software upgrades (a number of which are slated for early-2014) and new devices with KitKat on board.
As I have said in my previous stories discussing the Android distribution charts, it's all downhill for older versions of the mobile OS. Ice Cream Sandwich runs on 18.6 percent of all registered devices, a decrease from 19.8 percent a month before. Manufacturers no longer ship popular devices with Android 4.0 (or release software upgrades based on it) or older releases for that matter, so the downfall will continue.
Honeycomb still (firmly) holds the same 0.1 percent distribution level as in early-November. Once it goes below that mark, Android 3.2 will vanish from the charts, as Google requires a minimum of 0.1 percent share for a version to shown.
Gingerbread still runs on 24.1 percent of all registered devices, and, as usual, its influence is decreasing as time goes by. Android 2.3 dropped from 26.3 percent a month before.
Froyo continues with the same 1.6 percent distribution level this month, as in early-November.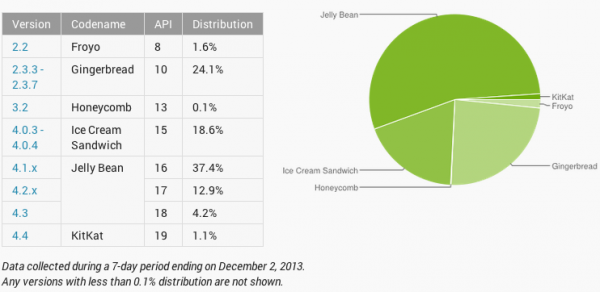 Photo credit: Marc Bruxelle/Shutterstock