Moto X starts New Year right -- $399, off contract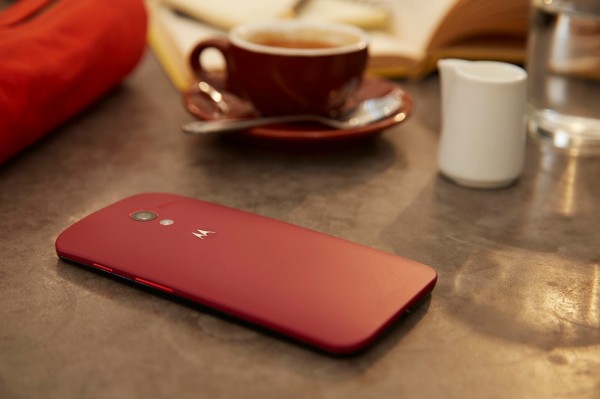 Motorola's New Year's resolution gives notice to Apple and other Android phone manufacturers: We don't need stinking subsidies. Today, the Google subsidiary cut Moto X's off-contract to $399, even personalized, on all carriers. The permanent discount is $50 more than Motorola's glitchy Black Friday sale.
Google has a long history of selling unlocked, off-contract phones, starting with Nexus One four years ago. But in 2012, Nexus 4 brought the price down to something mere mortals could afford: $299. The Android's successor costs more, starting at $349.
"Today several wireless carriers offer good month-to-month or prepaid service plans that cost much less than the contract plans that come with subsidized devices", Rick Osterloh, Motorola senior vice president, says. "Combine one of those plans with our new $399 everyday pricing and you could save hundreds of dollars over two years while keeping the freedom to change service providers when you feel like it. We can even help you finance your purchase so you pay monthly for your contract-free Moto X".
Financing is available on six, 12- or 18-month terms, interest-free, if paid off in time. AT&T and T-Mobile use similar strategy to sell pricier phones without contracts.
Any shift away from 2-year commitments benefits Googorla tremendously. Apple subsidies, particularly, help keep phone prices high and margins rich. When, say, the Verizon customer pays $99 for iPhone, Apple still sells to the carrier for $649.
Google's business isn't about selling phones, unlike Apple. Motorola is in process of reinvention and regaining lost market share. Widening sales to buyers looking to escape contracts or to use pre-paid plans is one way to boost sales that gain share, even at the expense of profits. It's short-term sacrifice for long-term gain. Then there is the potential damage done to Apple, and even some Android competitors. Customers benefit if, long term, Googorola can change how smartphones are sold in the United States.
The new price is $100 more than what newcomer Republic Wireless already offers, and I wouldn't be shocked if Motorola views the carrier's move and the Black Friday promotion as successful market tests. Then there is Moto G, which puts off-contract pricing even lower, but without some of the X's best benefits. The smaller smartphone starts at $179, off-contract.
Motorola's marketing tagline says it all: "New year, new price. Grab a Moto X on any carrier -- even if you're not eligible for an upgrade". The $399 applies to the 16GB model, which can be customized in all colors but not to bamboo, which adds $100 to the price. The Developer Edition, 32GB in black and white, is $449 (for the sake of consistency with Motorola's announcement, prices are rounded down 99 cents; the cheats).
Subsidized, contractual pricing remains. Motorola isn't abandoning the traditional approach, simply widening the phone's appeal to a niche but growing market segment.