Google Nexus 4 first-impressions review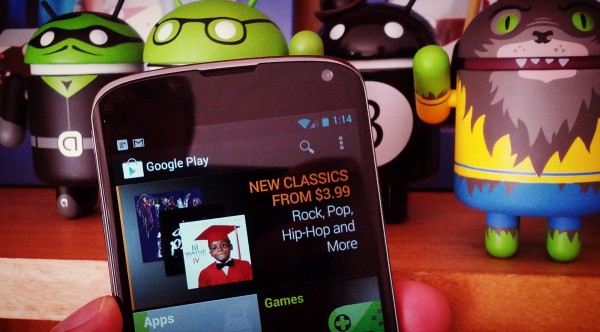 The LG-manufactured Nexus 4 is nearly perfect. Unless you have no other choice, perhaps because of unsupported cellular carrier and binding contractual commitment, put Google's newest smartphone at the top of your must-buy list. The device satisfies in all the right places -- battery life, call quality, display clarity, size and visibility, operating system and performance. There are other Androids with comparable or better hardware, but they typically slap on a secondary UI and ship with older OS. It's not the measure of one attribute, or even a couple, but many combined that make Nexus 4 so good.
But nearly isn't perfect. Nexus 4's flaws, while subtle, will be serious for some potential buyers. There is no 4G LTE, for example. The feature is built-in to the Snapdragon processor but not properly enabled. The phone is HSPA+ for data, which works on GSM carriers like AT&T and T-Mobile USA. No LTE is a deal-breaker for some people, as seen in commments here and elsewhere. Something else: LG copied Apple, which put glass on the back of iPhone 4 and 4S and rightly abandoned the design with the newest handset. Double-sided glass makes the phone less durable than should be, particularly if dropped. Finally, many Galaxy Nexus users won't find its successor to be a compelling upgrade; much depends on what they use their phones for.
Nexus 4 is available from Google Play and T-Mobile USA. Sales resumed today, following two weeks out-of-stock situation. I expect shortages to continue throughout the holidays. Phones from the search giant and cellular carrier are identical and will receive same speedy Android updates. Only price and terms are different. Google Play sells 8GB and 16GB Nexus 4s for $299 and $399, respectively, unlocked and without carrier commitment. T-Mobile offers the larger-capacity phone for $199 with two-year contract and $499 without.
Obligatory iPhone 5 Comparison
Many people looking at Nexus 4, if not set on Android, may wonder about iPhone 5. Specs for both:
Nexus 4: 4.7-inch display, 1280 x 768 pixel resolution, 320 pixels per inch; Qualcomm Snapdragon S4 Pro processor; 2GB RAM; 8GB or 16GB storage (depending on model); 8-megapixel rear-facing and 1.3MP front-facing cameras; GSM/EDGE/GPRS (850, 900, 1800, 1900 MHz), 3G (850, 900, 1700, 1900, 2100 MHz), HSPA+ 21; WiFi N; wireless charging; Bluetooth; NFC; SlimPort HDMI; accelerometer; ambient-light sensor; barometer; compass; GPS; Gyroscope; microphone; 2100 mAh battery; unlocked; Android 4.2. Measures 133.9 x 68.7 x 9.1 mm and weighs 139 grams.
iPhone 5: 4-inch display, 1136 x 640 resolution, 326 ppi; Apple A6 dual-core processor; 1GB RAM; 16GB, 32GB or 64GB storage (depending on model); 8MP rear-facing and 1.2MP front-facing cameras; UMTS/HSDPA/HSUPA (850, 900, 1900, 2100 MHz), GSM/EDGE (850, 900, 1800, 1900 MHz), LTE (bands vary by carrier model and region); accelerometer; ambient-light sensor; gyroscope; GPS; proximity sensor; digital compass; Bluetooth; Wi-Fi N; 1440 mAh battery; carrier locked; iOS 6. Measures 123.8 x 58.6 x 7.6 mm and weighs 112 grams.
Apple's mobile sells for $199 (16GB), $299 (32GB) or $399 (64GB) with 2-year contractual commitment from, in the United States, AT&T, Sprint or Verizon. Please refer to my Nexus 4-iPhone 5 comparison for more about how the two phones stack up. Generally speaking, you can't go much wrong with either, based on basics like battery life, camera, display or performance.
Things That Matter
A good phone is the sum of its parts, how well they work together and the overall user experience they and software and services produce.
Battery. I tested the 16GB model, starting October 21. Six days later, I recharged the battery thrice. Heavy phone users should see much less, but do expect exceptionally good performance from the 2100 mAh battery. It's the best I've seen from any smartphone packing relatively standard capacity.
But, like iPhone, battery is not swappable, unlike earlier Nexus phones. As someone who expects to use the mobile to shoot photos and videos at events, the fixed battery is a big concern. For example, during Comic-Con continuous use taking photos and videos, posting to Google+ and uploading vids to YouTube spent Galaxy Nexus battery in about four hours. I could swap another, which won't be an option on the LG model. I haven't yet put Nexus 4 to such rigorous test.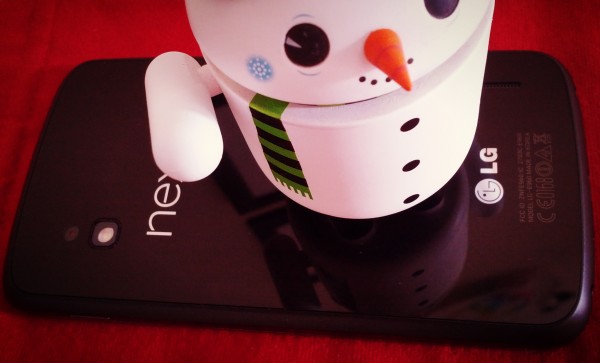 Display. The screen is magnificent and different from Samsung-manufactured Galaxy Nexus; it's a qualitative not quality thing. The difference is most apparent when reducing to smallest font. Fine detail is more readable to my aging eyes.
Samsung OLED displays tend to be highly -- I'd say overly -- saturated. LG's color reproduction feels more natural. Nexus 4's display is also more viewable outside in sunlight -- of which there is plenty in San Diego -- than Galaxy Nexus. While screen resolution is the same on both smartphones, Nexus 4's slightly larger display (4.7 inches vs 4.65 inches) means that the keyboard and some other UI elements appear slightly larger.
I can't enough express my satisfaction with the screen. What the LG gives up in saturation it gains in clarity, which is amazing.
Performance. Nexus 4 is fast, benefiting from quad-core processor and 2GB RAM, which is twice iPhone 5 and most Androids. Based on my still early testing, the extra memory matters more for typical operations. The hardware, combined with operating system improvements, produce smooth operations.
But Galaxy Nexus performs well running Android 4.2, too. Overall operations are about as speedy. I can't speak for processor-intensive stuff. Yet. But putting Galaxy Nexus and Nexus 4 side by side, apps and Chrome open at about the same time. Galaxy Nexus is never faster, but at least the same and, when not, with just the slightest lag.
Many Google geeks owning both phones disagree with this assessment, based on comments to my Google+ posts. The majority regard Nexus 4 to be faster. Perhaps their usage is different -- more processor and memory-intensive applications.
But faster is a measure of degree -- then there's what's good enough. As a measure of pure performance, I find Galaxy Nexus to be plenty good enough. The point: Some, perhaps even many, people upgrading from the older to newer Nexus won't be wowed as much they might expect. Nexus 4 is a good upgrade, but nothing like the leap from Nexus S to its successor.
Storage is stingy. I expect 16GB minimum in a phone this class, and there is no card slot for adding more. While a good value for the price, Google's target gadget enthusiast buyer will want more -- and he or she can get it from other mobiles. Really, 16GB and 32GB models are more appropriate here.
That said, I find the 12.92GB available space to so far be more than ample. So, yeah, figure about 3GB used by Android and whatever else Google bundles. I wouldn't feel as good about the 8GB model, obviously.
Camera. For me, a phone's camera is hugely important, which is why for so long I favored Nokia mobiles. I find Galaxy Nexus to be an exceptionally good shooter and presume this applies to other Samsung phones. Comparison to Nexus 4 shows why megapixels don't matter. Nexus 4 has more (8MP) and Galaxy Nexus less (5MP). The difference also is more than sensors, too, but how a camera phone in default mode chooses settings, which matters more indoors that outside.
One thing that puzzles me about Galaxy Nexus, and it's something I really like: The phone tends to shoot at low ISO even in low light. Images may sometimes be darker, but that's easily fixed in post-production. Nexus 4 unfortunately behaves as I would expect, opting for higher ISO at lower light. This produces noise that is much harder to fix in post-production.
Both phones ship with the stock Android, and use the same Jelly Bean 4.2 camera app, yet make very different decisions about ISO (200 and 600) and shutter speed (1/17 sec and 1/20 sec) in the photos here.
That said, Nexus 4's color reproduction is truer, comparable to iPhone 5, than the older Android. While the Samsung makes better choices about ISO and shutter speed, default white balance isn't quite right.
With regard to iPhone 5, which many (biased) reviewers consider to be the standard bearer, Nexus 4 produces as good or better photos, based on my testing. Some situations are better, others not, but overall comparable. Where the Google phone excels is control, including scene settings, exposure compensation and white balance adjustments. iPhone 5 is great for point and click, which is probably how most people will use it.
Another thing: Android 4.2 features a 360-degree panorama mode, which advertises well but is more gimmick.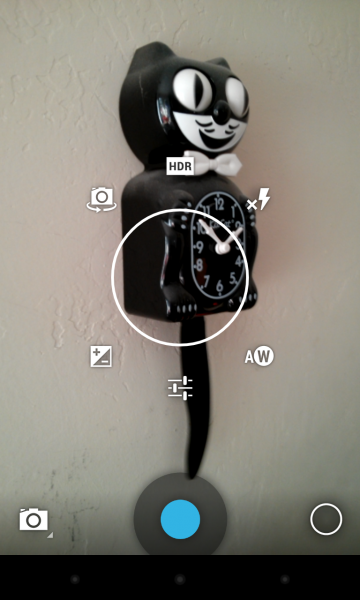 Design. I wouldn't call Nexus 4's design remarkable, but the phone is handsome compared to Galaxy Nexus, which never impressed me. But it feels cool in the hand, because the back is glass. As expressed in the introduction, I consider this choice to present unnecessary burden on users, like those of iPhone 4 and 4S.
The LG-made phone is conceptually less rugged than should be a mobile of this size, class and price. People complain about Galaxy Nexus cheap plastic, which seems plenty sturdy enough to me and better off if dropped.
Bandwidth. Nexus 4 officially only supports HSPA+, although LTE can be hacked to work on some carrier networks (need to support Band 4). That makes the Google phone look like a jalopy on the speedster highway. Verizon only sells LTE smartphones, and all US carriers rapidly role out 4G networks. But globally, HSPA rules -- and even then only 2/2.5G is available in many countries. From that perspective, HSPA+ makes Nexus 4 more a global phone sellable at lower price and, conceptually, with better battery life.
Accepting no-LTE will be difficult for some people, and I'm one of them. But the problem is the mind, looking at what others have got and wanting more. Priority should be what do you need. AT&T's HSPA+ network is lousy here in San Diego -- typically 3Mbps. LTE is at least six times faster. In reality, I find downloads to be plenty fast enough -- actually much faster than Galaxy Nexus even when testing the same speed. That has as much to do with faster processor and more generous RAM, I do believe.
T-Mobile network's supports up to 42Mbps, and in some locales should equal or outperform AT&T's LTE network. Nexus 4 is probably the best phone for T-Mobile users. Price is exceptional on contract and performance and Internet speeds make the handset the alternative to iPhone 5 from the carrier which can't sell it.
Jelly Bean is Sweet
The overall usage experience greatly benefits from Android 4.2, which deserves long treatment. But I don't have time today, being rushed to post soon after Google started selling Nexus 4 again. So Jelly Bean gets less review here than deserved.
Overall, I see little difference between Android 4.2 running on either the newest Nexus or its predecessor. Available features are about the same, with a few differences (such as getting HDR on Nexus 4 camera app). Font-rendering and other visuals are similarly appealing. Jelly Bean pops off the screen. Yum. Does it taste good.
The similarity in performance actually means something important. Apple's success is very much about producing the whole stack -- hardware, services and software -- and tightly controlling the user experience. Google doesn't make the hardware on any Nexus, yet it feels all end-to-end. Android 4.2's smoothness fits like a glove. Unlike devices where carriers and manufacturers slap on custom UIs or add crapware and create a jarring, jagged user experience, Nexus 4 operation feels smooth in all the ways that matter.
And yet...there's something I can't quantify that might be nothing more than my emotional attachments: Nexus 4 doesn't feel as much a tight ticket as Galaxy Nexus. The Samsung device feels more Google-made somehow.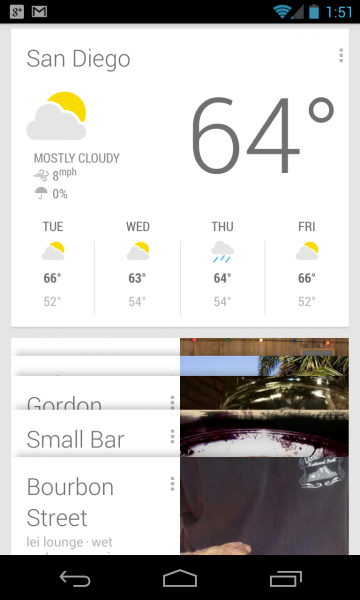 Beyond this there is what's typical. Setting up Nexus 4 is as easy as logging into your Google account. The device syncs everything you need, including apps. Android 4.2 improvements, available also on Galaxy Nexus, extend utility -- such as the new basic settings pull-down menu available from the top right-hand corner or the ability to run widgets on the main screen (the one that pops up when waking the device).
Jelly Bean's big feature is Google Now, which Popular Science calls "innovation of the year". Google Now presents information in "cards". Is there an accident on your daily commute? Google Now will tell you. Is there an interesting nearby event, you are notified. Ditto for public transportation and time the next bus or train will come.
The service represents a watershed development. Google successfully presents its depth of search and contextual services in a truly meaningful manner -- one that changes how people interact with mobile devices. You don't have to search. The feature tracks activities and location, anticipating what information the user needs before asking and presenting it contextually.
Final Word
Nexus 4 is a remarkable phone, a real gem. But not all gems are perfect, and as such the newest Google phone isn't for everyone. There are trade-offs to be made, but that's typical of most products. When do you ever really reach perfection?
The combination of hardware, services and software, and the overall experience they produce, makes Nexus 4 a smartphone I must highly recommend. But some Galaxy Nexus owners are better off spending their cash on a tablet now. Demanding users who burn battery life down fast may want to consider options wisely. No storage expansion is limitation some other users won't like. Then there is no-LTE.
Caveats aside, Nexus 4 is best for folks looking to improve their Google lifestyle, using prepaid cellular services (remember, phone is unlocked and carrier-free), wanting the best overall Android experience, seeking the most choice and software customization options or relying on T-Mobile as cellular carrier.
Simply stated: If Nexus 4 isn't for you, it should be.
Photo Credits: Joe Wilcox