Logitech PRO -- a BlueTooth keyboard case for the 12.2-inch Samsung PRO tablets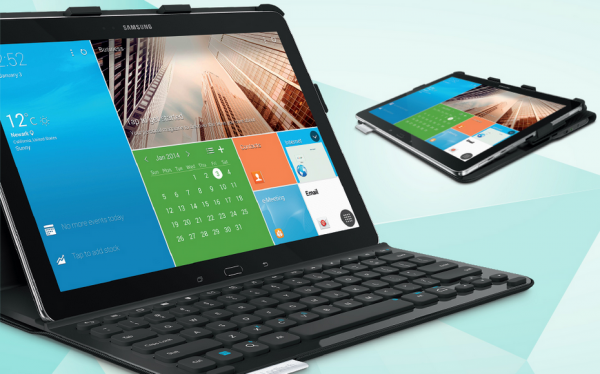 Retrofitting tablets with keyboard cases is nothing new. Since the advent of the iPad, users have been trying to use Apple's device as a laptop replacement. For the most part, it can work perfectly -- as long as you get the right keyboard case.
Logitech is one of my favorite companies and it has been making quality iPad accessories for years. I am currently loving the Logitech Ultrathin Keyboard Folio case for the iPad Air. As great as that setup is, I have longed for a larger screen and wider keyboard. Well, Samsung delivered the bigger screen with the TabPRO and NotePRO tablets and now Logitech delivers the wider keyboard with the Logitech PRO.
"Samsung designed these new tablets with a 12.2-inch, crystal clear display to enhance productivity and media consumption, and with this in mind we created Logitech PRO. Logitech PRO helps protect both sides of your tablet, while maintaining a slim design for daily use on the go. Couple that with its full-size keyboard and dedicated shortcut keys, and it is the perfect combination to maximize productivity and protection in a case that perfectly complements the mobility of your Samsung Galaxy NotePRO and Galaxy TabPRO", says Mike Culver, vice president of tablet products at Logitech.
Logitech explains, "Covering the front and back of your Galaxy NotePRO or Galaxy TabPRO with a durable and wipeable exterior, Logitech PRO helps protect your tablet from accidental bumps, scratches and spills. Its SecureLock system keeps your Galaxy NotePRO or Galaxy TabPRO firmly fastened to the folio with lightweight, low-profile clips. This system is designed so your tablet won't fall out of the keyboard folio accidentally, yet it is easy to insert and remove".
This case will be available in February for a very reasonable $129.99. When coupled with a 12.2-inch tablet that features four apps on screen at once, this may be the laptop replacement that the world has been waiting for.