Able-HD wants to put a monitor in your bag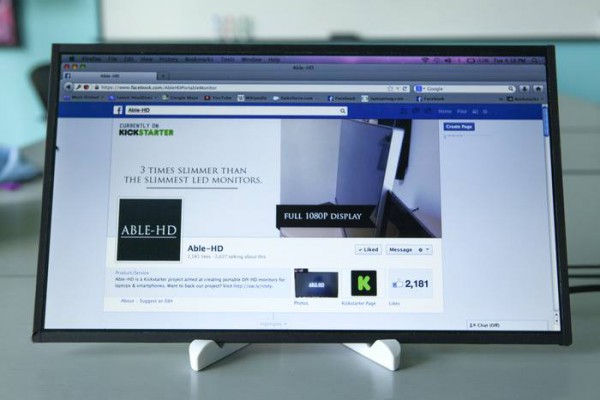 As long ago as 2003 Microsoft research found that having a second monitor made people up to 50 percent more productive.
However, having two screens is fine for those of us tied to a desk but isn't exactly practical for people on the move.
The Able-HD Plus monitor is aiming to change that and allow you to take a second screen with you wherever you go. Available in 15 and 17-inch versions, both with full 1080p resolution, the 17-inch model weighs not much more than an iPad and is less than one-third the thickness of a standard HD monitor, making it easy to slip into a laptop bag or briefcase.
It has a multi-port, detachable adapter board which also acts as a stand and is compatible with laptops, smartphones, Xbox games consoles and other devices, and comes with audio in/out, HDMI, VGA, and DVI connections. A synthetic polymer casing and rubber edging prevents damage to both the monitor and adapter, while a thermoplastic acrylic screen gives the strongest, clearest resolution without sacrificing the monitor's streamlined design or loading it with extra weight.
"The Able-HD Plus is going to open up a whole new world of possibilities for productivity and enjoyment, both for people who already like working with multi-screen systems and people who have never considered it before," says Nell Harton, Founder and CEO of the Able-HD startup. "Everyone carries their computers with them in one form or another. Now they can carry their screens, too".
The original project was financed on Kickstarter. Now the team behind Able-HD is headed back to the site in order to raise funds to address issues -- particularly fragility -- identified in the first design.
"We knew we had to make the system stronger," says Harton, "but we took the opportunity to rethink the entire system design, and wound up making some changes that are both innovative and highly functional".
To find out more, pledge to the campaign or reserve a screen at an "early bird" price for its summer 2014 release visit the Able-HD website.