Lenovo ThinkPad 8 -- the Rolls Royce of small Windows tablets [Review]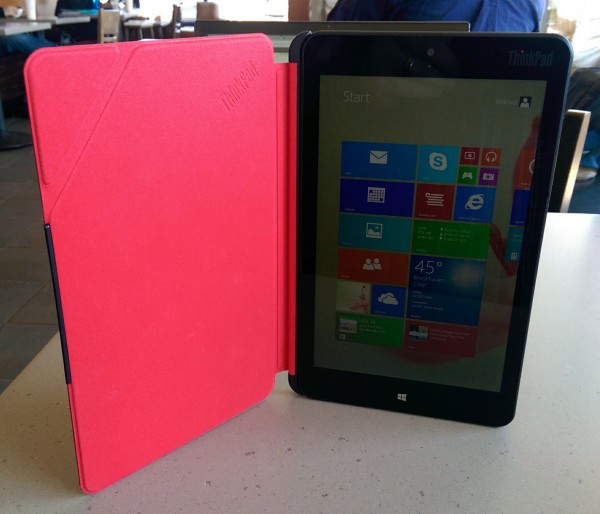 For many, small tablets are synonymous with low cost. This is thanks to Android tablets like the Nexus 7, which is great. While there is nothing wrong with being inexpensive, many of those Android tablets are also of poor quality -- the market is flooded with no-name variants. This has given small tablets a bad name. Small Windows tablets have been hit or miss. There have been duds such as the Acer Iconia W3 and good ones such as the Lenovo Miix 2 8. What has eluded the market thus far, is a great one.
The ThinkPad name is synonymous with business-class quality and durability. The laptops under this branding are known to be rugged, but elegant too.  Leonovo only designates this moniker to computers that meet a certain high standard. So when given the opportunity to review an 8.3 inch ThinkPad tablet, I was excited for a quality product. Is it the great tablet we have been waiting for?
Specs
Processor -- Intel Z3770 Quad-Core 2.4Ghz (Bay Trail)
Operating System -- Windows 8.1
Display/Resolution -- 8.3 inch (1920x1200) FHD with 10 finger multi-touch screen
Video Graphics -- Intel HD Graphics (Gen7), DX 11, OCL 1.1 & Open GL 3.2, HDCP 1.4/2.1
Memory 2GB LPDDR3 1067 (on board)
Storage -- Up to 128 GB
Sound -- Stereo speakers with Dolby Home Theater, Dual Array Digital Mic
Ports -- 1x MicroUSB 3.0; 1x MicroHDMI; MicroSD ; MicroSIM (WWAN only)
Connectivity -- Option of 4G LTE/3G or WiFi
Camera -- Front: 2 MP (HD1080p); Rear: 8MP (HD1080p) w/ Auto Focus and Flash
Battery -- Up to 8 hours (20.5Whr)
Weight -- 430g WiFi, 439g WWAN
First and foremost, the greatest thing about this tablet is that it runs the full version of Windows 8.1 -- not RT. Now, some may call this a negative, preferring instead to have Android or iOS. For those people, a Windows tablet just isn't right for you. However, I urge you to try one, you may be surprised.
The display is simply gorgeous -- Lenovo treats the user to an awe-inspiring 1080p experience. Whether reading the news or enjoying a movie on Netflix, I was always satisfied. In fact, while watching a film I was rather immersed and quickly forgot that I was viewing it on an 8 inch screen. Many small-screen manufacturers tend to neglect the screen quality, which is a shame.
Sound is particularly wonderful too, as Lenovo has provided high-quality dual stereo speakers on the rear. Whether watching movies or listening to music, I was very impressed. Typically, when listening to music, I will link to my UE MINI BOOM Bluetooth speaker, as a way to deal with the deficiencies of a tablet. With the Lenovo ThinkPad 8, I often didn't find the need.
The build quality is the nicest I have encountered on a small Windows tablet -- it is the Rolls Royce of the segment. It just oozes exceptional quality, including a bit of extra heft. Now, normally added weight is a negative, however, in this case it is not excessive, and lends to the quality feel. In other words, it is by no means a brick.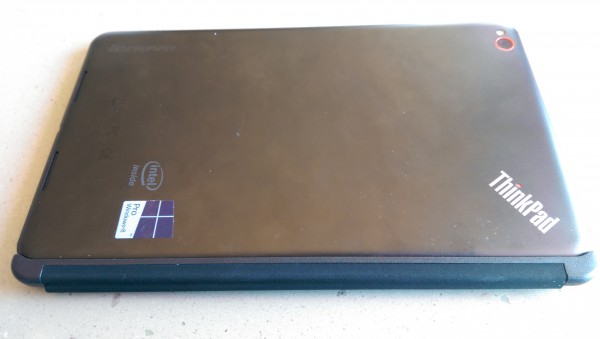 While the front and rear camera are both rather good for a tablet, colors tended to feel slightly washed-out. It works though, however it should not replace your standalone camera by any means. The real magic in the camera though, comes from the optional Quickshot cover. When the cover-flap is folded around the back, the top corner of the flap (which covers the lens), can be folded down to activate the camera. When it works, it works well -- you can activate the camera from any app. However, in my testing it only worked about 80-percent of the time. Sometimes, if the flap isn't positioned just right, it will fail to activate. While it doesn't happen often, it happens enough to be slightly frustrating.
Thankfully, the tablet comes with a micro USB 3.0 connection, rather than the dated 2.0 variant. This allows the tablet to connect to another computer with faster transfer speeds. While the connector is wider and different, don't worry; it is backwards compatible with the older standard. I was able to charge the tablet using a micro USB 2.0 cable just fine.
The micro SD card slot allows the user to expand the memory and the micro HDMI port allows expanded functionality.  In theory, this could be a desktop replacement if connected to a monitor and paired with a Bluetooth keyboard and mouse.
Also included is 5 GHz WiFi and thank god. It is shocking how many manufacturers are still supplying devices with 2.4 GHz-only chips. Hello? It is 2014! Luckily, Lenovo gets it and the tablet connects to both bans of my router without issue. While I would have liked to see 802.11ac support, 802.11n is totally acceptable.
The buttons function fine, but I wish the volume rocker was larger and protruded more. You see, it is small and flush, making it very hard to find without looking. I often hit the power button rather than volume up when listening to tunes. It is very frustrating, so I instead switched to the charms bar for the on-screen volume control.
Battery life is surprisingly disappointing. Lenovo claims 8 hours, but I never reached that level. In my testing, with moderate use, I got about 5-6 hours before needing to charge. While this is totally acceptable for me, it may not be for everyone. While they are very different devices, an iPad Air or Surface 2 trounce the ThinkPad 8 in battery life.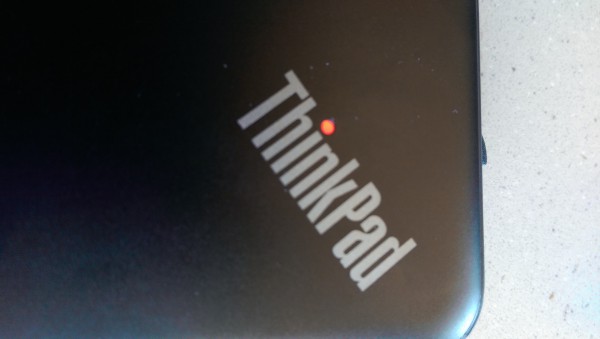 One of my favorite aspects of the tablet is purely superficial. You see, one of the defining features of the ThinkPad line of laptops is the red pointer-nub (or nipple as some call it). It made the ThinkPad brand forever linked with the thought of a red dot. Many wondered how Lenovo would incorporate that iconic brand symbol into a device that doesn't need a pointing nub. Well, in a stroke of genius, the ThinkPad logo on the back, the tittle of the lowercase "i" lights up and glows red. While some may say it is pointless, I argue that the little things are the indications of care and thought.
Conclusion
This is hands down, the best small Windows tablet created thus far. The screen quality, audio quality -- heck, the overall build quality, are simply amazing. The cameras are above average for a tablet and take passable photos in a pinch.
With the exception of the hard to find volume rocker, I have no complaints. Pricing is reasonable too, as it is currently starting at $399. If you have a need for a small tablet that runs the full version of Windows (not RT), this is the one you desire. Yes, there are cheaper small Windows tablets available, including Lenovo's very good Miix 8 2, but if you are going to do something, do it big -- get the best.
Image Credit: Maxim Blinkov/Shutterstock