Lenovo Miix 2 8 -- Windows 8.1 tablet with an 8-inch screen done right [Review]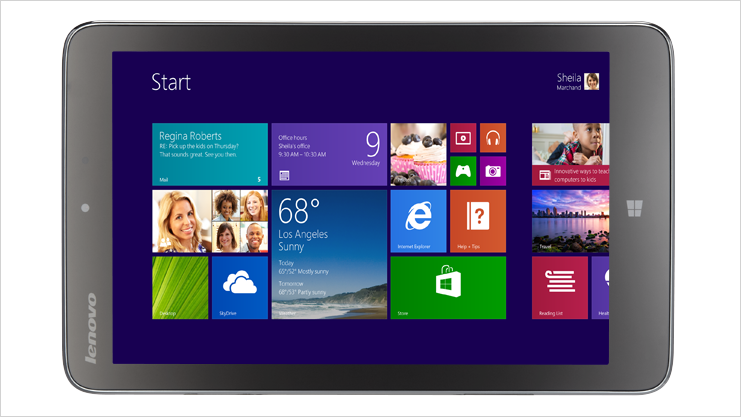 To say Windows 8.x is a controversial operating system is an understatement. Heck, it is downright polarizing, causing a schism between users that love it and others that hate it. It has arguably set Microsoft back and potentially damaged both the Microsoft and Windows brands. This is both disappointing and sad as Microsoft is a story-booked American darling that has enjoyed years of success and domination.
I'll admit, while I loved Windows 8.1 at first, I soured on it once I noticed an impact in my productivity. Performing a balancing act between the classic UI and Modern one, is maddening. It was so distressing to me, that I actually turned my desktop into a Hackintosh. While Linux distributions are my go-to choice, I still have a need for some other software, such as Office, and OS X meets that need. But Windows 8.1 isn't all bad, it truly shines in one place -- tablets.
Introduction
The Surface 2 is such a phenomenal device, that I named it my overall pick for best of 2013. You see, Microsoft's Surface devices are the best way to showcase the Modern UI aspect of Windows 8.1. This tablet is wonderful for productivity -- you can run 2 apps side by side and even connect a physical keyboard. However, as great as it is, it can be a chore to use as a second-screen device or in bed.
For instance, I like to use Twitter while laying on my couch, watching TV. A 10-inch tablet is poor for this as it is awkward to hold. I have come close to dropping the Surface 2 on my head on more than one occasion. The simple solution is to get a smaller additional tablet. I had high-hopes last year for the Acer Iconia W3. However, it proved to be flawed and horrid. That one tablet from Acer damn-near turned me off to the 8-inch form factor for Windows 8.1.
I say "damn-near" because I have obtained and have been thoroughly testing the Lenovo Miix 2 8 -- an 8-inch Windows 8.1 tablet from renowned manufacturer Lenovo, which recently bought Motorola Mobility. I am happy to report that it is leaps and bounds better than the Iconia W3.
Specs (As Reviewed)
Processor -- Intel Atom Z3740 Processor quad-core (1.33GHz 2MB)
Operating System -- Windows 8.1 (32-bit)
Display -- 8-inch 1280x800
Memory -- 2GB LPDDR3 1066 MHz
Hard Drive -- 64GB eMMC
Wireless -- 802.11a/b/g/n Wi-Fi Wireless, Bluetooth 4.0
Battery -- 1 Cell 17.5 Watt Hour Li-Polymer (rated at 7 hours)
Ports -- Micro USB, Micro SD
Weight -- .77 pounds
The Good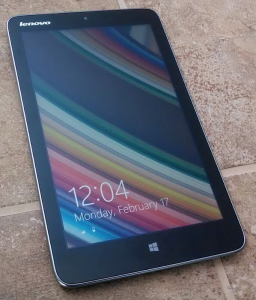 Yes, you are reading those specs right. Rather than use a chintzy ARM processor, this tablet utilizes an Intel Atom chip and the full Windows 8.1 operating system -- not RT. While this will allow you to run legacy Windows programs if you need them, you should still avoid doing so. Sure, choice is good and having the legacy option is a plus, but the small screen still works best with Modern UI apps.
So, you may be wondering, if I am suggesting not using legacy programs, what is all the hubbub about using x86 over ARM? Well, the biggest benefit, to me is the ability to install other web browsers and Adobe Flash. If the tablet used ARM and Windows RT, you would only be able to use Internet Explorer. Now, IE is great -- I actually prefer it on a Windows tablet. But, I like options and the Lenovo Miix 2 8 can run Google Chrome in Modern UI mode -- something Windows RT fails to accommodate.

I took this tablet on a recent business trip, instead of my 10-inch iPad, and really enjoyed the smaller footprint and ability to charge by microUSB. Since my Android phone uses that charging standard too, I had one less wire to pack. I also own a Nexus 7 which is a great tablet too. With that said, boy-oh-boy, a 7 inch screen is just not ideal for anything other than maybe playing video games. An 8-inch display adds just enough extra screen real estate to be more usable.
The Lenovo Miix 2 8 was not my only computer on the trip -- I also took an HP Chromebook 11 for writing. While Google Docs worked fine, I liked that the Miix 2 8 served as a safety net, since Microsoft Office 365 comes pre-installed. You get a 30-day free trial, but you can upgrade to the full version for a paltry $99/year -- a great value. If you are adverse to paying for software, the free Libreoffice will install just fine. Of course, using Office on an 8-inch screen is migraine-inducing, but having the option could save my ass if a compatibility issue arose.
The screen looks great when watching video or looking at photos. The Miix 2 8 has served as my window to entertainment and Netflix looks amazing. The speaker volume is a bit low, but it did not subtract from the enjoyability of the films and TV shows.
The Lenovo tablet is a dream as an armchair computer. Just last night, I watched The Walking Dead with the tablet in my hand. It is so small and light, that I felt comfortable laying down and holding it in one hand. This is truly where an 8-inch tablet shines. I still see great value in owning a 10-inch tablet, like an iPad Air or Surface 2. But, there is still room for a small tablet in your arsenal. They serve different purposes and both form factors can live harmoniously in your home and heart.
The Bad
Like I said earlier, I own other tablets, such as the iPad Air and Surface 2, so I know what to expect from both performance and battery life. Sadly, the Atom processor is a bit of a disappointment. While hardly a deal breaker, there is an occasional stutter or lag. For the most part, everything is snappy and responsive but every once in a while, there is a hiccup.
One of the common places that this happens is on the unlock screen. Sometimes the keyboard can take a few seconds to come up and even then, text input can be a bit slow. Now, in practice, it is not a big deal. Sure, seconds add up, but in the grand scheme its not terrible. With that said, it feels a bit embarrassing if you are trying to show it off to an Apple or Android fanboy.
Battery life is acceptable, but not impressive. My cherished iPad Air seems to never run out of juice, lasting many days with heavy use. The Miix 2 8 must be charged daily. To conserve energy, I found myself turning it off at night, which took away from the overall experience.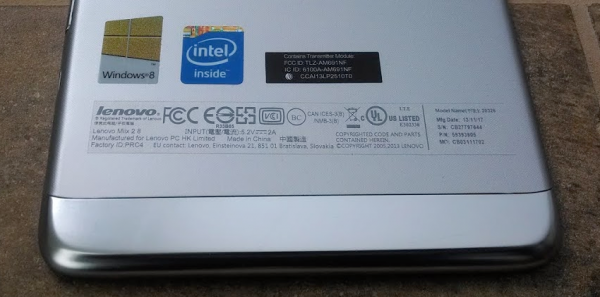 Build quality is just OK, but very plasticky. My colleague Mihaita Bamburic recently wrote of his disdain for stickers. I share his opinion, and hate to say it, but the Miix 2 8 has many of them. It takes away from the overall beauty and subtlety of the design.
Sadly though, the capacitive Windows button can be a bit flaky. Sometimes I must press it twice for my touch to be recognized. Truth be told, I don't use the button very often, opting to do everything on-screen instead. But, if manufacturers insist on including a button, they should make it physical, like the iconic iPad. A physical button is more satisfying and accurate.
Conclusion
So, do I recommend this tablet? Absolutely... if you want a Windows tablet. Despite its faults, it is a fun computer to use. If you just want to play Angry Birds and surf the web, you can probably do better for the money. However, if you are a business-focused person, with the occasional desire for games and you need a tablet that complements your Microsoft lifestyle, look no further, the Miix 2 8 is it. Keep in mind though, it is a complementary tablet, not a desktop or laptop replacement. For that, a Surface 2 would be your better option.