Tim Cook pulls off a Steve Jobs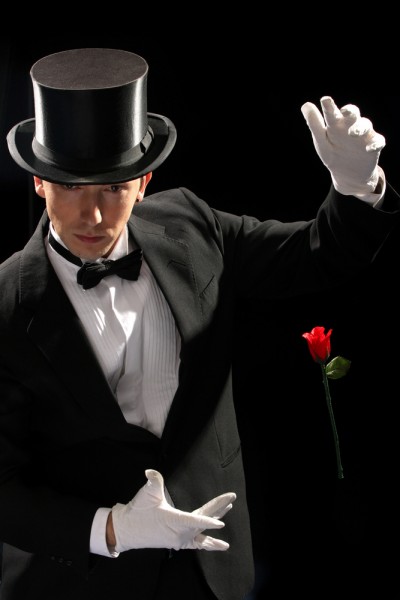 I meant to write this yesterday, but day late is better than never. Listening to Apple's fiscal second quarter 2014 earnings conference call on Wednesday, I was awed by how cleverly and aggressively CEO Tim Cook stated growth metrics for iPad and iPhone. My immediate reaction: "What is he hiding?" Wall Street beat down Apple shares following release of great Q1 results three months ago. From the stated stats to announced 7-to-1 stock split, seems to me like Cook intended to aggressively and proactively manage perceptions -- and he did. He was unusually free sharing sales and growth data, which is uncharacteristic of Apple but typical of perception management tactics.
Company cofounder Steve Jobs was a master marketer. Cook isn't in the same league of inspiring people to believe that "One More Thing" aspires greater happiness. But Cook lived up to his name -- cooking the numbers -- in Jobs-like sleight of hand. Look here people, instead of over there, and witness magic rather than the trick. But behind the veil, iPad and iPhone don't look as great as he presented them. One thing you learn, if working as a journalist long enough: When to recognize misdirection or deception.
Cook came to the earnings call carrying several potential perception problems:
Analysts broadly call iPhone 5c a failure
Pundits claim that iPhone is too small and costs too much
Lower-cost devices drive Android market share in emerging markets
iPad shipments fell about 3 million units below Wall Street consensus
Investors punished Apple after delivering unabashedly good results three months ago
iPad's Shortcomings
Cook dealt first with iPad, in his opening remarks:
iPad sales came in at the high end of our expectations, but we realized they were below analyst estimates, and I would like to proactively address, why we think there was a difference. We believe almost all of the difference can be explained by two factors. First, in the March quarter last year, we significantly increased iPad channel inventory, while this year we significantly reduced it. Luca will go into more detail about this later.

Second, we ended the December quarter last year with a substantial backlog with iPad mini that was subsequently shipped in the March quarter, whereas we ended the December quarter this year near supply demand balance. We continue to believe that the tablet market will surpass the PC market in size within the next few years and we believe that Apple will be a major beneficiary of this trend.
Apple shipped 16.35 million iPads, but consensus was about 19.3 million. Luca Maestri, corporate controller, later explained that Apple "sold through almost 17.5 million reducing our channel inventory by 1.1 million units. Last year we sold over 19.4 million iPads into our channels and sold through 18 million and therefore increased channel inventory by 1.4 million units. As a result, the year-over-year sell through decline was only 3 percent compared to the sell in decline of 16 percent. We exit the March quarter with 5.1 million units of iPad channel inventory, which left us within our target range of four to six weeks".
So? Analyst consensus wasn't about year-over-year growth but results in 2014. Assuming that 17.5 million sell-through is the same sales metric by which Wall Street measures, iPad shipments still missed consensus by nearly 2 million units. "Why?" is the question to ask.
NPD DisplaySearch sees slate shipments largely displacing laptops this year -- 315 million units, or 65 percent of the mobile computing market. ASP of $311 falls below Apple tablets, which start at $399, raising reasonable question: Is iPad priced too high? Already in mature markets, saturation slows sales momentum. In the United States, Gartner sees 50 percent tablet install base this year, and the effects already are underway. "The U.S. saw the gradual recovery of PC spending as the impact of tablets faded", Mikako Kitagawa, Gartner principal analyst says of calendar first quarter sales, which are concurrent with Apple's fiscal second.
But there are other factors to consider, with growing interest in phablets among them. It's a market where Apple sells nothing. Phablets are essentially large cell phones, like Samsung Galaxy Note, ranging from 5.5-inch to 6.9 inch screen size. Juniper Research sees demand strongest in Asia, particularly China.
Whither China?
During the conference call, Cook repeatedly emphasized sales to emerging markets, particularly BRIC (Brazil, Russia, India, and China), where ASPs are generally lower and where Android is booming success. He gave particular attention to China, which is the world's largest smartphone market and one that rapidly reaches sales saturation, according to IDC. Getting there first and/or retaining customers is crucial.
"We gained share in a whole host of markets, from developing markets like the U.S., U.K., France, Germany to more of the emerging markets like China, Vietnam, and had the largest total sales of iPhone in the BRIC countries that we've ever seen in our history", Cook said.
Credible analyst data is not yet available for first calendar quarter, so we must guesstimate the relationship to Cook's statements using the three months ended in February. According to comScore, Apple did gain U.S. subscribers -- that is if you call 0.1 percent significant (I don't). Let's look at Europe. Moto G, which squarely competes with iPhone 5s, lifted Motorola's market share from near zero to 6 percent in the half year ended in February, according to Kantar Worldpanel.
Moto G's sales success "highlights the speed at which a quality budget phone can disrupt a market", Dominic Sunnebo, Kantar Worldpanel strategic insight director, says. "The same pattern can be seen in France with Wiko, which has 8.3 percent share, and Xiaomi in China with 18.5 percent".
Xiaomi is an Apple rival to closely watch, particularly in emerging markets. "Xiaomi is coming to 10 countries in 2014! Malaysia, Philippines, India, Indonesia, Thailand, Vietnam, Russia, Turkey, Brazil and Mexico", the company tweeted this week. Just two years following the launch of its first phone, Xiaomi smartphone share shot past Apple in China during late 2013.
What Xiaomi and Motorola share in common that Apple lacks: Low-cost, quality handsets and Android. "Markets like China and India are quickly moving toward a point where sub-$150 smartphones are the majority of shipments, bringing a solid computing experience to the hands of many", Ryan Reith, IDC program director, says. Apple doesn't compete at that price point with unsubsidized handsets in countries like India, which is how most people buy them. The country is third-largest smartphone market in the world, behind the United States, according to IDC.
Magic Numbers
But China is good to Apple, and Cook couldn't say enough about the success: $9.8 billion in sales during the quarter, and $19 billion over six moths, which is a 21 percent year-over-year increase. His discussion of first-time buyers largely dominated post-earnings analysis:
If you look at some of the numbers we're seeing on first-time iPhone buyers, people that bought the iPhone 4s, 85 percent were first-time iPhone buyers, and the 5c, 69 percent first-time iPhone buyers. So these are extraordinary, and as you would expect, these are also heavily Android switchers. 62 percent of the people that bought the 4s switched from Android. 60 people of the people that bought the 5c switched from Android. And so we're incredibly pleased with this.
Brilliant perception management! Those numbers sound great, like iPhone kills Android in greater China. Step back and really examine them, and the comparisons lack any credible context. As previously stated, China is the largest smartphone market, and one where sales saturation rapidly approaches. Credible calendar first quarter numbers aren't yet available, but during Q4 2013 shipments fell 4.3 percent sequentially, according to IDC.
Of course, conversions will be high, since the majority of smartphones sold there were Android. Existing smartphone users buying iPhones almost certainly use Android. From that perspective, the seemingly high numbers are low. Also, there's no context how many iPhones Apple sold.
Still, Cook's conversion numbers and those citing first-time buyers play into another trend that IDC observes: "We are now starting to see a market that is becoming less about capturing the low-hanging fruit of first time smartphone users and moving into the more laborious process of convincing existing users why they should upgrade to this year's model", Melissa Chau, senior research manager, says. Cook seeks to convince Wall Street Apple is converting the China's Android Army of smartphone owners.
Behind the Curtain
I encourage you to listen to the archived earnings call and closely regard how much time Cook spends using data to manage perceptions and direct attention away from clear strategic weaknesses. Among them:
Gaining/maintaining smartphone and tablet market share at current prices
Dimssing the appeal of handsets with larger screens
Completely ignoring the phablet market
Revealing: During the call, Sanford Bernstein analyst Toni Sacconaghi asked about iPhone's average selling price drop. "When you look at the $41 of decline, I would say about half of that was driven by the fact that we have continued to do very well in emerging markets with the 4s," Meastri answered. The question and answer say much about Apple's pricing strategy in emerging growth markets.
The 4s is Apple's low-cost handset. As for the 5c, which still receives loads of pundit hatred: Cook mentions the handset just twice, in the block quote above discussing new purchasers and Android switchers. What does that say about the 5c? Regarding the older iPhone, Cook told analysts: "We were seeing new to iPhone numbers on the iPhone 4s sales in the 80 percentages in certain large geos. So, this to us give us a great comfort that we can continue to grow and we may not be able to attract some of those buyers to our top phone because of the price point".
That's a concession about the higher cost to join Apple's ecosystem that is overlooked in much of the analysis crossing my desk the last three days. Don't listen to big-value statistics. Ask what do they mean and in what context? If you do so, you will see that Cook deserves credit for pulling off some Jobs-like perception management magic. But, remember, there's no such thing as magic -- just tricks of the trade.
Photo Credit:  Vladimir Mucibabic/Shutterstock