Say, Google, save Chromebook from Intel while you still can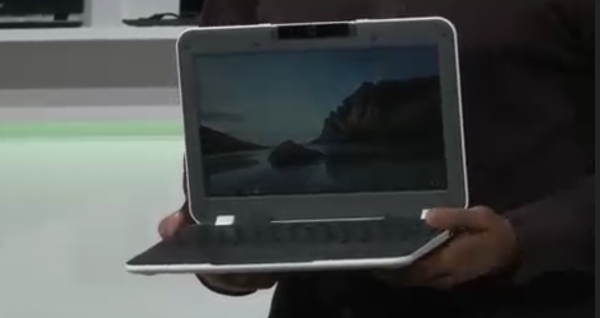 PC manufacturers' priorities baffle me. For years I bitched about OEMs shipping laptops with low-resolution screens -- even Apple. Sony is, or was, the exception but offering the feature for a price premium. My first 13.3-inch notebook with HD resolution (1600 by 900) was a VAIO. In 2006! Apple only followed the Japanese company six years later. The screen is the gateway to your computer, so why do so many OEMs ship cheap displays? For Macs and many Windows PCs, panels are brighter, if not higher-res, today. But not Chromebooks, even as prices push against the $299 threshold and pop above it.
Yesterday's Intel-Google event was an eye opener, or perhaps eye-strainer for anyone looking for Chromebooks with better screens. During the Q&A, PC execs dodged a couple questions about the displays, the majority of which are 1366 x 768 resolution and dim 200-nit brightness. Resolution matters less when panels are bright and deliver consistent color and contrast from wide viewing angles. Chromebooks consistently ship with the best keyboards on any laptop for any price, and the trackpads are exceptional, too. The displays suck. Only two models are good enough. Most newer models change nothing.
You're Doing It Wrong
Listening to Navin Shenoy, general manager of Intel's mobile group, I kept thinking: "The priorities are all wrong". During the presentation and Q&A, he droned on about the performance benefits Bay Trail processors will give Chromebooks. I laughed when he cited battery life going up a single hour compared to Haswell. I just laughed. Oh, yeah, my life depends on getting 11 hours instead of 10. But a brighter screen would be huge benefit.
"When any person uses a computer of any sort, the primary interface where understanding takes place is the display", Kelsey Tidwell says in response to my Google+ post asking for response about Chromebook screens. "I can adapt to mediocre keyboards. I can handle quirky trackpads. When I'm typing, even the slowest Chromebook is fast enough. But mess with my eyes and all my productivity goes to pot".
The event screenshot above is Intel's Chromebook reference design. The dim display depicts everything I see wrong about the new models. Intel sets the bar to the lowest common denominator, which for Windows PCs is the longstanding practice. Now comes Chromebook corruption. By contrast, Google's reference design, the Pixel, sets the design paradigm much higher.
Google gets the screen's importance. Pixel is the company's baby, and Big G codesigned HP Chromebook 11. The laptop's IPS panels are 400-nit and 300-nit brightness, respectively. Viewing angles are exceptional, and color and contrast consistent across the normal viewable range. No other Chromebook compares.
Justin Heavenridge agrees "It's obvious that Google places some value on display quality thanks to the Pixel and HP 11. Why that doesn't translate into OEM models is a mystery to me. A Dell or c720P with an IPS panel would be about perfect. It doesn't even need to be 1080p at 11.6-inches".
Startling Comparisons
"When switching from my Samsung Series 3 to my 15-inch rMBP [MacBook Pro Retina Display] -- goodness gracious my eyes can work another 8 hours", developer Dominick DeVito says.
In a shameful speed test yesterday, that same Samsung couldn't keep pace with, ah, Intel inside. But the comparison wasn't fair, being last year's Samsung model and processor. The South Korean manufacturer's Chromebook 2 packs considerably faster ARM chip. Intel could have compared to HP's Google codesign, which also packs the older processor, but at full brightness display differences would be unmistakable.
There's something wrong, when the screen on your smartphone or tablet is so much better than your desktop computer, which for many people is their main device. Intel's focus is faster processors, and I don't see how its reference design, or most OEMs approach to Chromebooks, sets the right priorities.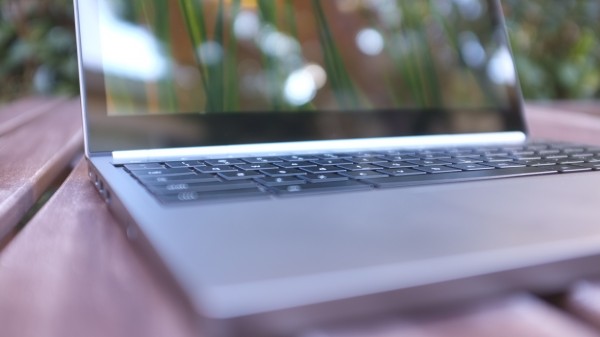 "I find it annoying when people (like those OEM execs) define 'performance' as CPU + GPU + RAM. Display quality is regarded as a luxury", artist Kevin Burns says. "Good display is, for many people, an essential work tool".
In my testing Haswell-based models, performance and battery life are more than good enough, easily subjectively rivaling Macs or Windows PCs costing hundreds of dollars more. Bay Trail or Core i3 isn't the solution to better Chromebooks.
"How bout this? We've got Haswell and Bay Trail -- the performance end is covered. Let's put a hiatus on further development there until we get the graphics in line", Tidwell says.
If Google's design priorities are right, the company should reset them for Chromebook OEMs. The search and information giant should set a higher minimum for displays. Intel's business is about selling chips, and the last thing Chromebook needs is a refocusing on speeds and feeds -- like Windows PCs -- that undermine the core value proposition Google established long ago: Baseline good-enough hardware that improves every six weeks with software updates. But deficient displays set the baseline too low.
Pixel Perfect
For reasons I won't explain, my Chromebook Pixel departed about three months ago. I limped along while reviewing the Acer C720P and Dell Chromebook 11, but both screens are too dim. My productivity suffered greatly. But budget is tight in the Wilcox household, because journalism doesn't pay what it used to. I saved my pennies and shopped around for a new laptop, wondering why a Chromebook with decent screen should cost so much (Pixel is $1,299 or $1,449 from Google).
On Saturday, I bought another Chromebook Pixel, spending $900 for a new LTE model posted to Craigslist. I'm eating PBJs three meals a day for the next couple of months. I couldn't afford to spend that much, but I also couldn't afford not to. I strongly considered replacing the HP Chromebook 11, which suffered Pixel's fate months ago. Screen is great, but it's too slow for my daily work.
There's a local shop with refurb MacBook Pros for about 900 bucks, but I enjoy Pixel too much and really get lots of work done. The screen matters more than does the processor.
"That's the Power of the Pixel", Davy K.M. observes. "The screen blows away".