Why I love Chromebook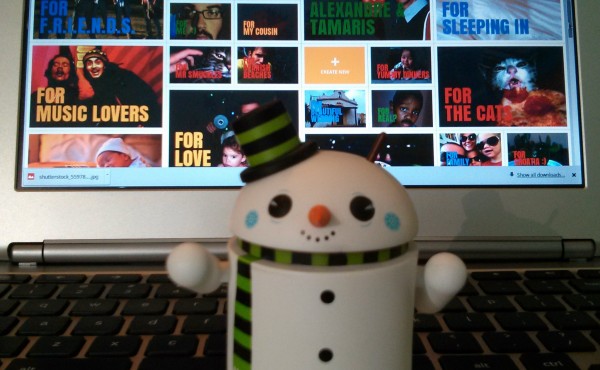 Third in a series. For Valentine's Day, Wayne Williams and I explained why we love Kindle and Surface Pro, respectively. We've decided to extend the concept into an ongoing series, which I continue about Chromebook and in many more ways Chrome OS.
My Chromebook journey began in December 2010 when Google dispatched 60,000 Cr-48 test units. I used the computer as my primary PC for a week, but no more, being a concept. But, then, my 11.6-inch MacBook Air failed in March 2011, and I reverted back to the Cr-48 during the emergency. In June 2011, Samsung released the Series 5 Chromebook, which I used as my only PC for two solid months. But performance couldn't meet my needs -- that is until the successor, the 550, launched in May 2011. I abandoned MacBook Air and didn't look back. Performance and features met my needs. I traded performance for better ergonomics when switching to the ARM-based Series 3 Chromebook in October.
Life Changing
Five months ago, I explained how "Chromebook changed my life". For example, I went from relying on software running locally to that consumed in a browser connected to some service's data center. I've used desktop software my entire computing life. Letting go concepts that cloud services couldn't be enough proved challenging at first. My preconceptions limited how rapidly I received cloud benefits. But I found most of the web apps I needed, even for tasks like photo-editing, which surprised me.
Often these apps performed better than those run locally, which is contrary thinking -- or to me. But it makes sense really. Distant datacenter does the heavy-lifting rather than the local computer, which is a major reason Chromebooks are so underpowered compared to Windows PCs or Macs. Consider the specs of the ARM Chromebook to the MacBook Air I sold last year.
Series 3 Chromebook: 1.7GHz Samsung Exynos 5250 dual-core processor (ARM); 11.6-inch matte display, 1366 x 768 resolution, 200-nit brightness; 2GB RAM; 16GB SSD; SD-card slot; Webcam; USB 2.0 and 3.0 ports (one each); WiFi A/N; Bluetooth 3.0 compatible; HDMI port; Chrome OS.
MacBook Air: 1.8GHz Intel Core i7 processor; 11.6-inch glossy display (1366 x 768 resolution); 256GB flash memory; Intel HD graphics; 4GB SDRAM; webcam; two USB ports; Thuderbolt port; WiFi N; Bluetooth 4.0; iLife '11; and OS X.
Performance is not comparable, although size and ergonomics are. I initially moved from the Mac to the 550 Chromebook and found them to feel similarly speedy and responsive -- that with 1.3GHz Intel Celeron 867 dual-core processor and 4GB of RAM. I recently switched back to the 550, because the Series 3 isn't speedy enough for my needs.
My Chromebook Life
Chromebook is really about Chrome OS. The major benefits are about software and supporting services. For me what matters:
1. Sync changes everything. In March 2008 I asserted: "Synchronization is today's killer application." I warned: "Should Google get synchronization right before Microsoft, it would be game over. Google would be able to extend the relevancy of the Web platform back to the desktop on its terms -- think invading army -- and across many devices or services". Google sync is that good now, and automatic, Chrome to Chrome OS and also from Android. Chrome OS syncs tabs, web apps and other stuff from Google's cloud. That's it. Because of Chrome sync, the experience follows me to other computers or should I switch Chomebooks.
2. Setup is so-o-o easy. Log into Google account. That's it. When switching Chromebooks, settings immediately sync and migrate. Apps and desktop used on one follow to another -- or from Mac or Windows PC if using Chrome. Setup is that simple and maintenance about equally.
3. Computer gets better with age. Google dispatches new Chrome OS versions, with new features, about every two months and most content automatically saves to the cloud. My Chromebook is better today than it was last week. I can't complain about that. By comparison, Apple or Microsoft make me wait years to get new features.
4. Lifestyle is amazing. Since Larry Page took Google's CEO reigns 22 months ago, the company has dramatically increased cross-integration of products and services around the browser as hub, and that means Chrome OS, too. Right now I live a fulfilling digital lifestyle because content, services and social click so well. Integration is tight and satisfying.
5. Value is huge. Consider the Series 3 Chromebook, which sells for $249. Size and ergonomics are similar to $999 MacBook Air. I can outfit the whole family (four of us, including mom) for the cost of the Apple laptop. Google and its partners provide a good-enough experience that satisfies for the money spent. MacBook Air offers more options, for sure, but for four times the price.
Easy is the best way to describe any Chromebook, from setup to ongoing management to daily use. If you can navigate a browser, you can use Chrome OS and content and settings follow you from device to device. The computer is by no means perfect, just more than good enough for my particular computing needs, which is why I love Chromebook.
I can only hope that rumors about Google-designed Pixel Chromebook are true. There's love, and then there's true love.
Photo Credit: Joe Wilcox