Dell Chromebook 11 review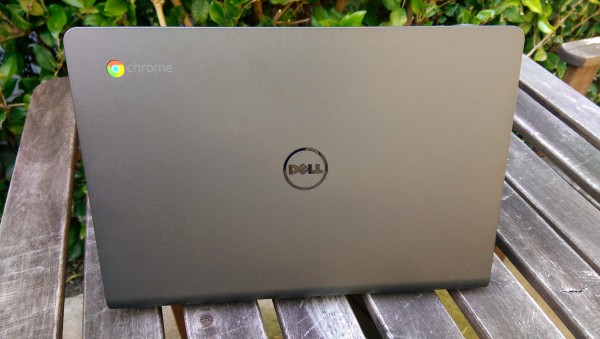 Chromebook represents a philosophical change -- a quiet revolution -- in personal computing, where relevance moves from hardware and software to electrical service-like cloud utility. In this brave new world, Chromebook is an appliance meeting most desktop needs, and pricing is closer to microwave ovens than to traditional PCs.
Nowhere is there more receptiveness to adaptation, or willingness to lead technological revolution, than the education market. There is historical precedent and fortunate timing: Chromebook fits neatly. Cost is low, utility is high, and familiarity is great. What is more natural to Millennial students than the web browser? They are accustomed to breathing the cloud's rarefied air and enjoying the benefits of anytime, anywhere computing -- freedom to float. Dell Chromebook 11 is primed for educational use while, unlike Lenovo's model, being easily purchased by anyone. This review addresses the computer's suitability for students, teachers, or you.
By Any Other Name
I started the reviews process with skepticism, even while understanding that schools make up one of Dell's core markets -- and it erodes as K-12 institutions across the country replace aging PCs with iPads. For example, here in San Diego, the school district started deploying 25,000 Apple tablets during the 2013-14 academic year. They replace the netbooks my daughter used when a student at San Diego High School.  An Apple a day keeps the PC away.
I recognize Dell's dilemma but brought bias to the review. Before using Chromebook 11, if you asked me about a Dell computer, I would have given a long look that asks "What?" The brand wasn't on my radar. My perception: Industrial design is blah and dreadfully corporate. That's my polite way of saying boring and asking "Who would want to learn on that?"
But Chromebook 11 purges my preconceptions and replaces them with long-past marketing mantra "Dude, you're getting a Dell!" Take my money, please. I really like this laptop. I see a place for it in the classroom or at home.
Funny thing, HP and Dell both make laptops called Chromebook 11. What's up with that? If one device combined, they would be perfect. Other than the $1,299 Google Pixel, the HP packs the best screen of any Chromebook, while sporting excellent design and keyboard but mediocre performance. The Dell is speedy, with long battery life, muted but excellent design, terrific keyboard, and good but not great display. For the price and category, Dell Chromebook 11 is near-perfect, flawed by its 200-nit screen; the other notebook brings bright, beautiful 300-nit IPS display. Swap screens and Macs or Windows PCs costing hundreds of dollars would look cheap.
Feels Good
Sometimes designers get all the little things right. Dell Chromebook 11's appeal isn't one attribute but the sum of many, and  they're not by any means obvious. Subtleties define the unassuming design that is canvas for greatness. For a Chromebook with 11.6-inch display, the Dell is a little chunky monkey and weighty matey. But the matte finish looks good and feels great under the fingers. The island-style keyboard is just roomy enough, while the keys have great tactile responsiveness.
Typing is joyous. While the keys aren't nearly quiet, like HP Chromebook 14, they're not noisy (as they are on the Acer C720P). You hear and feel the touch without noticing much, or suffering someone sitting nearby complaining about the noise.
Deft lines define the black finish, which for finger-print resistance shames HP Chromebook 11's glossy, smudgy finish. The Dell's curved underside, where black and grey seams meet, creates illusion of greater thinness. When comparing the Dell alongside the C720P, their overall designs are quite similar. The matte finish , dark color, and curvy lines give the Dell premium appearance.
However, the defining characteristic is tactile, not visual -- how pleasing the keys, hand-rest area, and trackpad feel to fingers and palms. Great design is more than just about what you see. Dell Chromebook 11 delights my digits, and I often mindlessly caress the keys with my fingertips or rub the sides of my palms against the finish. Seriously, I like touching this computer.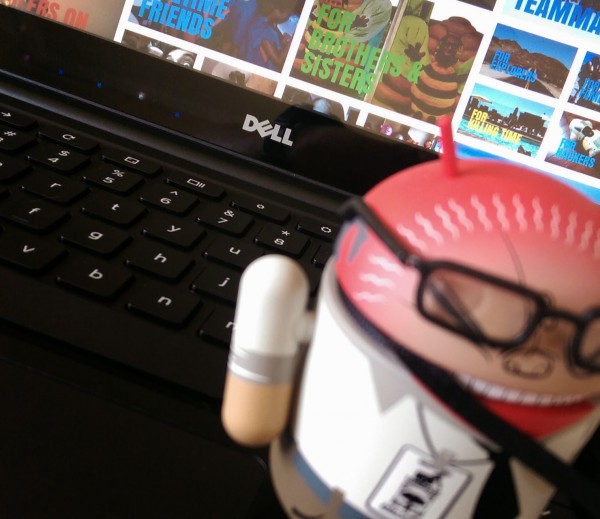 Not the Brightest
The black border around the display emphasizes content, while removing distraction. This characteristic helps compensate for the big shortcoming: Aforementioned brightness. Like most other Chromebooks, the screen is too dim for my tastes. But viewing angles are excellent, with consistent color and contrast sideways, but less so from above or below.
I agree with journalist Ian Betteridge, who puts the screen experience behind the Pixel and HP Chromebook 11 and ahead of everything else. Text is plenty sharp and more readable than on the C720P, which screen looks darker and is considerably more reflective. Where the comparably-sized Acer comes up short, the Dell presents a screen that's just good enough. Just. Considering how pleasing Chromebook 11 is in most every other way, good enough is a compromise.
Bang, Boom, Buck
Intel Haswell processors really make a difference for this generation of Chromebook, and the Dell is no exception. Performance is speedy, even with 20 browser tabs open. Running operation is smooth, startup is instant when opening lid from sleep, and cold bootup takes about 7 seconds. WiFi connection is immediate for trusted networks. So, in the classroom, Chromebook 11 is ready to use in seconds. The slowest startup task is human -- entering log-in credentials.
Video streaming is crisp and largely stutter-free. Audio is surprisingly clear and defined from the internal speakers. But externals really deliver. I tested with Harmon Kardon SoundSticks II, and whoa, do they sound great. Music is bright and the the bass booms. I hear and feel more rumble from my external speakers than even when attached to the newest MacBook Pro model. Bass is right priority for a laptop hyped for the education market. Give students what they want. Booming audio.
The fan runs a lot -- like nearly constantly, regardless of ambient air temperature, and the sound is noticeable in my quiet office. However, we had a heat wave here in San Diego during my last two days of testing, and fans running in the next room obscured sound of the laptop's fan. Surely classroom chatter is louder.
Perhaps because of the overzealous fan, Dell Chromebook 11 runs cool, making it a great lap computer. Even when streaming movies or music, the notebook stays cool. So I presume that Dell considers heat dissipation as being higher priority than fan noise. Good design is often about compromises to achieve specific benefits.
Dell Chromebook 11 is a comfortable carry-along. Lid closed, the laptop holds easily and feels good. The matte finish gives good friction, which matters considering weight and thickness, say, compared to 11.6-inch MacBook Air. The Chromebook weighs nearly as much as the 13.3-inch MBA -- 2.9 and 2.96 pounds, respectively.
Battery life is exceptional and up to the challenge of the longest school day. I never managed to fully exhaust the charge during a full day of writing, so you can expect 8 hours and likely longer.

The Competition
Chromebooks are a surprisingly similar lot, based on basic specs like RAM (typically 2GB or 4GB) or solid-state storage (usually 16GB or 32GB) and dependence on cloud apps, of which there are plenty. But there are noticeable differences worth noting in the 11.6-inch screen category. I see three major competitors to Dell's model.
Dell Chromebook 11 specs: 1.4GHz Intel Celeron 2955U Haswell processor; 11.6-inch display with 1366 by 768 resolution, 200-nit brightness; 2GB or 4GB memory; 16GB SSD; webcam; SD card slot; Bluetooth 4; WiFi A/N; and Chrome OS. Weighs 2.9 pounds. Price: $279 (2GB); $299 (4GB).
Acer C720/C720P specs: 1.4GHz Intel Celeron 2955U Haswell processor; 11.6-inch display with 1366 by 768 resolution, 200-nit brightness; touchscreen (P model only); 2GB or 4GB memory; 16GB or 32GB SSD; webcam; SD card slot; Bluetooth 4; WiFi A/N; and Chrome OS. Weighs 2.8 pounds. Price: $199,or $329, depending on RAM, storage, and screen.
HP Chromebook 11 specs: 1.7GHz 5250 dual-core processor (ARM); 11.6-inch display, 1366 x 768 resolution, 300-nit brightness; 2GB RAM; 16GB SSD; webcam; two USB 2.0 ports; WiFi A/N; Bluetooth 4.0; Chrome OS. Weighs 2.3 pounds (1.04 kg) and is 0.7 inches thick. Price: $279.
Samsung Chromebook 2 specs: 1.9GHz Samsung Exynos 5 Octa 5420 (ARM) processor; 11.6-inch display; 1366 x 768 resolution, 250-nit brightness; 4GB RAM; 16GB SSD; SD card slot; Google Hangout-certified webcam; one each USB 2.0 and 3.0 ports; HDMI port; WiFi AC; Bluetooth 4.0; Chrome OS. Weighs 2.65 pounds. Price $319.99, available this month.
The Dell and current Acers use the same Intel processor. However, this week Acer announced a new C720 model with Core i3 processor but not pricing or availability. I presume, but don't know,  the laptop will be ready for back-to-school buying.
The HP matches, and many more ways surpasses, the Dell for design and ergonomics but not battery life or performance. While the IPS display is exceptionally bright and vivid, even for notebooks costing hundreds of dollars more, 2GB of RAM and last year's ARM processor make HP Chromebook 11 comparatively slower.
The new Samsung promises much, with faster ARM processor and doubled memory, but I haven't tested the Chromebook and can't directly compare it to the others.
Big Benefits
I see 10 benefits to Chromebook ownership -- all of which are applicable to schools:
Easy setup
Guest-user account
Fast crash recovery
Instant-on capability
Security architecture
High-value for low-cost
Simplicity and usability
Hands-free IT management
Frequent updates delivered easily
Seamless sync with devices running Chrome
Setting up Chromebook is as easy as the user signing in with his or her Google Account. Sharing or switching computers is as simple. Dell's laptop checks off the entire list, but the same can be said of most any Chromebook. Some reasons to consider the Dell:
The laptop largely resists fingerprints.
The computer feels solid, and the surface diminishes and hides scratches.
Chromebook 11 is a comfy carry but not easily dropped -- thanks to the finish.
Students can feel good, because the laptop is handsome and doesn't look cheap.
The keyboard is among the best in the size and price category --kids can type away.
The screen is second-best in the size and price category but placed on the speedier Chromebook.
There is much to like about Dell Chromebook 11. Joy is a benefit often overlooked by IT decision-makers. There are good reasons why Apple devotes so much attention to design details -- so that users can feel happy using products. Dell does design right with Chromebook 11, such that it really is a joy to use. Shouldn't productive students be happy students?