BlackBerry details BBM for Windows Phone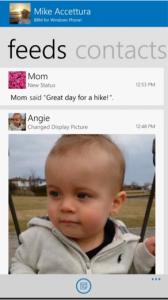 After being announced in late-February, BBM finally landed in Windows Phone Store earlier this week. The messaging app is not yet generally available though, as it was published as a private beta. But BlackBerry is giving impatient BBM fans and prospective users the opportunity to join an "external" testing program.
Ahead of the public release, BlackBerry also showcases what the first BBM iteration can do on Windows Phone. First off, the Canadian maker has designed the app so it feels and looks, per BlackBerry's own words, like a native Windows Phone offering. That is a significantly different approach to what it has done with BBM for Android and iOS, both of which look much like the BlackBerry OS counterpart.
"When it comes to design, we've heard users asking for a native experience that matches the experience they're accustomed to on their phone", says BlackBerry. The Windows Phone version of BBM will make use of horizontal scrolling to reveal its main areas, namely Contacts, Chats and Feeds. This is very Windows Phone-like, and the way Microsoft wishes all apps would work. Also, a menu bar is placed at the bottom of the window, with the obligatory three-dotted menu button on the right side, that expands it when tapped.
As its name implies, Contacts is where all of the user's BBM contacts reside. There, folks can search, find other BBM users, manage users, and send broadcast messages. Contacts can be pinned on the Windows Phone homescreen, which is a neat touch; after the live tile is tapped, a direct chat will open. The contacts list also includes BBM Groups.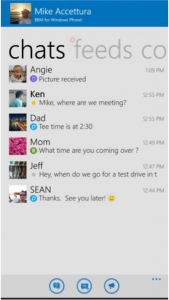 Chats is the part of BBM which includes all conversations. From this pane, users can initiate new conversations, reply in existing ones, broadcast and multi-chat. Conversations support sharing photos, voice notes, contacts, and location.
Feeds is BBM's Timeline-like feature, which shows what contacts are doing. It displays status and profile photo updates, provides an option to quickly initiate a conversation, and allows the user to update their own status.
Now, here is what Windows Phone users will not get at first. The initial BBM release will come without stickers, BBM Channels and Voice as well as Glympse-powered location sharing. These features, BlackBerry says, will be added "in the months ahead". BlackBerry makes no mention off which Windows Phone version will be supported at launch, but the app's Store page says it works on both Windows Phone 8 and Windows Phone 8.1.
If you are looking for BBM's Windows Phone Store page, here it is.