BBM for Windows Phone available to beta testers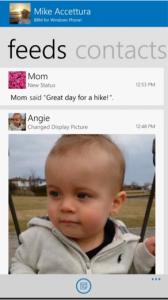 You may recall that, earlier this month, BBM finally made its way to Windows Phone Store, after arriving on Android and iOS last year. It was not made publicly available, as BlackBerry chose to conduct a beta testing trial before its official launch.
As one of the folks who quickly signed up for the beta program, I just received an email from BlackBerry detailing what sort of features are available to test, what the known problems are, and how to provide feedback. Here is what fellow beta testers can expect.
BlackBerry wants BBM for Windows Phone beta testers to focus on the core features of its messaging service, like the ability to create a profile, manage settings, use Groups and so on, as well as some platform-specific features, and possible issues, like the ability to pin live tiles from the app and receive notifications. The Canadian maker wants to insure that typical BBM features work as expected come launch time.
BlackBerry is aware that Windows Phone users may encounter some issues with the available BBM beta release, like problems sending invites and acceptances while outside of Wi-Fi coverage, some improperly rendered emoticons and the voice call availability while the feature is not even supported at this stage. As you can probably imagine, these are issues BlackBerry wants beta testers not to report.
Since I last discussed BBM for Windows Phone, BlackBerry released an update, today, which brings the app to version 1.0.0.3 (with the Beta label next to it). There is no changelog provided.
BBM is available to download from Windows Phone Store.