Lumsing Prophet Bluetooth Speaker: a powerful wireless audio solution [Review]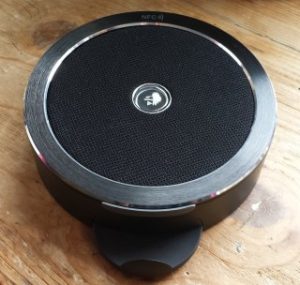 We seem to have had something of a run on Lumsing products recently, but the focus has been on power -- both in-car and portable. Now it's time for something a little different from the same company: a wireless Bluetooth speaker. It can be used with phones, tablets, laptops and anything else that chucks out a Bluetooth signal; actually, there's a 3.5mm jack, so there is a wired option too. As this is, primarily, a wireless speaker, it should come as no surprise that it features a built in rechargeable battery. Charging comes via a USB port which you can connect to either a computer or a phone charger.
Let's skirt over the fact that the instruction manual provided with the speaker has a spelling mistake ("Propeht" rather than Prophet) and look at what the Prophet has to offer. This is a budget speaker, but its looks don't give this away. The disc shape hides two speaker cones, surrounded by a silver trim. Smack in the middle of the speaker grill is a play/pause button which allows for music playback control, and also doubles up as a pick up/hang up button for your phone -- as well as play music from your phone, the Prophet can also be used to make (very loud) hands-free phone calls thanks to the built in microphone.
And the output is quite impressive. The two 5W speakers kick out a pleasing, deep, bassy sound; we're not talking high-end audio, but for a cheapy portable Bluetooth speaker, it does make one's ears prick up. If you're using the Prophet in conjunction with a phone or Bluetooth-enabled MP3 player, there's a little swing out drawer to sit your handset on. It's not ideal as it's a little unstable, but it's a nice touch. You're not restricted to Bluetooth pairing -- which is very quick and simple -- in addition to the aforementioned 3.5mm jack, you also have the option to use NFC. At around 250g and measuring 120mm in diameter and 32mm in height, the Prophet manages to fall into the portable category.
The volume control at the back of the speaker can be awkward to reach, but there's one rather irritating oversight. While Luming claims 15 hours of battery life between charges, you should expect rather less (unless you listen to music at very, very low volumes); but you won't know when you're going to lose sound as there's no way to check the battery level.
In all, it's something of a confusing piece of hardware. It's clearly cheap (just look at the price tag), but you do get better quality than you might expect when parting with this amount of money. The build quality is more than acceptable, but the plasticky feel does detract from things slightly. The design is not perfect, but the price is hard to argue with… which brings us onto a final point. Just as BetaNews has been rather taken by Lumsing products of late, it seems that shoppers have been too. Usually available for $20 in the US and £20 in the UK, the speaker is currently out of stock on Amazon. Stock is currently available in Japan (¥2,799), but if you want one outside of the land of the rising sun, you'll have to keep an eye open for when shelves are restocked.