Phablet fans, get ready -- Samsung Galaxy Note 4 goes on sale this week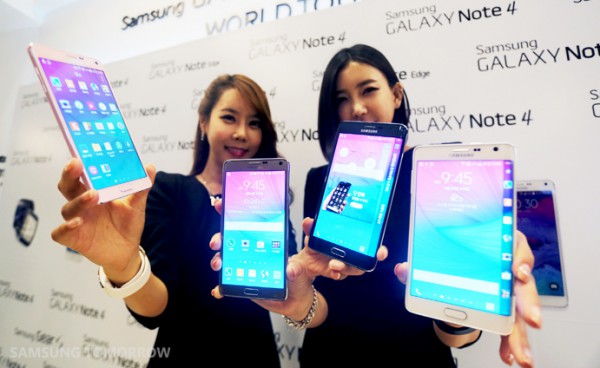 Samsung Galaxy Note 4 is among the most important new mobile devices to go on sale in the second half of 2014, alongside Apple's iPhone 6 and iPhone 6 Plus (which launched last week); the latter is a direct competitor. The Android phablet was slated to go on sale next month, but, in no small part thanks to the strong sales performance of the new iPhones, Samsung wants to get it in consumers' hands much sooner.
Samsung has announced that Galaxy Note 4 officially goes on sale this Friday, September 2014, in its home country of South Korea. There pre-orders started earlier this month, with consumers reportedly showing a strong interest in the device. But what if you live outside of South Korea?
Samsung says that Galaxy Note 4 will hit store shelves, in remaining markets, by the end of next month. That is a long way to go though, and that could steer some consumers towards the already-available iPhone 6 Plus. Available colors for Galaxy Note 4 are Blossom Pink, Bronze Gold, Charcoal Black and Frost White. There is no pricing information in the announcement, but expect it to cost about as much as its predecessor, Galaxy Note 3, when it hits your local market.
Alongside Galaxy Note 4, Samsung also launched Galaxy Note Edge -- what is basically a Galaxy Note 4 with a curved display on the right side -- as well as its latest wearables, namely Gear S, Gear VR and Gear Circle (the first is a Tizen smartwatch with a SIM card slot, the second is a virtual reality headset which works with Galaxy Note 4, and the last one is a neck collar -- it really is).
Galaxy Note Edge, Gear S, Gear VR and Gear Circle will be available in other markets as well. Their availability will "vary by region" -- which is another way of saying that the most important markets to Samsung will be the first to get them.
For more information on Galaxy Note 4 and Galaxy Note Edge, check out our coverage of their announcement as well as our first-impressions of the two devices (and Gear VR also). For more information on Gear S, check out this story.