Will you buy Chromebook Pixel 2015?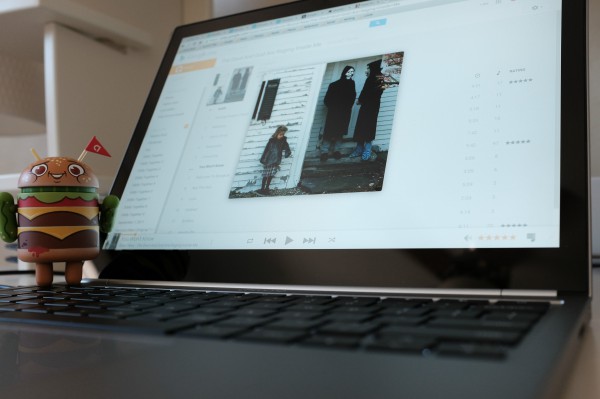 Because some BetaNews readers think Chromebook is a joke, I realized the necessity of getting out our Pixel buying poll before April Fools' Day. So here we are. Google released the second-generation Chromebook Pixel on March 11. The high-end laptop costs less than its predecessor (one model for under $1,000), but many potential buyers will question—and they should—the wisdom spending so much on a computer with browser user interface meant to be mostly Internet-connected.
Chromebook Pixel isn't for everyone—probably not most people. But our readers aren't most people. Many of you live on technology's cutting edge, and some bleed because of it. The laptop could be for you, and it most certainly is for me. I bought the high-end LS model on launch day and took delivery on Friday the 13th. I will have much good to report in my forthcoming review. But what works for me may not for you. So let's look more closely at the computer.
Buying Options
Two configurations are available. For $999: 12.85-inch touchscreen, 2560 x 1700 resolution, 239 pixels per inch, 400-nit brightness; 2.2GHz Intel Core i5 processor; 8GB RAM; 32GB flash storage; Intel HD graphics 5500; backlit keyboard; glass touchpad; Bluetooth 4; WiFi AC; two USB Type-C ports; two USB 3.0 ports; SD Card slot; and, of course, Chrome OS. The $1,299 LS model doubles RAM and storage and swaps the processor for 2.4GHz i7.
"Two underpowered, overpriced machines. Decisions, decisions", reader YeahRight opines. John Young shares similar sentiments: "It is a $999 web browser that tracks everything you do".
There is nothing underpowered about Pixel, and I find the browser user interface to be liberating and empowering. Then again, I am not habitually bound to bulky applications like Adobe Photoshop or Microsoft Office. I moved on. If you have, too, Pixel may be right for you. If not, listen to Mr. Right and Mr. Young. No Chromebook can meet the needs of anyone who needs to run desktop applications. But you may also be surprised at the richness of alternatives available for the browser.
If you do want to purchase either CBP configuration, plan on standing in queue. Google lists availability as 2-3 weeks for both. That may be a measure of demand, or the company not manufacturing enough. Bottom line: Hurry up and wait. Order while you can, if you want either, before Google puts up another out-of-stock notice.
MacBook Comparisons
Interestingly, or perhaps ironically, your Pixel might arrive around the same time Apple starts selling the new MacBook, which also was announced week of March 9 and goes on sale April 10. If you're considering either, do read my buying comparison.
Additionally, I strongly recommend that anyone looking to buy 13.3-inch MacBook Pro with Retina Display should also consider Google's newest Chromebook. I see many of the benefits as being similar, and the hardware configs are close enough. Much depends on how steeped you are in either company's digital lifestyles, how much time you spend in the cloud, and what applications matter most to you.
BetaNews reader blazewon22 "debated between the Chromebook and a new MacBook Pro but found the Pixel to satisfy my home needs pretty well. I still have a work laptop and don't need to commingle". He sold the first-generation Pixel on eBay then bought the newer model. "Battery life is going to be awesome".
Price-wise, some of you might compare Pixel to MacBook Air, as reader Ben Bethel did. He explains:
Okay Apple fanboys—P.S., I was one a long time ago—here's why I chose the $999 2015 Chromebook Pixel 2 over the new $999 2015 Macbook Air: Just 8 ounces heavier; touchscreen; Gorilla Glass; 3.4 x the resolution (best laptop screen on the market—4.4 million pixels vs 1.3 million pixels); better speakers (far better); 50-percent larger battery; 2.2 GHz processor (vs 1.6 GHz), 8GB RAM (vs 4GB); charges via 60W USB-C (2 hours in just 15 minutes vs 45W); real-world tested at 14-hour battery (vs 11-12 hour); costs $9 for external monitor cable (vs $80); three microphones with noise canceling (vs two); supports 4K video output (3840 by 2160 vs just 2560 by 1600); plus 12 free Gogo Inflight Internet sessions (worth $240); plus 3 years of 1TB cloud storage (worth $360)
His reasons are more about hardware-value for similar price. Regarding his battery life claims, I see nothing approaching 14 hours in real world use. My final number will be in the forthcoming review.
[poll id="20"]
Limited-Use?
"I choose the Surface Pro 3. Period", reader Eddy Frometa says. The usage scenarios are different, even though both computers have touchscreens. If you live the Microsoft lifestyle, the tablet-laptop convertible is excellent choice. Microsoft Store sells the 1.9GHz Core i5 model with 4GB RAM and 128GB storage for $999, but a keyboard adds to the price. Screen-size is comparable to the Pixel, and both provide 3:2 aspect ratio, which I find to be superior to 16:9 or 16:10 for web browsing. However, as a writer, I find Microsoft's Type Cover to be inadequate.
By contrast, the new Pixel's incrementally-improved keyboard is fantastic. My writing productivity is up 30 percent or more (depending on day and what I'm doing). The computer is blazingly fast, thanks to fifth-generation Core i processor and generous RAM. The laptop rarely hesitates, and I often work with two-dozen or more browser tabs open. But the biggest benefits come from software smoothness matched to hardware brawn. Chrome OS roars on this Chromebook, unlike any other I have used. I'm not a big fan of benchmarks, but two weeks ago a reader asked for Octane 2 score: 26230 running in Guest mode.
Reader barely_normal is perplexed by Chromebook Pixel 2015:
I cannot believe that anyone would pay that much for a limited-use device. This is just nuts when thinking about what a notebook using Windows would cost. I am not trying to be difficult, and I'll definitely go look at one, but right now, it is like someone is stating that a Yugo has suddenly become equal to a 6-series BMW.
My response: The hardware absolutely is 6-series BMW class. Chromebook Pixel looks and feels premium-build. It handles the road fabulously and gets up to speed instantly. Before the lid is half-way lifted, the laptop is awake from sleep and ready to use. Any slowness is the user typing his or her password.
Still, "limited-use device" is a fair concern and should be for everyone depending apps like Office or Photoshop. There are adequate alternatives, but they aren't the same and may not fit your business processes or personal habits. For my needs, Pixel is more than enough.
So the question remains: Will you buy Chromebook Pixel 2015? Please take our poll and share your reasons in comments. A final note: While polls like this one generally measure buying intentions, to get cleaner results the question is definitive "Will you buy" rather than "Do you plan to buy". If you already bought or ordered CBP, you still qualify as either of the two yes responses.
Photo Credit: Joe Wilcox