Microsoft releases Windows 10 Mobile Insider Preview Build 10572 to Fast ring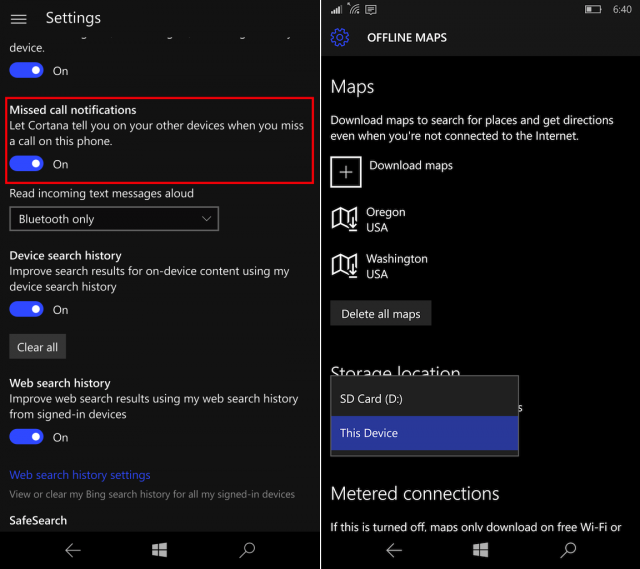 With the first Windows 10 Mobile devices set to arrive in November, there is not much time left for Microsoft to get its new mobile operating system ready for prime time. Development is in full swing, with a new Insider Preview build available now on the Fast ring.
Windows 10 Mobile Insider Preview build 10572, just like the one that arrived a week before it, requires users to go back to Windows Phone 8.1 to install it on their smartphones, but it more than makes up for the trouble thanks to all the changes that Microsoft has baked in.
Probably the biggest change is the integration with Windows 10 through Cortana. Missed call notifications on your Windows 10 Mobile devices will show up on your Windows 10 PC through the personal assistant.
Cortana will allow you to send messages straight from your PC, via your smartphone, by simply typing "text" and the name of the person you wish to contact in the personal assistant's search box. You can also trigger this feature with the "text" command. You can reply with a text to folks whose calls you just missed.
Your PC will have to run Windows 10 Insider Preview build 10565 for this to work. It is available via Slow ring right now; ISOs are available as well.
Microsoft has put some thought into this feature as, on top of all this, you can choose which PCs you will get notifications on, so a missed call won't trigger sound alarms all over the place. In Cortana's Notebook settings you can toggle "Missed call notifications" on a per-PC basis -- obviously, this has to be done from a PC and you have to use a single account on all your devices.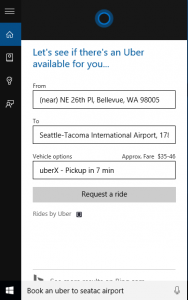 Speaking of Cortana, the personal assistant has been made more useful with the addition of a book-and-track-an-Uber feature. Say "Book an Uber" and Cortana will help you get a ride; Add an airport's name to the command and it will help you get an Uber ride to the airport of your choice -- assuming it's recognized by Bing, that is.
Skype integration is also present in this build, with the messaging services being featured in Messaging, Phone and Skype video universal apps. It comes with support for GIFs and an option to let you search your message history. In the Phone app, you can look for contacts from Call History.
Another cool addition is the option to save offline maps on the microSD card, a feature which I am sure users of low-end and mid-range smartphones will immediately embrace.
Microsoft has improved the Photos app and storage settings, making it easy to favorite photos and enhance them, and allow users to install apps straight on the microSD card.
There is a significant number of bug fixes included in Windows 10 Mobile Insider Preview Build 10572. Among them is a fix for notifications not being able to be received before unlocking the device and tweaks to Cortana's background activity to improve battery performance. There are also some known issues with this build. Hit the link in the second paragraph for the entire breakdown.
Microsoft says that it has fixed the issue that prevents users from directly upgrading to new Windows 10 Mobile Insider Preview builds, like this one, and that a fix will be included with upcoming builds newer than 10575. The software giant also says that it is working on making it possible for users on builds 10536 and 10549 to upgrade straight to the next builds.