Western Digital now shipping the HGST Ultrastar He10 -- world's first 10TB HDD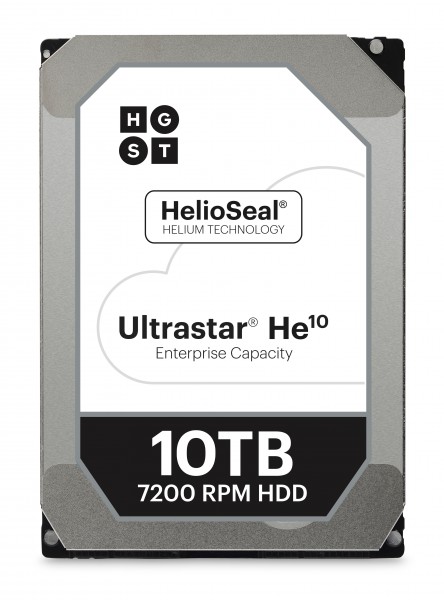 As the world's home users trend towards greater cloud-storage adoption, the enterprise continues to -- wisely -- embrace on-premise storage too. Don't forget, the cloud is not magic either; the online storage companies need hard disk drives to store all of this data.
Today, Western Digital's HGST subsidiary announces that it is shipping the world's first 10TB hard disk drive. Featuring perpendicular magnetic recording and a helium-filled body, it is on the cutting-edge. Data center maintainers should go absolutely gaga.
"Essential for creating high-density storage solutions, the Ultrastar He10 offers a 25 percent increase in capacity over the previous generation and uses 56 percent fewer watts/TB than traditional air-filled HDDs, allowing data center architects to achieve new levels of eco-environmental efficiency. The Ultrastar He10 also continues HGST's best-in-class reliability standards, offering a 2.5 million mean-time-between-failures rating as well as a five-year warranty. It is available to all enterprise customers as a bare drive, and will be available in HGST's Active Archive System for customers that require a petabyte-scale object storage system", says Western Digital.
You know who else utilizes storage in the cloud? Streaming media companies. David Fullagar, director of content delivery architecture at Netflix explains, "these 10TB drives will allow us to quickly integrate, build more capacity and stream more movies to our consumers. We've been using the HGST HelioSeal drives for a long time and not only do they give us more capacity, they have contributed to a lower overall power envelope and higher storage density, which has allowed us to maximize our data footprint and create a network that is optimized for TCO".
Keep in mind, this is not designed for consumers; while the price is not yet revealed, it will likely be quite expensive. So where does Western Digital intend for this drive to be used? The company shares the following.
Enterprise and data center applications where capacity density and power efficiency are paramount
Cloud and Hyperscale storage
Massive scale-out high-density data centers (MSO)
Bulk storage using object storage solutions like Ceph and Hadoop to support Big Data Analytics
Centralized video surveillance
Drop-in ready for all mainstream enterprise capacity applications
If you work in such environments, you will want to contact whomever in your company is in charge or purchasing if you are interested. The capacity, reliability and environmental-friendliness should make it any easy sale.