Belkin unveils the 'Lightning Audio + Charge RockStar' adapter for Apple iPhone 7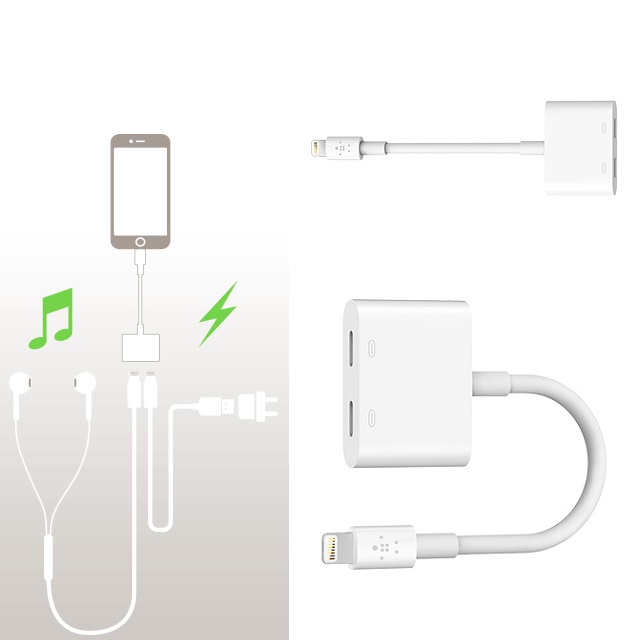 Yesterday, Apple announced that it was removing the 3.5mm audio jack from its upcoming iPhone 7 and 7 Plus smartphones; some people are still comically reeling from the news. Understandably, not everyone can see the benefits of Apple's forward thinking subtraction now, but the world will catch up eventually -- as usual.
While killing the outdated decades-old audio port was the correct choice, understandably, not everyone is ready to invest in Apple's AirPods. Some folks will prefer wired headphones. Luckily, Apple is bundling both a 3.5mm dongle and Lightning audio wired earbuds with the iPhone 7 (and Plus). While that partly solves the dilemma, some folks will hit a roadblock -- they cannot listen to wired headphones while charging their iPhone devices. Today, Belkin creates a solution for that problem with the all new 'Lightning Audio + Charge RockStar' adapter.
"Developed closely with Apple, Lightning Audio + Charge RockStar plugs into the Lightning connector making it possible to use Lightning Audio headphones or the Apple Lightning to 3.5 mm Headphone Jack Adapter and charge your iPhone at the same time", says Belkin.
Steve Malony, VP, GM Belkin says, "we're excited to offer the Lightning Audio + Charge RockStar to our customers, extending our family of RockStar multi-port products and creating an easy way for people to charge and listen on the go".
Belkin shares the following benefits.
Dual functionality so you can listen to Lightning Audio and charge at the same time
Compatible with Lightning Audio headphones and Apple Lightning to 3.5 mm Headphone Jack Adapter
Supports pass-through charging up to 12W for iPhone and iPad
Supports up to 48 kHz, 24-bit audio output
Works with the Apple iPhone 7 Smart Battery Case and battery packs for on the go charging
Not only will this work with the iPhone 7 and 7 Plus, but it should work with any iOS device with a Lightning port. Even if your iPhone, iPad or iPod touch has a 3.5mm audio jack, you should be able to leverage this adapter to charge your device while also using Lightning Audio wired headphones.
If you want to buy this dongle, it will be available soon for $39.99 at Apple.com and Apple retail stores.