Microsoft Teams has 30,000 business customers -- but is it a serious threat to Slack yet?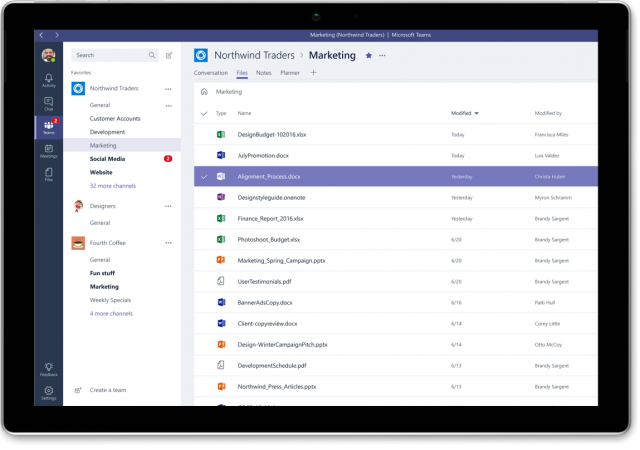 Microsoft Teams, Slack's latest high-profile rival, is slowly gaining traction. The software giant has announced that 30,000 organizations, spread across 145 markets, "actively used" the collaboration service in the past month. It launched in late-November.
Where are those 30,000 customers coming from? Well, since Microsoft Teams is part of Office 365 that means that the users the collaboration service has are first and foremost Office 365 subscribers -- and there are 85 million active users there. That gives it huge potential for growth.
Microsoft Teams can be easily activated by Office 365 administrators, but it is important to note that this can only be done for business and education accounts. Folks who have a Home or Personal subscription to the service do not have access to it -- at least not now -- though that may not be high on their list of priorities.
"We're especially inspired by this early usage. Not only does it show that the product fills a real market need, but it gives us a ton of information to help shape the product leading up to General Availability, which is still on track for this current quarter, Q1 2017," says Microsoft's Kirk Koenigsbauer. "Our customers have been a great guide as we've delivered numerous features into the product even since the preview launched -- including built-in audio calling on mobile and named group chats, an easy way to keep track of the context of a conversation."
Microsoft says that is it gearing up to introduce more new features in the coming period, including compliance and reporting capabilities and WhoBot. The latter addition will come alongside General Availability, while the former will be introduced in the following weeks.
So, how does it compare to Slack in terms of users? Well, if you look at what it announced last year, Slack has over four million active users every day (5.8 million every week) and more than 1.25 million paid seats. And, when it comes to paid teams, the startup says that there are over 33,000 of them on board.
Assuming that all organizations using Microsoft Teams are also paying for Office 365, that would mean that it only needs to add a couple more thousand organizations under its belt for it to match Slack's 33,000 paid teams (another assumption is that Slack's user base hasn't grown since October, when those figures were released).
However, we do not know how many users there are in the organizations using Microsoft Teams to understand how far off it is from Slack's 1.2 million paid seats. That is an important metric to have, but Microsoft is keeping it under wraps so far.
However, it is pretty obvious that, by leveraging the appeal and user base of Office 365, Microsoft Teams is slowly but surely becoming a major rival for Slack -- and the largest threat to it as well. The biggest advantage that Microsoft Teams has is that it is not a standalone product, like Slack is, but part of a very powerful suite of services.
The money aspect is interesting too, because Office 365 represents, at least on the surface, better value than Slack. Business plans start at $8.28 per user per month compared to $6.67 per user per month, but on top of a collaboration service -- and for a very small difference -- users also get Office on the desktop and mobile, 1TB of OneDrive storage, Sway and more.
It will be interesting to see how things develop after Microsoft Teams reaches General Availability, but one thing is clear: it is off to a good start.