The iPhone is mightier than the Galaxy -- Apple overtakes Samsung in smartphone shipments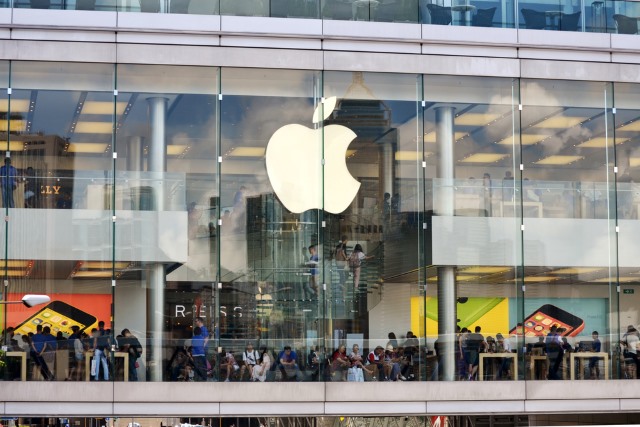 Apple edged Samsung to take the top spot in the smartphone market in the final quarter of 2016, thanks to very strong iPhone shipments. The Cupertino, Calif.-based vendor moved 78.3 million units, having a share of 17.8 percent, while its South Korean rival only managed to ship 77.5 million smartphones, which equates to a market share of 17.7 percent. Total shipments for the quarter were 438.7 million units, according to a Strategy Analytics report.
This is not the first time that Apple beats Samsung, but it is rare for it to happen. Samsung usually has a comfortable lead over its rivals, including Apple, but thanks to the Galaxy Note7 recall it failed to repeat that performance last quarter. You can follow the saga here, but the gist of it is that the company had to pull millions of devices as a result of its mistakes, and that had a serious effect on its showing in the last part of 2016.
"Samsung lost momentum in the quarter as a result of its Note 7 battery fiasco", says Strategy Analytics. "Samsung will be banking on the rumored Galaxy S8 model in a few weeks' time to reignite growth and return to the top spot in quarterly smartphone shipments." It shipped fewer units year-over-year, as in Q4 2015 it moved 81.3 million smartphones.
Apple, on the other hand, posted better figures, with year-over-year shipments rising from 74.8 million units. "This was the iPhone's best performance for over a year, as Apple capitalized on Samsung's recent missteps," says Strategy Analytics.
Huawei came third, with 44.9 million smartphones shipped and a market share of 10.2 percent. The other players in the top five are Oppo and Vivo, both of which do not have the same kind of brand recognition in Western markets as Apple, Huawei and Samsung have. Their shipments were 29.5 million units and 25.6 million smartphones, respectively (6.7 percent share and 5.8 percent share, respectively).
However, overall Apple is still number two to Samsung. The South Korean vendor shipped 309.4 million units in 2016 (it had a market share of 20.8 percent overall), while Apple moved 215.4 million iPhones (for a market share of 14.5 percent). Apple had weaker quarters in this past year, as growth in the market is slowing down.
Both Samsung and Apple, however, saw a considerable dip in shipments year-over-year. The former shipped 319.7 million units in 2017, while the latter moved 231.5 million iPhones. The same cannot be said about the other three vendors in the list. Huawei, which comes third in the rankings, saw its shipments rise to 138.8 million smartphones from 107.1 million units a year prior.
Meanwhile, Oppo's shipments rose to 84.6 million smartphones from 39.7 million units and Vivo's shipments increased to 71.9 million smartphones from 39 million units. Oppo is enjoying a stronger growth, as you can see. Still, both have a long way to go before they can threaten Huawei's spot on the podium.
You can see both charts (unit shipments and market share) below.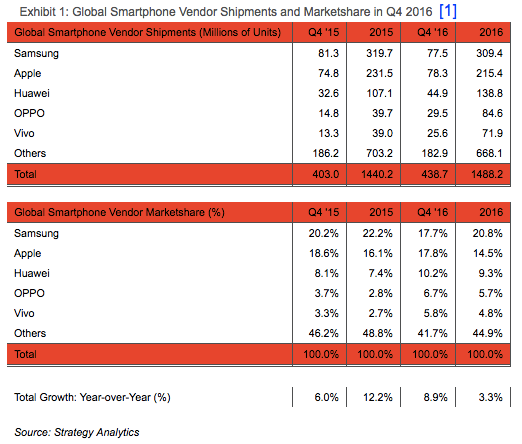 Photo credit: Maen Zayyad / Shutterstock