Newton adds Tidy Inbox so you can focus on important emails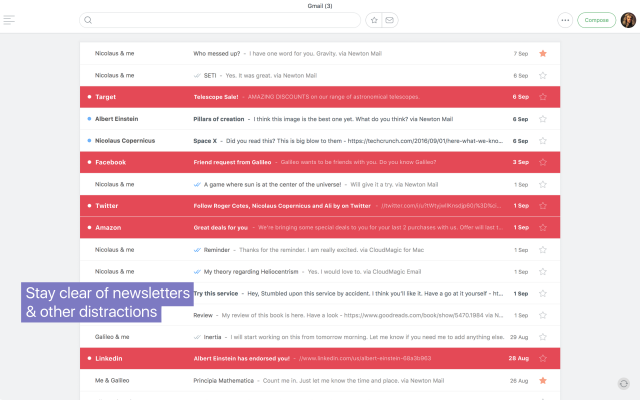 Having tabs in your inbox to weed out unimportant emails can come in handy, but this feature has not gained traction with all the major providers. Google is the only one to offer it, having introduced it over two years ago, with the likes of Outlook.com and Yahoo staying on the sidelines.
So CloudMagic, the company behind popular email app Newton, has come up with its own implementation, that works with all the email accounts available in the client. It's called Tidy Inbox and it's pitched as "Gmail tabs for all email accounts."
The idea behind Tidy Inbox is simple: you have your important emails in the inbox and newsletters and social notifications showing up separately. So, for instance, when you look at your Outlook.com inbox, you will see two sub-folders created under Inbox, called Newsletters and Social.
The feature can be configured on a per-account basis, and you can select whether you want it to target newsletters, social notifications, or both -- or have it completely disabled. This only impacts new emails, and you can move emails around to help the app improve the filtering.
In the combined (or general) inbox, which shows the emails that are in all your inboxes, Tidy Inbox flags the newsletters and social notifications.
It is also worth mentioning that Tidy Inbox is part of Newton's Superchargers, a group of features that are only available to paying subscribers.
Newton is available for Android, iOS and macOS. A Windows app is in the making.