GNOME desktop environment for Linux and BSD is 20 years old today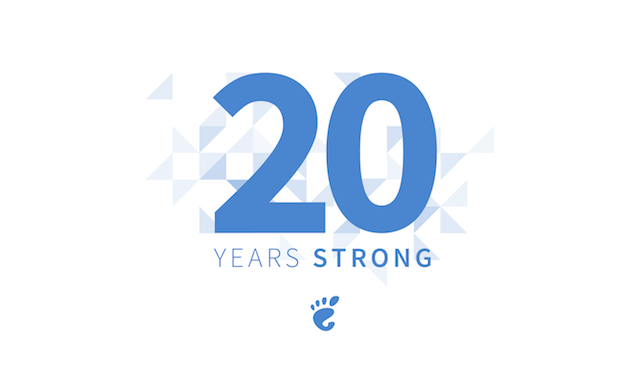 When many people think of Linux, they incorrectly assume it is an operating system. Actually, Linux is merely the kernel which many operating systems leverage. An actual operating system is compromised of many things, including a user interface -- after all, users need to interface with their computer!
Most computer users will obviously want a graphical UI nowadays, and for BSD and Linux-based operating systems there are many such desktop environments from which to choose. One of the most popular environments is GNOME. Not only is GNOME a DE, but it has evolved into much more, such as a collection of apps and design rules (Human Interface Guidelines). Today, GNOME is celebrating a very important milestone -- it is an impressive 20 years old!
"Today, the GNOME Project proudly celebrates its 20th Birthday. Founded by Miguel de Icaza and Federico Mena Quintero on August 15, 1997, GNOME has since become a pillar of the Free Software community. There have been 33 stable releases since the initial release of GNOME 1.0 in 1999," says The GNOME Project.
The project further says, "The latest stable release, GNOME 3.24 'Portland,' was well-received. 'Portland' included exciting new features like the GNOME Recipes application and Night Light, which helps users avoid eyestrain. The upcoming version of GNOME 3.26 'Manchester,' is scheduled for release in September of this year. With over 6,000 contributors, and 8 million lines of code, the GNOME Project continues to thrive in its twentieth year."
Despite being around for two decades, GNOME is showing no sign of slowing down or aging. Actually, the developers are continually improving the desktop environment and gaining new fans.
The move from version 2.x to 3.0 in 2011 was very polarizing, however, alienating some users for many years. Over time, it has won back some of those former users with smart designs and improvements. Heck, GNOME 3.x has become so good that Ubuntu has abandoned Unity and embraced it. Canonical would have chosen a different replacement DE if GNOME wasn't up to par.
To celebrate this 20th birthday, the GNOME Project has set up a special website and domain (happybirthdaygnome.org). On this page, you can learn more about the history of GNOME; it includes things such as an easy to follow timeline and fun facts that will show you various milestones leading up to today.
What is your fondest GNOME memory? Share it in the comments below.