Newton email officially available on Windows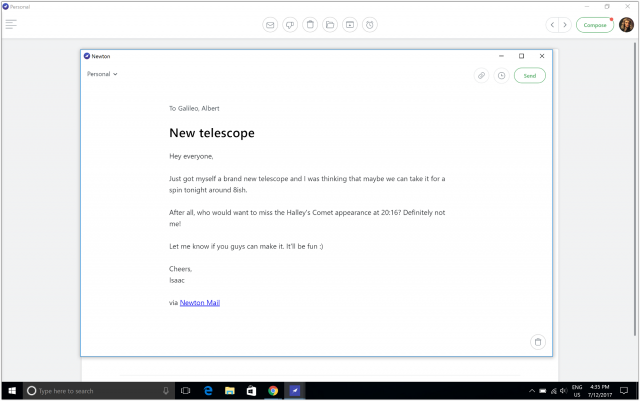 Newton is my favorite email app, not least because I can use it on all my devices -- no matter if they run Android, iOS, macOS or Windows, the last of which arrived in private beta in early-May. Now, after four months of testing, it is ready for prime time.
The Windows version of Newton arrives today in Windows Store, and it's designed with Windows 10 users in mind. CloudMagic, the company behind the app, has included pretty much every feature that Newton has on other platforms, meaning the experience should be pretty similar to Android, iOS and macOS.
There is support for superchargers -- extra features which are only available to subscribers -- like Read Receipts, Send Later, Snooze, Sender Profile, Undo Send and more, but Tidy Inbox, the latest addition to the fold is not yet available -- however, it is "coming soon."
The basics are pretty much the same as well, so you still get that same clean design you've come to expect from other supported platforms, which includes "distraction-free" email threads and compose mode.
Newton for Windows automatically syncs your existing accounts, if you have a Newton account on your other devices, and works with a current subscription to the service.
If you want to test it, there's a 14-day trial available, during which you will have access to all of the premium features. After that you will need a subscription, which costs $49.99 per year, to enjoy its full benefits.
It is worth noting Newton requires Windows 10 Anniversary Update or newer.