Everything new and improved in the Windows 10 Fall Creators Update [changelog]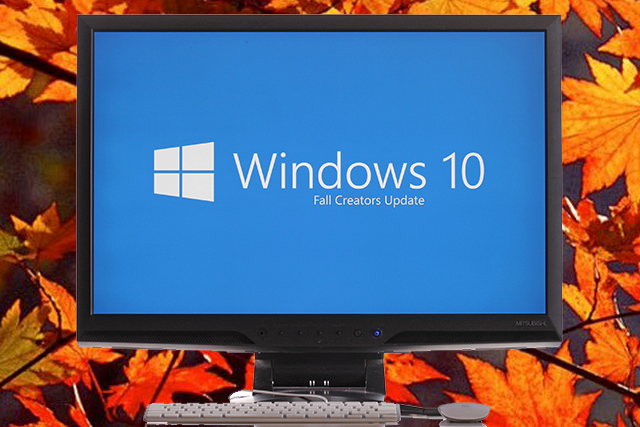 The Windows 10 Fall Creators Update, rolling out now, brings a lot of changes and improvements to the OS, and if you're a Windows Insider you'll have been testing them for months.
If you're not a Windows Insider and you haven't been keeping close tabs on the development of the latest feature update, this comprehensive list will reveal the full range of new features, changes, and improvements. There's plenty to get excited about.
Fluent Design
Microsoft's new design language introduces Light, Depth, Motion, Material and Scale to elements of the OS. Fluent Design evolved out of Microsoft Project NEON and gives the OS a new, glossy coat of paint.
SEE ALSO: Microsoft showcases the Fluent Design changes found in Windows 10 Fall Creators Update and beyond
OneDrive Files on Demand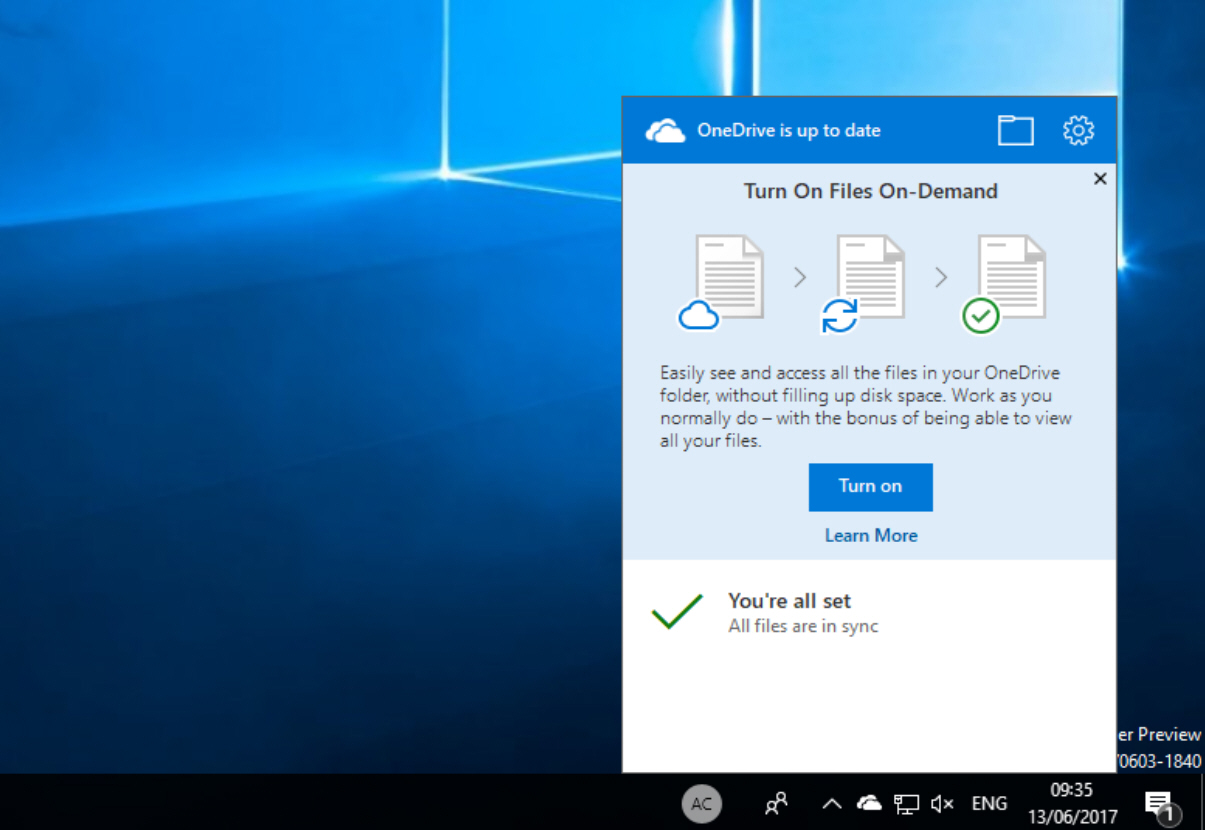 This lets you access all of your files in the cloud without having to download them first.
The files you have stored in OneDrive can be viewed in File Explorer and interacted with just like every other file on your device. If you used OneDrive on Windows 8.1 previously, you'll be familiar with the idea as it's essentially an improved version of the old placeholders feature.
You can manage it via the new Files On-Demand entry in the OneDrive Settings window.
My People
A feature originally intended for the Creators Update, My People is designed to "place people at the center of Windows," according to Microsoft. The feature lets you pin people to the taskbar, making it easier to start up a conversation with them. Click or tap on someone, and you'll be able to choose the app you want to use to communicate with them. My People will remember your preference for next time.
GPU usage in Task Manager
The Task Manager can already show you the load on your CPU, memory, disk and network, and now it adds GPU load to the mix. Open the Task Manager, click or tap the Performance tab, and you'll see the new addition there.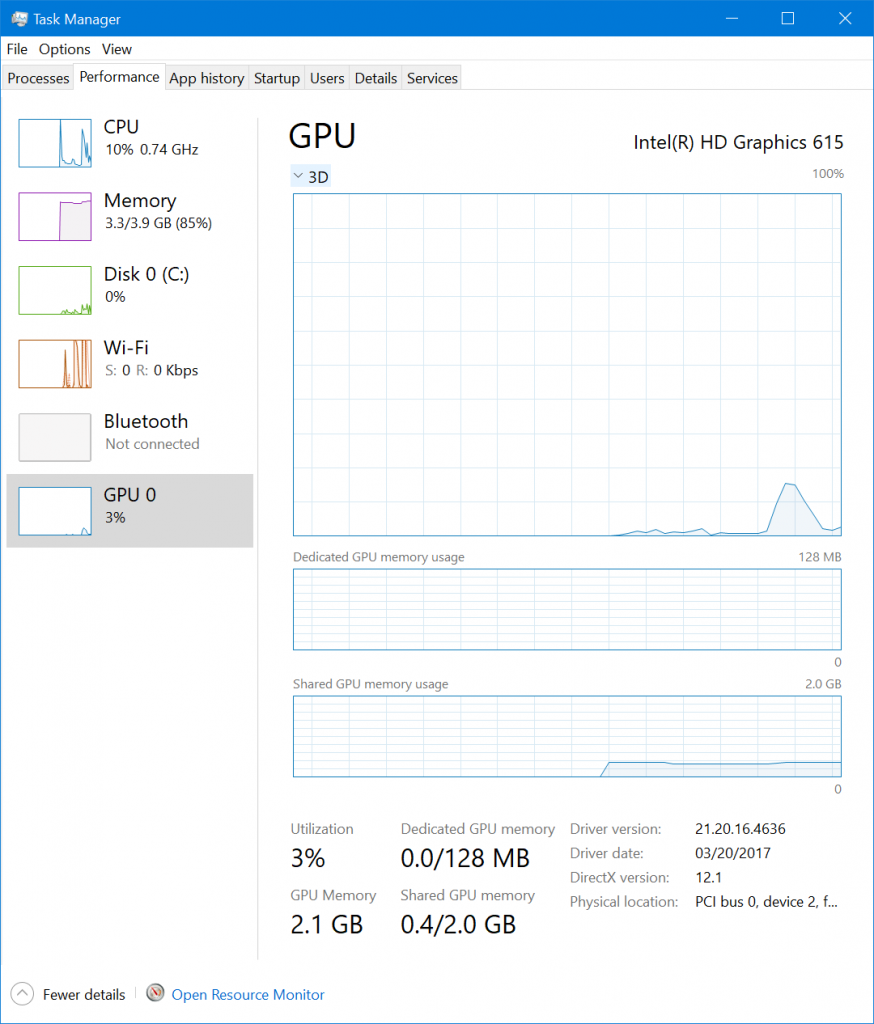 Edge improvements
Despite nagging users to try Edge, Microsoft is struggling to convince people to switch to its browser. Edge gains a lot of improvements in the Fall Creators Update. Opening and closing tabs should be much smoother, there's a redesigned full-screen mode (F11), you can now bookmark multiple web pages at the same time, the PDF viewer has been improved, as has the EPUB viewer (you can now annotate ebooks and ink on them with a stylus). You can pin sites to the taskbar, and it can read websites and PDFs aloud too.
Cortana improvements
Microsoft's digital personal assistant has also been improved in the update. There's a new Cortana section for her in Settings (Settings > Cortana) and she can gather information for you in new ways -- such as through your photo library -- and answer more questions directly, without you needing to open your browser. Perhaps most usefully, you can use Cortana to control your PC, with tasks like shutting down, restarting, and locking your system all handled through voice controls.
Mixed Reality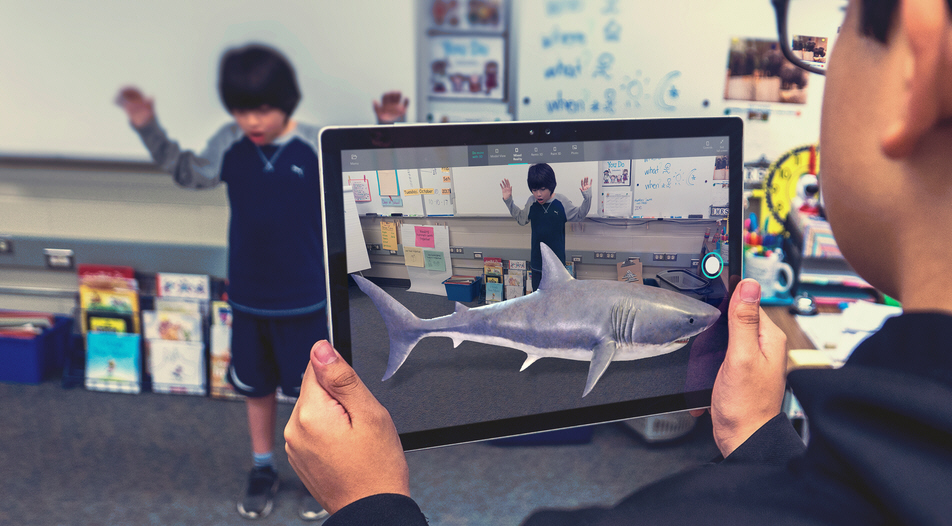 Microsoft is betting big on Mixed Reality, and there is a number of headsets from hardware partners coming this holiday season. The Fall Creators Update comes with what you need (aside from the hardware) baked in, including a new View Mixed Reality app.
New Photos app with Story Remix
The redesigned Photos app gives you the ability to add filters, text, 3D effects and ink to your photos and videos. Windows Story Remix, part of the app, lets you create quick video clips.
Power throttling
Like My People, this was originally a feature intended for the Creators Update. It reduces the amount of power your CPU uses, and a new sophisticated detection system identifies work that is important to you (apps in the foreground, apps playing music and so) so they don't get throttled. Microsoft says it can save you up to 11 percent CPU usage when your system is under heavy load.
Updated touch keyboard
Microsoft has added a new touch keyboard that's based on the company's WordFlow keyboard (on Windows Phone), and SwiftKey. The main new feature here is the ability to swipe letters. Press down on the first letter in the word and then drag to the next one, and so on. Once you've got the hang of it you'll find it's a great way to type.
Security improvements
A new controlled folder access feature in Windows Defender lets you prevent folders getting modified without your say so. The main benefit of this is to protect users from malware attacks, and ransomware in particular.
The SMBv1 protocol, exploited by the recent WannaCry ransomware attack, has been removed.
Privacy improvements
Microsoft has reigned in its snooping in past feature updates, and has introduced yet more privacy enhancements in the Fall Creators Update. Microsoft's Privacy Statement now appears as part of the setup process, and a new Learn More page will take you straight to specific areas of interest in the statement as you choose your privacy settings.
The Fall Creators Update will also prompt you to provide permissions for apps you install from the Windows Store, in much the same way as you are asked to provide permissions for apps on iOS and Android.
SEE ALSO: Windows 10 Fall Creators Update will give you greater control over your privacy -- but does it go far enough?
Connect your phone
Windows Phone/Windows 10 Mobile is dead, which is great news for iPhone and Android users who now benefit from its demise. A Your Phone settings section lets you connect your phone to Windows 10 so you can browse the web, write emails, or use apps on your mobile device, and then continue where you left off on your PC. This is integrated with the Cortana app on iOS and Android.
SEE ALSO: How to use the new cross-device web-browsing feature in Windows 10 Fall Creators Update
Emoji Panel
You can open the new Emoji Panel in any app (with a text box selected) by pressing Windows+. (period) or Windows+; (semicolon). Type in a word, and a matching emoji will be displayed. The Fall Creators Update also includes the new Emoji 5.0 standard.
Miscellaneous additions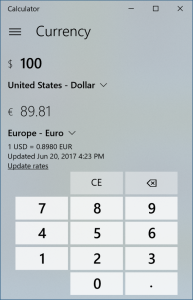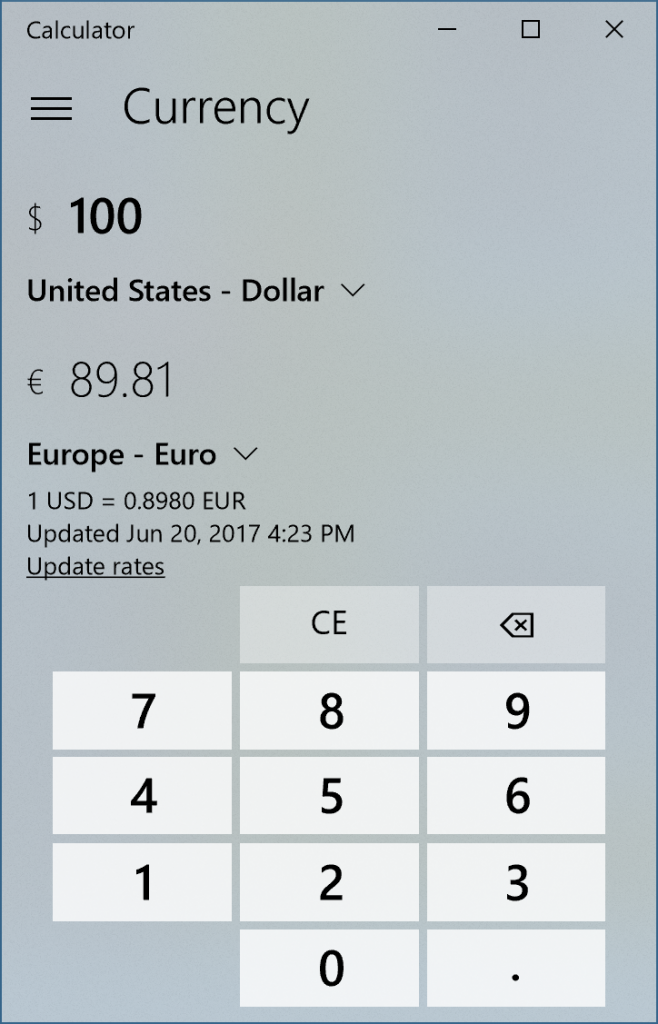 There are lots more features and improvements to watch out for, including new gaming options, a new Copy Link option in the Share dialog, individual volume control for Universal Windows Platform (UWP) apps, a new font (Bahnschrift), the ability to adjust playback settings in apps that use the Windows video playback platform, grouped processes in the Task Manager, a new HDR settings feature, improvements to Windows Update and Game Mode, and color filters for users with color blindness.
The Magnifier settings have been updated and it gains improved bitmap scaling, the Calculator now has a nifty Currency Converter function, Storage Sense gains a new look and the ability to delete your previous versions of Windows, freeing up a lot of space, and Narrator gains additional features, like auto-captioning.
There's better password recovery, and improved support for third-party antivirus software too (placating the likes of Kaspersky). You can share files via a Share option in the context menu, it's easier to enable Spatial Sound, and Remote Desktop is now in the Settings app.
SEE ALSO: All the features Microsoft is removing or deprecating in Windows 10 Fall Creators Update
What are your favorite new features/improvements in the Fall Creators Update? Share your thoughts in the comments below.
Image credit: Stanislaw Mikulski/ Shutterstock