Facebook launches dedicated used car Marketplace section, complete with Kelley Blue Book pricing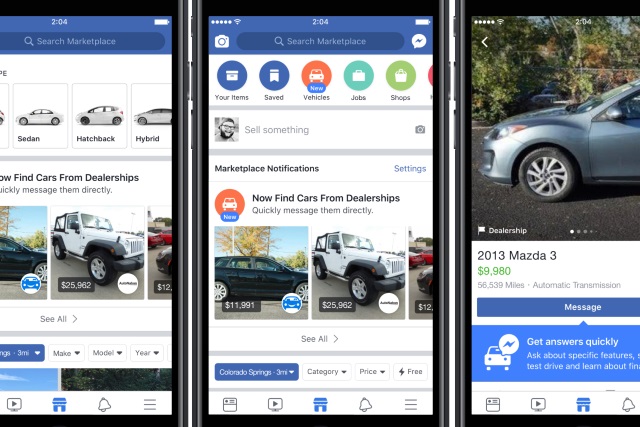 Facebook Marketplace has been with us for a little while now, giving users of the social network a handy place to buy and sell goods in the same place they chat with friends and post holiday photos. The company today announced a series of changes designed to make it easier to buy cars through Marketplace.
A year after the launch of the platform, used cars now have their own dedicated Marketplace section. More than this, it is possible -- in the US at least -- to filter vehicles in a variety of ways to home in on the perfect car, as well as seeing valuations from Kelley Blue Book.
See also:
Facebook says that car sales are incredibly popular in Marketplace, and the company has teamed up with the likes of Edmunds, Cars.com, Auction123, CDK Global and SOCIALDEALER to expand the available inventory. In addition to this, shoppers will be able to chat with representative from dealerships using bots in Facebook Messenger.
In a blog post announcing the changes, Facebooks says:
Find what they're looking for by visiting the enhanced vehicles section and filtering listings by year, make, model, mileage, vehicle type and transmission
See trusted car values from Kelley Blue Book
Communicate directly with dealership representatives via Messenger, powered by chat providers like ActivEngage, CarCode, Contact At Once!, and Gubagoo
The features are rolling out over the coming weeks, and Facebook also says that it is testing other new Marketplace sections. These include: "categories like jobs, event tickets, retail, and home rentals to give people more options when looking for products and services in their community."