SteelSeries launches 'Arctis 3 Bluetooth' gaming headset with simultaneous wired and wireless audio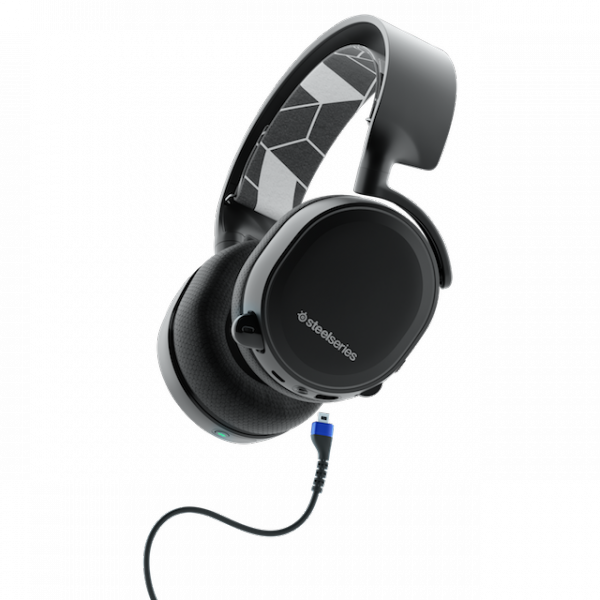 Wireless headsets are my favorite, although wired variants are my favorite too. Is that sentence nonsensical and devoid of logic? Not really, but sort of. All kidding aside, it is totally possible that someone can prefer using a cable in one scenario, while opting to go wire-free in another. Case in point, when I am at home on my gaming PC, I prefer a wired headset. Why? Because I am sitting in a chair in front of a monitor -- having to charge a headset in that case is silly. When I am in my living room or on the go, however, being wireless has its perks -- no cables to get tangled or trip over.
Having a headset that can operate as both wired and wireless is nothing new, but today, SteelSeries unveils a new product that takes this idea to another level. The "Arctis 3 Bluetooth," as the headset is called, can process audio over both Bluetooth and hardwired connections simultaneously. I know what you are thinking -- why would you want that? On the surface, it seems crazy, but once you think about it, the concept is very smart. Best of all, it is based on the already well-received Arctis 3 wired headset.
"Arctis 3 Bluetooth is now even more ideal for Nintendo Switch. Gamers can connect to their phones via Bluetooth to use the Nintendo Switch Online chat mobile app, while using the wired connection to hear game audio from their Nintendo Switch. This is the first headset with this type of compatibility for the Nintendo Switch," says SteelSeries.
ALSO READ: SteelSeries launches RGB tenkeyless 'Apex M750 TKL' mechanical gaming keyboard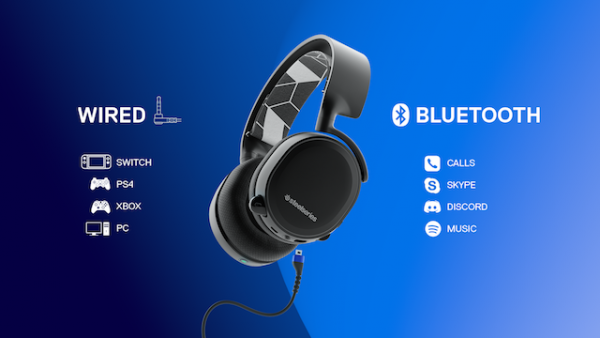 The much-respected gaming hardware company also says, "The Arctis 3 Bluetooth also allows console gamers to connect with their friends and community on Discord's mobile application over Bluetooth, while simultaneously listening to in-game audio from their Xbox One or PlayStation 4 over a wired connection. This connectivity allows gamers to take calls, join VoIP chat and stream music wirelessly over Bluetooth while hearing balanced and powerful game audio through the 3.5mm connection."
SteelSeries shares the following significant specifications.
Headphones
Neodymium Drivers: 40mm
Frequency Response: 20-22000 Hz
Sensitivity: 98db
Impedance: 32 Ohm
Total Harmonic Distortion:< 3%
Volume Control: On Ear Cup
Microphone
Frequency Response: 100Hz - 10000Hz
Pattern: Bidirectional
Sensitivity: -48 db
Impedance: 2200 Ohm
Location: Retractable
Mute Toggle: On Ear Cup
This slideshow requires JavaScript.
This isn't the first Bluetooth product to offer this simultaneous listening experience. Actually, Logitech's MX Sound speakers offer similar functionality. The Arctis 3 Bluetooth, however, is a gaming product and should work wonderfully as such. Quite frankly, at a very reasonable $129.99, gamers really can't go wrong. You are getting legendary SteelSeries quality and the ability to use the headset as wired, wireless, or both at once. Not to mention, gaming aside, they should be brilliant for media consumption, such as TV, movies, and music.
Want to buy your own Arctis 3 Bluetooth headset? You can grab one here in several colors and patterns.