Logitech launches 'Red Edition' of Spotlight Presentation Remote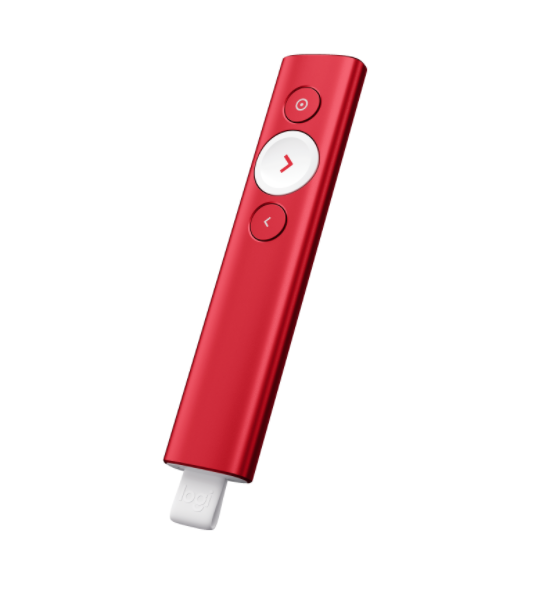 If you work in an office, you have undoubtedly sat through a boring PowerPoint presentation. Yeah, it is easy to criticize the people doing the presenting for being deficient, but quite often, it isn't their fault. After all, giving a successful presentation is a skill that must be learned. True, some folks are naturally social, but overall, you need to work on it. It is wrong to just thrust an employee into the fire without training.
Practice aside, hardware can help you better present too. A good remote/wireless presenter can improve your presentations dramatically. Not only will it give you the ability to move about the room, but a good model will add functionality too. For instance, the Logitech Spotlight remote can help you to focus on specific aspects of slides by highlighting only what you want. It can even vibrate at timed intervals so you can better keep track of how long you have been speaking. Starting today, the Spotlight gets a new red color option for the holidays.
Announcing the new color, Logitech says:
This new limited-edition Spotlight with a vibrant red aluminum finish is now available in time for the holiday season. It includes an update to Logitech Presentation App software, which now has a 'digital-laser' circle, color alterations for Highlight, Magnify and Circle features, and the ability to adjust the contrast in Highlight mode.

This latest software update is available to all Spotlight users. Once installed on your computer, you can activate the different Spotlight modes by pressing and holding the top button of the remote and moving the cursor around your screen with simple hand movements. The color alterations, contrast and size of the pointer can all be customized through Logitech Presentation App, on your computer, and saved to your Spotlight before you present.

There you have it, folks. It is the same excellent Spotlight remote as before, only with a new red color option. It will function exactly as before, while costing the same $129.99. Unlike the new red Amazon Echo, however, buying this red Spotlight remote will not help to fight HIV/AIDS, sadly.
While the red Spotlight is not yet in stock at Amazon, you can soon pick it up here.