Puppylinux 7.5 'Xenialpup' is ready to breathe new life into your aging computer -- download it now!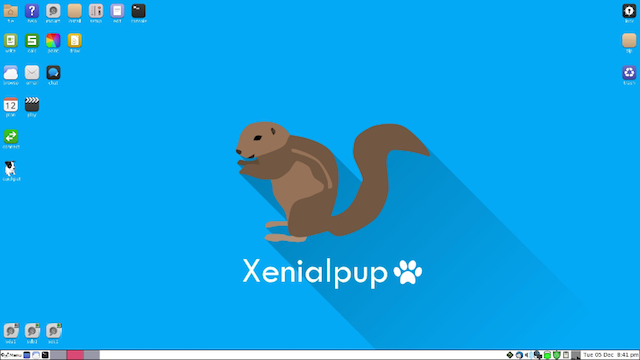 Two of my favorite things are dogs and Linux. No, really. When I am not having fun with my Linux box, I am playing or cuddling with my dog. And so, whenever there is a way to mix these things, I am all for it. That's probably why Puppylinux is so endearing to me. Make no mistake, however, the operating system is much more than a cute name. Actually, it is a solid distro for breathing new life into ancient computers.
Today, Puppylinux 7.5 sees release. Named "Xenialpup," the ISO is an insanely small 330MB. Well, that is a diminutive operating system by today's standards at least. Heck, you can even burn it to a CD rather than a DVD -- very useful for an old PC without a DVD drive. You don't need to install it to the hard drive if you don't want -- it can be used as a live environment from optical disk, memory card, or flash drive. Despite its focus on being lightweight, it is still very capable too.
"It comes in both 32bit and 64bit versions that can boot in both BIOS and UEFI enabled computers. The 32bit version has kernel 4.4.95-noPAE for better compatibility with older hardware while the 64bit has Kernel 4.9.58 for better modern hardware support. True to puppylinux tradition both versions come with a full range of communications, productivity and entertainment applications as well as a wide range of the unique puppy-specific utilities and applications," says Philip Broughton, The Puppylinux team.
ALSO READ: You can win cool prizes just for trying System76's Ubuntu-based 'Pop!_OS' Linux distro!
Broughton further says,"Xenialpup is built using Woof-CE (woof-CE at GitHub) 'The Puppy builder' system, which can build a Puppy Linux distribution from the binary packages of any other distro or home grown packages. Xenialpup is a true community edition 'CE', with contributions from many within the Puppylinux community."
The Puppylinux team shares the following list of software that comes pre-loaded.
JWM window manager and ROX file manager.
Palemoon browser and Claws mail client.
FTP, Torrent and Chat applications.
MPV media player, Simple Screen Recorder and Deadbeef audio player.
Abiword word processor and Gnumeric Spread sheet application.
Vector and Drawing applications.
Samba file sharing, CUPS printing and CD/DVD utilities.
Quickpet, a utility to easily install to the most popular additional applications, OS updates & bugfixes.
Lots of in house puppy-specific applications such as Pburn, Uextract, Packit, Change_kernels, JWMdesk, YASSM, Pclock, SimpleGTKradio as well as a wide range of many other upto date programs and utilities.
To run this Linux distro, you can use quite the meager hardware. For instance, the minimum requirements are a 1GHz processor and a mere 768MB of RAM! The Puppylinux team recommends at least a 1.6GHz CPU and 1GB of memory for the best experience, however. In other words, you might have a dusty old laptop or desktop in a closet or basement that can run this operating system like a champ!
Ready to download the ISO? Just use the below links to select either 32- or 64-bit.