Samsung starts mass producing 'PM1643' SSD with monstrous 30.72TB capacity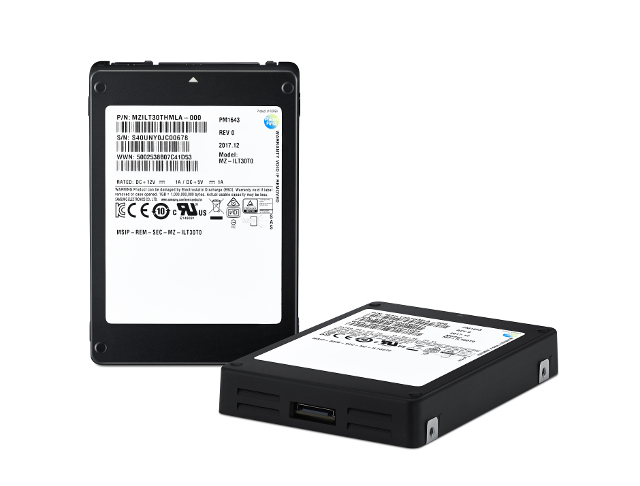 Solid state drives are much faster than mechanical hard drives. From a capacity perspective, however, the old-school hard drives typically offer more storage space. It is for this reason that many individuals and businesses still rely on hard disk drives for larger backups.
Today, Samsung throws all logic out of the window by announcing it is mass producing a solid state drive with monstrous capacity. The "PM1643," as it is called, offers an insane 30.72TB of storage space! This is achieved by using 32 x 1TB NAND flash.
ALSO READ: Samsung begins GDDR6 mass production
"Samsung reached the new capacity and performance enhancements through several technology progressions in the design of its controller, DRAM packaging and associated software. Included in these advancements is a highly efficient controller architecture that integrates nine controllers from the previous high-capacity SSD lineup into a single package, enabling a greater amount of space within the SSD to be used for storage. The PM1643 drive also applies Through Silicon Via (TSV) technology to interconnect 8Gb DDR4 chips, creating 10 4GB TSV DRAM packages, totaling 40GB of DRAM. This marks the first time that TSV-applied DRAM has been used in an SSD," says Samsung.
ALSO READ: Samsung unveils high-performance 800GB SZ985 Z-SSD
The company further says, "In addition to the doubled capacity, performance levels have risen significantly and are nearly twice that of Samsung's previous generation high-capacity SAS SSD. Based on a 12Gb/s SAS interface, the new PM1643 drive features random read and write speeds of up to 400,000 IOPS and 50,000 IOPS, and sequential read and write speeds of up to 2,100MB/s and 1,700 MB/s, respectively. These represent approximately four times the random read performance and three times the sequential read performance of a typical 2.5-inch SATA SSD."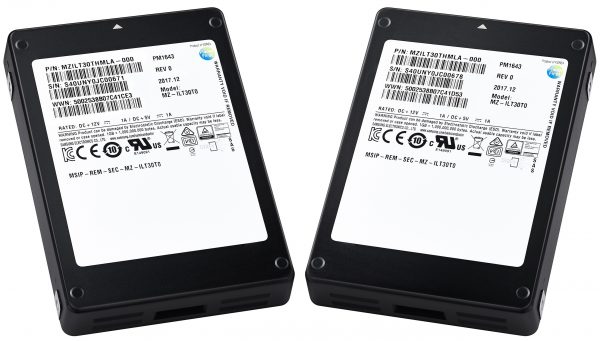 ALSO READ: Samsung unveils 860 PRO and EVO SATA SSDs with improved Linux compatibility
While we know it is being mass-produced now, we don't yet know when exactly it will be available for sale. Pricing is also unknown, but it will surely be very expensive. Because it is intended for the enterprise and uses the Serial Attached SCSI interface, it is unlikely that it will be sold in any consumer retail channels.