Logitech Craft keyboard gets new features, more supported apps, and GitHub-hosted SDK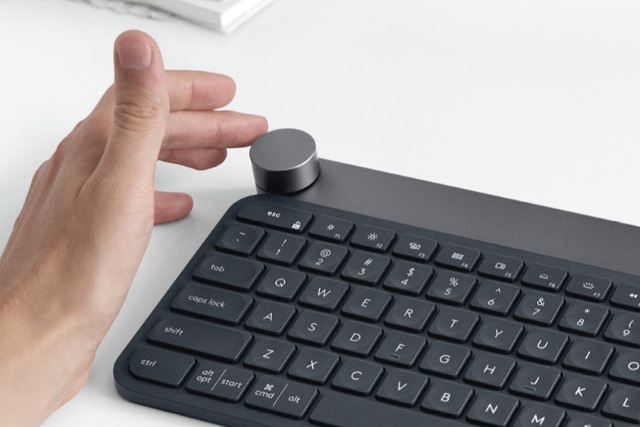 When it comes to keyboards, it can be hard for manufacturers to truly create something revolutionary. For the most part, new keyboards just get silly things like RGB lighting, because, well, everything must have lights these days, right? This lack of innovation is sort of OK, because let's be honest, folks -- existing keyboards are already rather wonderful. With that said, my colleague Mark Wycislik-Wilson recently reviewed a rather unique keyboard from AZIO that looks pretty cool.
Last year, Logitech decided to take a stab at creating an innovative new keyboard, and not surprisingly, it succeeded. I was not surprised, because that company is known for well-executed products. The innovative keyboard to which I refer is simply called "Craft" and its revolutionary aspect has nothing to do with typing. Actually, it is the useful rotating "crown" that adds additional control over compatible apps. Unfortunately, that was the rub -- only a small number of apps (albeit great ones such as Microsoft Office and Adobe Photoshop) were supported. Today, however, Logitech announces support for even more apps like Adobe Lightroom Classic CC and Quicktime. Arguably more significant, there is now an official SDK on GitHub.
"We've received extremely positive feedback about the Craft keyboard since launch, but wanted to support more apps, with more customization options, for an even deeper and more engaging creative experience. We have now added support for Adobe Lightroom Classic CC and also released an SDK so developers can help us make the Crown even more useful for all users," says Art O'Gnimh, global head of keyboards, Logitech.
ALSO READ: Logitech announces MK540 Advanced Wireless Keyboard and Mouse Combo
O'Gnimh further says, "Using Adobe Lightroom Classic CC with Craft, you can edit your photos faster without taking your eyes off your image. With a slight touch of the Crown, you can easily access 11 different editing tools, such as saturation, tint contrast or shadows, without fidgeting with sliders. A quick tap changes functions, and a smooth turn changes the selected function's value. The Crown is intuitive and fluid to use, giving efficiency and uninterrupted creative flow to the way you work."

Logitech shares some additional new functionality below.
Adobe Reader DC on Windows: Zoom, change the page and scroll horizontally.
VLC Media Player on Windows: Skip forward and backward while watching a video, or adjust the volume.
Preview on Mac: Zoom, change the page and scroll horizontally.
Quicktime on Mac: Skip forward and backward while watching a video, or adjust the volume.
Safari for Mac: Navigate between tabs.
Spotify for Mac and Windows: Play and pause your music, change the volume, or change songs.
While these newly supported apps and additional functionality are very cool, the software development kit has me more excited. Why? In order for Craft to truly take off and become popular, third party developers must embrace it. By putting an SDK on GitHub, developers should show a renewed interest in Logitech's Craft design. If you are a developer that is intrigued by the possibilities Craft offers, you can check out the SDK here.
Want your own Craft keyboard? You can learn more and buy it here.