Raspberry Pi 3 Model B+ launches! Faster, with dual-band 802.11ac Wi-Fi and Bluetooth 4.2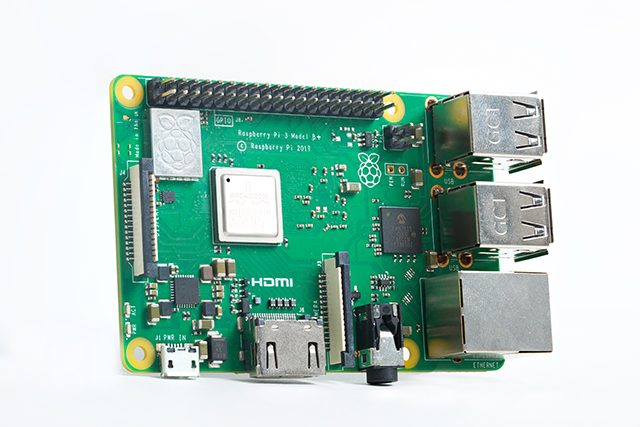 For the past three years, the Raspberry Pi Foundation has released new products around its birthday (28 February). It didn't this year due to snow and other reasons, but a fortnight later -- on Pi Day -- it's time for the wraps to come off the latest Raspberry Pi.
The Raspberry Pi 3 Model B+ (Raspberry Pi 3B+ for short) is the successor to the Raspberry Pi 3 Model B, and improves on that device in a number of ways, while keeping the same low price ($35).
SEE ALSO:
The new model is built around the BCM2837B0 64-bit Broadcom processor, an updated version of the chip used in the Raspberry Pi 3 Model B. It incorporates power integrity optimisations, and a heat spreader to deliver higher clock frequencies and run at lower voltages.
The new LAN7517 chip adds Gigabit Ethernet, while the new dual-band wireless LAN and Bluetooth, aided by a new antenna, delivers much improved connectivity -- compared to the Raspberry Pi 3B -- as you can see in the table below:

The full list of specs is as follows:
Broadcom BCM2837B0 chipset
1.4GHz Quad-Core ARM Cortex-A53
2.4GHz and 5GHz IEEE 802.11.b/g/n/ac wireless LAN, Bluetooth 4.2, BLE
Gigabit Ethernet over USB 2.0 (maximum throughput 300Mbps)
1GB RAM
64 Bit CPU
4 x USB ports
4 pole Stereo output and Composite video port
Full size HDMI
10/100 BaseT Ethernet socketbr
CSI camera port for connecting the Raspberry Pi camera
DSI display port for connecting the Raspberry Pi touch screen display
Micro SD port for loading your operating system and storing data
Micro USB power source
The Raspberry Pi 3 Model B+ is an additional model, and won't be replacing any existing ones.
It's on sale now from the usual resellers and via here.