BlackBerry KEY2 is 'the most secure Android smartphone'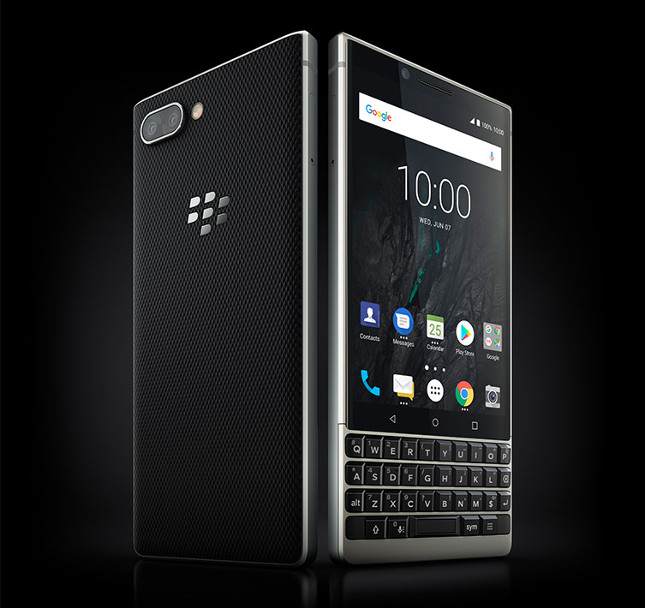 There was once a time where most smartphones had hardware keyboards. There were BlackBerry and Palm Treo devices that were an absolute joy to type on. Apple's iPhone wasn't the first smartphone to forgo a physical keyboard entirely, but it is responsible for popularizing it. As a result, Palm and BlackBerry lost almost all of their marketshare, ultimately becoming a footnote in smartphone history. And now, most smartphones are touchscreen-only for typing.
While BlackBerry no longer makes smartphones, it does license its name to a company called TCL which makes Android devices that carry the branding -- and sometimes, a physical keyboard. It isn't just slapping the BlackBerry name on a random low-quality Android phone, however. Actually, these TCL devices have been fairly well received thanks to an adherence to traditional BlackBerry designs. Today, TCL unveils its latest such smartphone, called "KEY2," and it looks quite nice. In fact, the company says it is "the most secure Android smartphone." A bold claim!
"Delivering power and performance for getting more done, the BlackBerry KEY2 offers up to two days battery life, 6GB of memory and in both 64GB and 128GB storage variants -- with both offering expandable storage MicroSD support, making this the most advanced BlackBerry smartphone ever. Powered by a Qualcomm Snapdragon processor, the BlackBerry KEY2 gives users all the power they need to get more done wherever the road takes them. In addition to Qualcomm Quick Charge 3.0 and the BlackBerry KEY2 adds a new Smart Battery Experience that will learn from your daily charging habits and recommend when to charge up so you have enough battery life to make it through that next meeting, flight or event," says TCL
ALSO READ: BlackBerry sues Facebook, WhatsApp and Instagram in messaging patent spat
The phone-maker also says, "From a hardened operating system to BlackBerry's proprietary technique for establishing a hardware root of trust adding security keys to the processor, the BlackBerry KEY2 is the most secure Android smartphone. It comes preloaded with DTEK by BlackBerry application that removes the complexity of security by providing an 'at a glance' security meter. This shows the overall security rating of your device, and provides a simple way to view how apps may be accessing your data and manage app permissions. So now you can easily see and manage how your downloaded apps access your personal mobile data such as your location, access to your camera, microphone and more, with active controls over your mobile privacy and safety."
TCL shares the following significant specifications.
CPU: Qualcomm SDM 660, Kryo 260 Octa-Core 2.2 GHz x 4 + 1.8GHz x 4, 64-bit
RAM: 6GB
Display: 4.5 inch touchscreen with Gorilla Glass
Storage: 64GB (expandable with microSD)
Operating system: Android 8.1
Battery: 3,500 mAh
Rear camera: Dual Camera 12M+12M with Dual Tone LED Flash
Front Camera: 8MP Fixed Focus, Selfie Flash using LCD
Security: Fingerprint reader
Charge/connectivity: USB-C
Weight: 168g
Size: Height 151.4mm, Width 71.8mm, Depth 8.5mm
Because the keyboard takes up much of the face, the screen is smaller than most other Android smartphones at a mere 4.5 inches. The resolution is a unique 1620 x 1080 with 3:2 aspect ratio, and while some apps will look fine, some others may not adapt as well. After all, developers aren't paying much attention to the experience on such a size/resolution. For the most part, it should look great with a respectable 433 PPI.
The BlackBerry KEY2 will go on sale later this month for a reasonable $649 -- an exact date is not yet known, though. While it will definitely be sold unlocked in the USA, it may be sold directly from some carriers as well.