Alexa for Hospitality brings Amazon's digital assistant to hotel rooms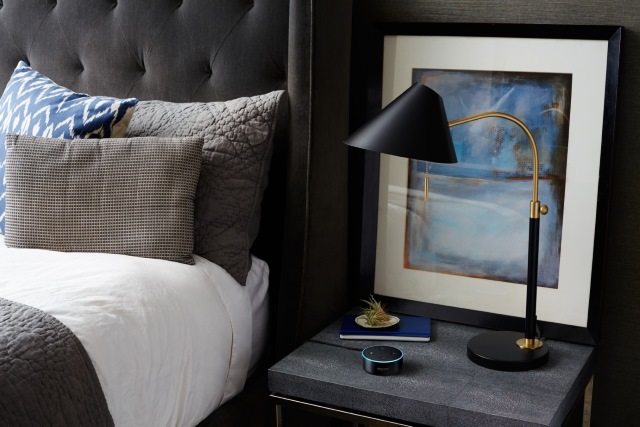 Not content with infiltrating people's homes with its range of Echo devices, Amazon is now looking to elbow its way into hotels with Alexa for Hospitality. Amazon has struck a deal with Marriott International that will see the introduction of Echo devices into rooms.
Guests can use these to play music, contact reception and get information about the hotel -- and both Amazon and guests alike will be hoping there won't be a repeat of the recent privacy slip up that resulted in an Echo recording and sharing someone's conversations.
See also:
Amazon's deal with Marriott means that Alexa for Hospitality will be available in select Marriott Hotels, Westin Hotels & Resorts, St. Regis Hotels & Resorts, Aloft Hotels, and Autograph Collection Hotels. The company says it will enable guests to access hotel features and services without having to pick up the phone.
Jennifer Hsieh, vice president of customer experience innovation at Marriott International, says the company is pleased to be among the first to offer the service to guests:
So many of our guests use voice technology in their home, and we want to extend that convenience to their travel experience. Guests of Charlotte Marriott City Center and Marriott Irvine Spectrum will be among the first to experience a curated list of Alexa for Hospitality features. We will be evaluating guest feedback and adoption to inform how we expand the skills, features, and functionality offered through Alexa in our hotels.
Alexa for Hospitality can be used to control heating and lighting, check plane times, control the TV, and access their personal music collection in addition to simply being used to contact hotel staff.
But is this something that hotel visitors are ready for? The recent case in which an Echo user had their private conversation shared with a contact after her device misinterpreted general speech as instructions highlights the potential for privacy issues. It's something that Andrew van der Stock, senior principal consultant at Synopsys, voices concern about:
Like all things, if the hotel allows users to log in as themselves to their Amazon account, I don't see much of an issue here -- it's the same as if they brought an Amazon device with Alexa capability with them, like a Fire Stick. Folks who already have smart assistant enabled devices have made the decision to let those devices listen all the time. Obviously, when a guest leaves, the hotel needs a way to log the user out of any shared Alexa device to avoid purchases being made on the guest's Amazon account.
He goes on to say:
However, I do worry about when a guest hasn't logged into the device. Does it record or help folks who don't have an Amazon account? If so, what sort of privacy guards are built in to protect guests from previous guests? Could a previous guest set alarms or music to play at 3.30 am daily? Could it turn off the lights at 11 pm? Or make a call at a certain time when the next guest is in the room? These are the issues that need to be worked out before I'd feel comfortable if there was a default state for Alexa. The easiest solution is to reset to a known state Alexa between guests, and ensure the previous guests preferences and requests have been wiped.
Find out more about Alexa for Hospitality over on the Amazon portal.