SanDisk 1TB Extreme UHS-I microSDXC card is world's fastest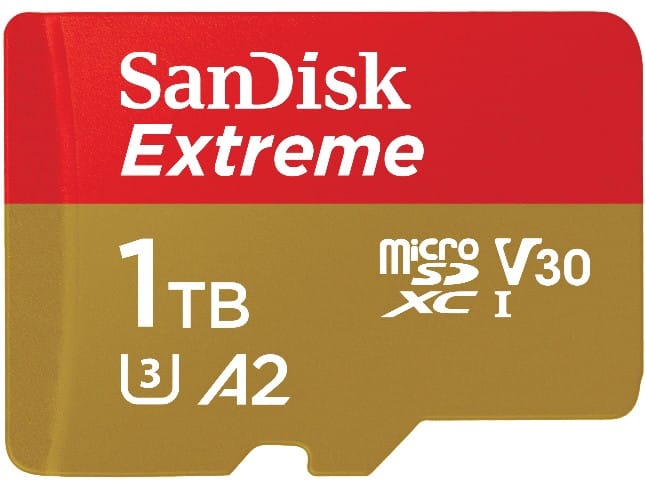 Earlier today, we reported on some very exciting news regarding microSD -- a new faster "Express" version of the card type is on the way. microSD Express will usher in a new era of ultra-fast diminutive storage cards.
For now, however, SanDisk is laying claim to having the world's fastest (non-Express) 1TB microSD. In addition to this new 1TB variant of the Extreme UHS-I microSDXC card, the company is also announcing a 512GB model at a significantly lower price. Speed between the two new capacities will be identical. The previous top capacity for this line of high-performance cards was 400GB.
"The new card features higher speed and capacity for capturing and moving massive amounts of high-quality photos and videos on smartphones, drones and action cameras. These impressive levels of capacity and speed give consumers the ability to create all the content they want without worrying about space limitations or long transfer times," says SanDisk.
ALSO READ: Sony SF-G TOUGH SD card is extremely rugged and world's fastest
The Western Digital-owned brand further says, "Designed to help move tons of high-quality content faster than ever, the 1TB SanDisk Extreme UHS-I microSD card reaches speeds up to 160MB/s. This new card allows consumers to transfer files in nearly half the time over standard UHS-I microSD cards currently on the market. The cards reach these record-breaking speeds by leveraging Western Digital's proprietary flash technology. The new SanDisk Extreme card will also be available in 512GB capacity, and will feature the A2 specification for launching and loading apps at blazing speeds."
As you can expect, the 1TB variant of SanDisk's Extreme UHS-I microSDXC card is a very pricey affair. The MSRP for that massive capacity is 50 bucks shy of $500 at $449.99. The 512GB model, which halves the capacity, can be had for "just" $199.99. Both cards will hit stores in April.