Logitech announces SLIM FOLIO PRO for third generation Apple iPad Pro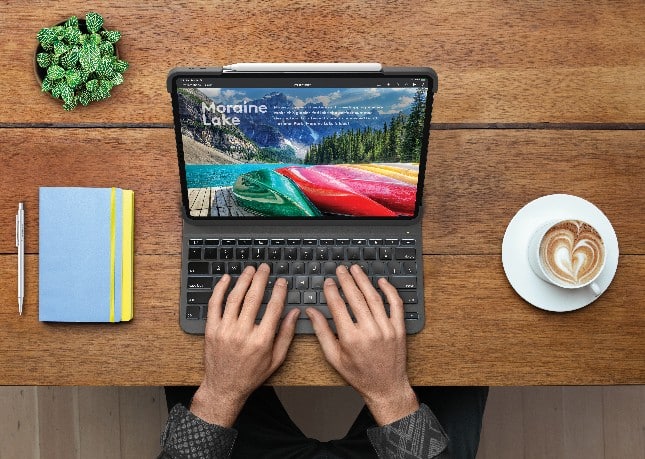 Ever since the release of the first-ever iPad in 2010, people have been trying to convert Apple's tablet into a laptop with add-on keyboards. You know what? It actually isn't too bad. True, lack of mouse/trackpad support in iOS can turn this makeshift laptop configuration into a frustrating experience, but in some situations, it is totally passable. If you are a writer, for instance, an iPad with a keyboard can remove distractions and focus your attention. If you do hardcore multitasking, however, a traditional laptop with Windows, macOS, Chrome OS, or Ubuntu is probably a wiser choice.
If you are OK with the limitations of iOS, and you still think an iPad or iPad Pro would be your ideal portable computer, than you should definitely check out Logitech keyboard cases. The company's iPad keyboard offerings have been consistently excellent and should last a long time. Now, Logitech is back again with a new keyboard case. Called "SLIM FOLIO PRO," it is designed for use with the third generation iPad Pro. And yes, both the 11- and 12.9-inch variants are supported -- there is a model for each.
ALSO READ: Logitech launches 'Z606 5.1 Surround Sound with Bluetooth' speaker system
"The Logitech SLIM FOLIO PRO is an all-in-one backlit keyboard case for the 11-inch and 12.9-inch iPad Pro​​ (3rd generation). Leveraging 20+ years of keyboard innovation experience, Logitech brings a comfortable, laptop-like typing experience to the new iPad Pros complete with a dedicated row of iOS​ shortcut keys to help optimize your workflow. Whether you're typing,sketching or reading, SLIM FOLIO PRO is the perfect tool to use in your living room, at a neighborhood cafe, airport lounge or even your lap," says Logitech.
ALSO READ: Logitech announces C920s Pro HD Webcam for Skype, FaceTime, and more
The company further says, "SLIM FOLIO PRO securely holds iPad Pro in a lightweight case that keeps corners protected and doesn't weigh you down, keeping your iPad safe from scuffs, scratches and spills. A secure magnetic latch keeps the case securely closed when not in use to protect your iPad screen. With Bluetooth LE pairing, setup is simple and the case maintains a reliable wireless connection between iPad Pro and keyboard. Once connected, your keyboard automatically remembers your device every time you open your iPad Pro to type. The rechargeable battery lasts up to three months on a single charge."
ALSO READ: Logitech Tap is an elegant touchscreen controller for meeting rooms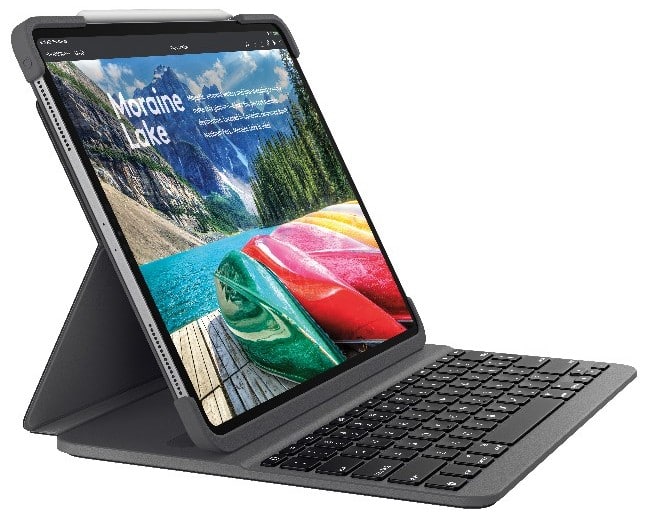 Logitech shares the following dimensions.
SLIM FOLIO PRO for 11-inch iPad Pro
Length: 253mm
Width: 195mm
Height: 22.55mm
Weight: 552.42g
SLIM FOLIO PRO for 12.9-inch iPad Pro
Length: 287mm
Width: 230mm
Height: 22.46mm
Weight: 707.43g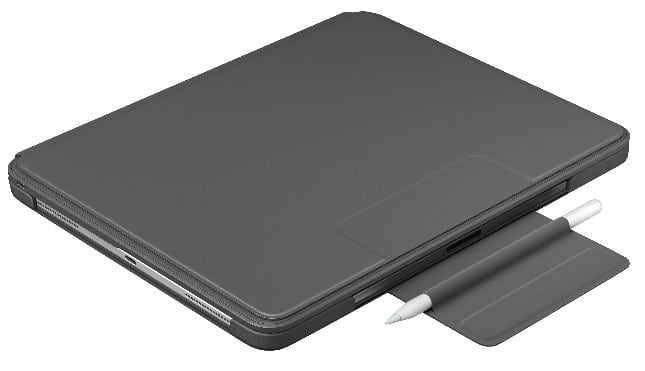 Michele Hermann, vice president of mobility at Logitech offers the following statement.
Many of us work away from a traditional desk these days, so whether your office is at the kitchen table, a couch, a neighborhood cafe or an airport lounge you need a complete and easy typing solution. The new Logitech SLIM FOLIO PRO brings even more versatility to iPad Pro, with a high performance backlit keyboard layout that lets you work at your highest level. With one click it makes your iPad Pro more like a laptop for easy typing whenever and wherever you need it.
ALSO READ: Logitech G refreshes its iconic MX518 gaming mouse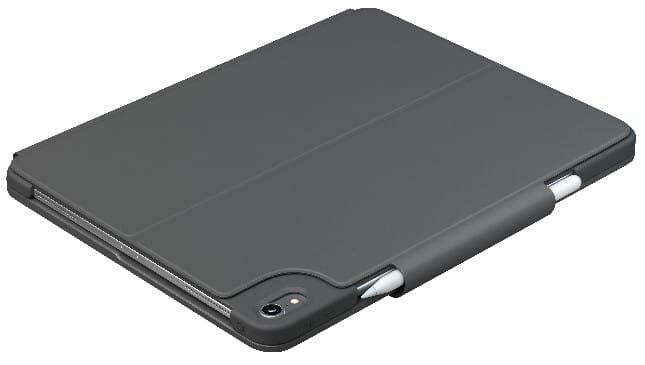 The SLIM FOLIO PRO for third generation Apple iPad Pro has some really cool features, such as the ability to adjust the keyboard backlighting -- a feature not found on all such products. I also love that there is a dedicated holder for the second generation Apple Pencil, which causes the stylus to charge when the clasp is closed. Best of all, Logitech promises a superior typing experience thanks to each key's scissor mechanism. It looks like it could be a better choice than Apple's own pricier Smart Keyboard Folio.

So, how much will SLIM FOLIO PRO for third generation Apple iPad Pro cost? It's actually pretty reasonable. The 11-inch keyboard case is $119.99, while the larger 12.9-inch case is just $10 more. Both can be had later this month from Logitech directly or from the usual retailers such as Amazon.