Microsoft launches 20th Anniversary Special Edition Xbox Wireless Controller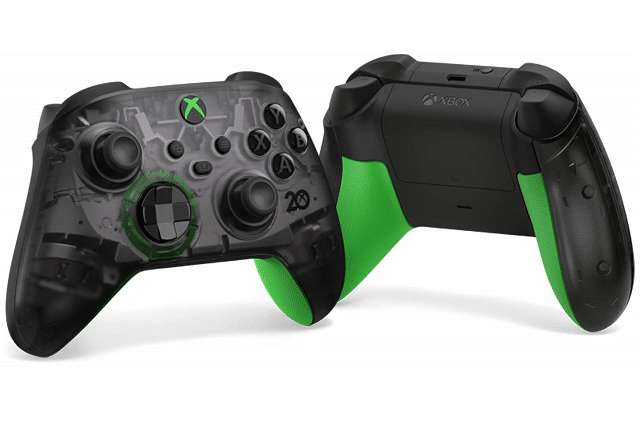 Want to feel really old? The original Xbox was released nearly 20 years ago! Yes, way back on November 15 of 2001, Microsoft officially joined the console wars, competing with companies like Sony, Nintendo, and Sega. While the Xbox consoles have not been a huge success in Asia, they are wildly popular in the USA. Many people doubted Microsoft could succeed with its gaming consoles, but the Windows 11-maker is still going strong two decades later.
To celebrate the upcoming anniversary of the Xbox brand, Microsoft is launching a very special product that is sure to be a hot commodity this Christmas shopping season -- the 20th Anniversary Special Edition Xbox Wireless Controller. This beautiful controller mixes nostalgic designs with modern hardware to create something truly special.
"Sleek and sentimental -- all in one package. The 20th Anniversary Special Edition controller is a fresh spin on the translucent green of the original Xbox Debug kit. The body of the controller features a translucent black finish with silver internals so you can see every detail. The nostalgic, green Xbox button brings us back to the first green Xbox logo. The iconic color can also be found on the back grips and around the hybrid D-pad," says Jessica Tsujikawa, Sr. Product Marketing Manager, Xbox.
ALSO READ: Download deepin 20.2.4 Linux distro now
Tsujikawa further says, "When you connect this controller to your Xbox Series X|S console, you will unlock an exclusive 20th Anniversary dynamic background. Connect your 20th Anniversary Special Edition controller to your friends Xbox Series X|S to gift them this dynamic background as well! Once you choose another background, however, this one will disappear, and you will need to re-connect the 20th Anniversary controller to unlock it again."
The 20th Anniversary Special Edition Xbox Wireless Controller won't hit stores until November 15, but you can pre-order it here immediately. Pricing is set at $69.99, which is the same cost as some other special edition controller models. In addition, you can pre-order a 20th Anniversary Special Edition Xbox Headset or purchase some 20th Anniversary clothing.