NETGEAR AXE11000 Orbi Quad-Band Wi-Fi 6E Mesh System (RBKE963) is expensive AF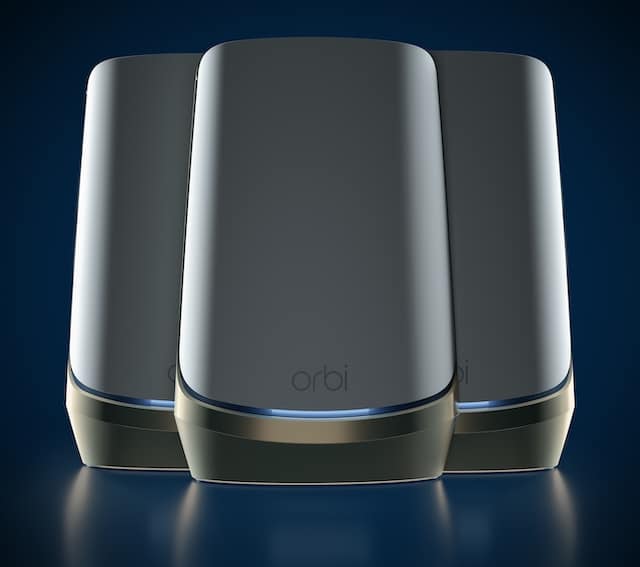 Regular Wi-Fi 6 (802.11ax) is great, but Wi-Fi 6E is even better -- that's why many consumers wisely skipped Wi-Fi 6 and stuck with Wi-Fi 5 (802.11ac) a bit longer. But wait, what exactly is the difference? Does that letter "E" really matter? Actually, yes, because it indicates the use of a 6GHz band -- a much-less crowded frequency compared to 2.4GHz or 5GHz. This extra bandwidth, lower latency, and reduced congestion is why Wi-Fi 6E is so exciting.
To truly take advantage of this new standard, you will need both a router and clients with the capability. Today, NETGEAR announces the most exciting Wi-Fi 6E system yet. Called "AXE11000 Orbi WiFi Mesh System (RBKE963)," it is a quad-band system consisting of a Wi-Fi 6E router and two 6E satellite access points. It is designed to blanket even excessively large homes with cutting-edge wireless networking. Sadly, it carries a shockingly high price tag -- this mesh system is expensive AF!
ALSO READ: StarTech.com launches Bluetooth 5.0 Audio Receiver with NFC
"The new Orbi Quad-Band WiFi 6E system builds on NETGEAR's top-of-the-line Orbi Tri-Band WiFi 6 system (RBK853) by adding a fourth band for the newly available 6GHz WiFi. This new band provides the much-needed additional WiFi spectrum to handle multi-Gigabit WiFi speed on new smart phones and laptops, free of interference from other devices on the existing 2.4GHz and 5GHz bands. And the WiFi 6E ecosystem is poised for rapid growth. Many devices already support WiFi 6E such as the Samsung Galaxy S21, and Fold 3 mobile phones, Dell Latitude 5520 and Lenovo Thinkpad T14 laptops, Samsung Neo QLED 8K TV and Intel WiFi 6E PCIe card," says NETGEAR.
ALSO READ: Microsoft launches 20th Anniversary Special Edition Xbox Wireless Controller
The company further says, "Devices running on the 2.4GHz and 5GHz WiFi bands will also experience an improvement in coverage and increased speeds of up to 30 percent with the Orbi RBKE960 Series due to the system's upgraded WiFi radio and antenna designs relative to the previous flagship model, the Tri-band Orbi RBK850 series. To augment the increased WiFi speed, the Internet connection has also been upgraded to support up to 10 Gigabits, the fastest Internet speed available now or in the near term. Additional 2.5 Gigabit Ethernet ports have been added on the router and satellites to provide an option for wired connections for customers with the latest multi-Gigabit Ethernet devices."
ALSO READ: Kubuntu Focus XE is the perfect laptop for Windows-switchers and Linux beginners [Review]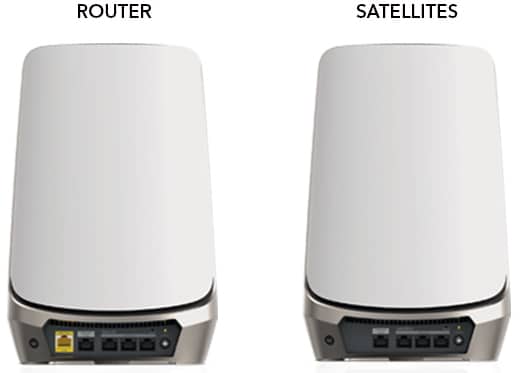 NETGEAR shares specifications below.
WiFi Coverage: 9,000 sq. ft
Antennas: Twelve (12) high-performance internal antennas with high-power amplifiers
Beamforming: Implicit & Explicit Beamforming for 2.4GHz, 5GHz & 6GHz bands MU-MIMO capable for simultaneous data streaming to multiple devices
Processor: Powerful Quad-Core 2.2GHz processor
AXE11000 Quad-Band WiFi: Orbi AXE11000 Router and AXE11000 Satellites (1200 + 2400 + 2400 + 4800Mbps)†
Router Ports: One (1) 10Gbps Multi-Gigbit Ethernet WAN port
One (1) 2.5Gbps Multi-Gigabit Ethernet LAN port
Three (3) 10/100/1000Mbps Gigabit Ethernet LAN ports
Satellite Ports (each): One (1) 2.5Gbps Multi-Gigabit Ethernet LAN port (each)
Three (3) 10/100/1000Mbps Gigabit Ethernet LAN ports (each)
Memory: 512MB NAND Flash and 1GB RAM
Security: Advanced cyber threat protection for your home network and connected devices, with comprehensive anti-virus & data theft protection for your PC, Mac, and mobile devices with NETGEAR Armor.
Standards-based WiFi Security (802.11i, 128-bit AES encryption with PSK).
Supports WPA3, the latest and cutting-edge WiFi security protocol.
Guest WiFi Network is easy to setup separate & secure Internet access for guests
Works with Amazon Alexa and the Google Assistant: Yes
ALSO READ: Yubico YubiKey Bio authentication dongle uses biometrics for added security on Windows, Mac, and Linux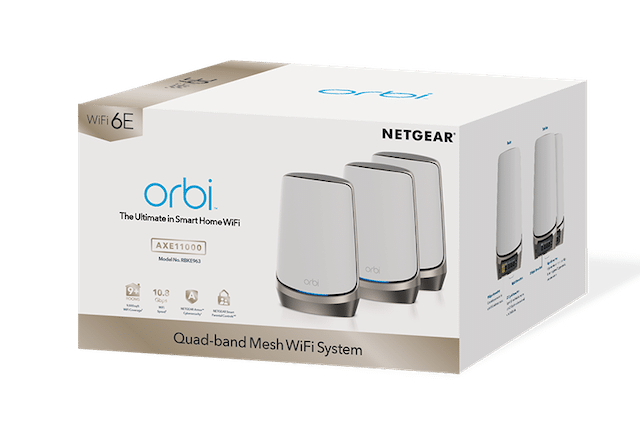 So, just how much does the AXE11000 Quad-Band Wi-Fi 6E Mesh System (RBKE963) actually cost? Is it really as expensive as we suggest? Well, folks, NETGEAR is asking a sky-high $1,499.99! No, that is not a typo -- the company really is charging fifteen hundred bucks. In other words, this networking solution costs more than most modern personal computers. The RBKE963 can be pre-ordered from the company directly here in either black or white.