VisionTek VT4510 is a Dual Display 4K USB-C Docking Station with 100W Power Delivery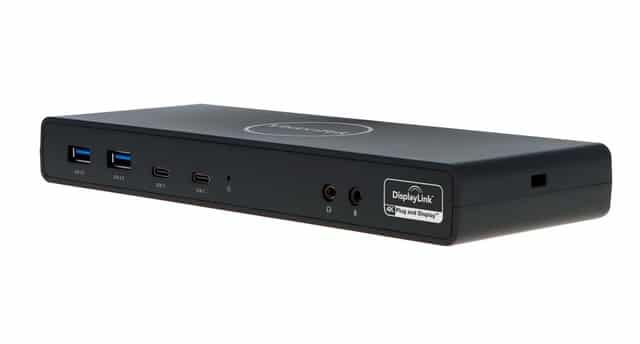 So, you need a docking station for your laptop, eh? OK, cool. If it has Thunderbolt 3/4, you should buy a Thunderbolt dock. If not, you should cop a USB dock instead. It's not complicated, folks. With that said, it can be a bit confusing when trying to pick a make and model. After all, Amazon is littered with so many USB docks and docking stations. My advice is to stick with a known company.
Well, VisionTek (a very reputable brand), has a new such product that looks rather impressive. Called "VT4510," it is a Dual Display 4K USB-C Docking Station with 100W Power Delivery. This means a single cable can connect the dock to your laptop while charging it (up to 100 watts) at the same time. It can even simultaneously push two 4K monitors at 60Hz. If you use just one DisplayPort connector, a single 5K display can be used at 60Hz. And yes, both a USB-C to USB-C and USB-C to USB-A cable are included in the box.
ALSO READ: OWC launches Mercury Elite Pro mini USB-C storage drive for Mac, Windows, and Linux
"The VT4510 Universal docking station powered by DisplayLink technology supports resolutions up to dual 4K HDMI, 4K DisplayPort, 4K HDMI + 4K DisplayPort output in both extended and mirrored modes. In addition to being compatible with both Type-C laptop computers, this docking station also supports microphone input and audio output, USB 3.0 with transfer speeds up to 5Gbps and backward compatible with USB 2.0, USB 1.1 and USB Type-C," says VisionTek.
ALSO READ: Dremel 8260 rotary tool connects to iPhone and Android via Bluetooth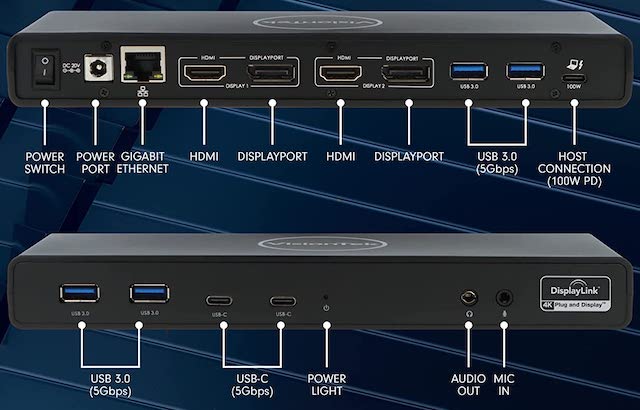 The company adds, "The VT4510 also has a built in 10/100/1000BASE-T Gigabit Ethernet RJ45 Port. DisplayLink graphics technology works across computing platforms and connector types, providing a solution to connect multiple displays and docking functionality to any platform. The ability to scale your desktop across multiple displays also makes this dock perfect for government, finance, medical imagery, marketing and sales environments or other complex work."

Unlike some other docks, the USB-C host port is on the rear, so there doesn't have to be any unsightly cables hanging off the front. I also appreciate the handy on/off switch found on the back -- that is not common. Unfortunately, VT4510 does not have an SD card reader, making it fall short of near perfection. Of course, you can always add an inexpensive USB card reader (such as this one) if you really need it.

The VT4510 Dual Display 4K USB-C Docking Station can be ordered from Amazon here now. VisionTek is asking $279.99, which seems reasonable given the functionality. Unfortunately, the dock appears to be sold out at the moment. With that said, if you place your order now, you can reserve your spot for when more stock arrives.
Please note: Some of the above links may be affiliate links, meaning we, or our writers, may receive payment if you purchase one of these items (or other items) after clicking on them.