KIOXIA unveils XG8 PCIe 4.0 NVMe SSD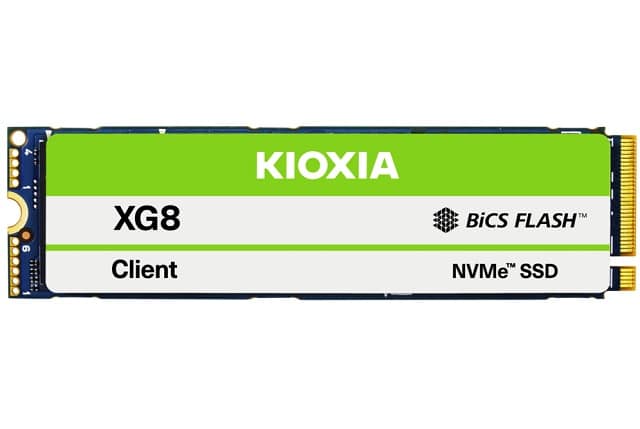 Solid state drives continue to get faster, with many new computers supporting the PCIe 4.0 standard. If you have such a cutting-edge PC, you will probably want to get a PCIe 4.0 SSD to maximize your performance. Is it largely for bragging rights and benchmarks? Yeah, arguably, but if you can afford it, you might as well go for a PCIe 4.0 drive. The price shouldn't be that much more than a PCIe 3.0 SSD.
Today, KIOXIA unveils its latest PCIe 4.0 NVMe solid state drive. Called "XG8," the SSD will be offered in your choice of four capacities -- 512GB, 1TB, 2TB, and 4TB. Of course, this solid state drive can be used in both desktop and laptop computers.
"The XG8 Series is available in an M.2 type 2280 form factor and supports optional security features1 using the latest TCG Pyrite 2.01 and TCG Opal 2.01 standards to ensure data is kept secure at home, in the office, or on the road. In addition, the XG8 Series features end-to-end data path protection for greater data integrity," says KIOXIA America, Inc.
ALSO READ: ADATA launches ELITE SE880 USB-C SSD
Neville Ichhaporia, the company's VP of SSD marketing and product management adds, "With the addition of the XG8 Series we are proud to offer a comprehensive client PCIe 4.0 portfolio. Built with our fifth generation BiCS FLASH 3D flash memory, the XG8 Series delivers a next-generation solution for client and data center boot applications in need of advanced performance."
ALSO READ: Lexar Professional USB-C Dual-Slot Reader works with both SD and microSD cards
KIOXIA shares specifications below.
Interface
PCIe 4.0, NVMe 1.4
Maximum Interface Speed
64 GT/s (Gen4 x4)
Flash Memory
BiCS FLASH TLC
Storage capacity (GB)
512 – 4,096
Encryption feature
SED
Form factor
M.2 2280-S2 (512GB – 2,048GB) Single-sided
M.2 2280-D2 (4,096GB) Double-sided
Unfortunately, the KIOXIA XG8 PCIe 4.0 NVMe SSD does not seem to be available from any online retailers yet. However, it should be available here soon. Since KIOXIA has not yet shared pricing, we will have to wait to find out the cost.
Please note: Some of the above links may be affiliate links, meaning we, or our writers, may receive payment if you purchase one of these items (or other items) after clicking on them.