Microsoft is preparing to add Microsoft Edge Secure Network, a free VPN, to its web browser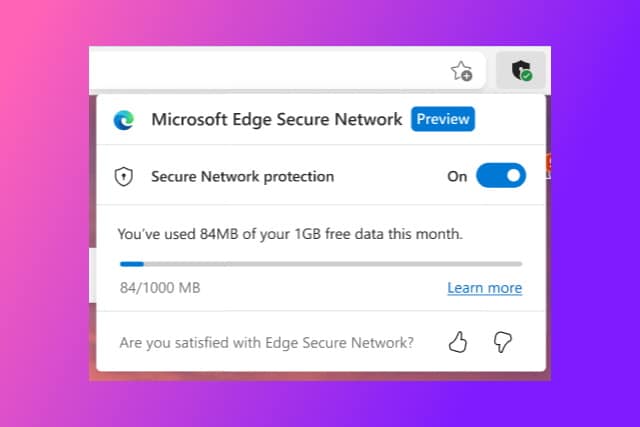 Concerns about online privacy and security mean that more and more people are turning to VPNs. It can be hard to know which VPN to choose, and to determine whether it is best to go for a free or paid-for tool. For users of its Edge browser, Microsoft is readying another solution.
The Microsoft Edge Secure Network is a Cloudflare-powered VPN service which Microsoft is looking to integrate directly into Edge. Microsoft's VPN would not only eliminate the need to install a third-party tool -- something that serves as an obstacle to many people -- it also includes a free data quota to help entice users.
See also:
A page on the Microsoft website (as spotted by Neowin) reveals a little information about the Microsoft Edge Secure Network which is described as something that "can help you protect your device and sensitive data as you browse".
With the warnings that "Microsoft Edge Secure Network is a preview feature", and "preview features are services that are in development and are made available on a 'preview' basis so users can get early access and send us feedback", Microsoft explains that the service:
Encrypts your connection: Encrypts your internet connection to help protect your data from online threats like hackers.

When using Microsoft Edge Secure network, your data is routed from Edge through an encrypted tunnel to create a secure connection, even when using a non-secure URL that starts with HTTP. This makes it harder for hackers to access your browsing data on a shared public Wi-Fi network.

Helps prevent online tracking: By encrypting your web traffic directly from Microsoft Edge, we help prevent your internet service provider from collecting your browsing data like details about which websites you visit.

Keeps your location private: Online entities can use your location and IP address for profiling and sending you targeted ads. Microsoft Edge Secure Network lets you browse with a virtual IP address that masks your IP and replaces your geolocation with a similar regional address to make it more difficult for online trackers to follow you as you browse.

Is free to use: Get 1 gigabyte of free data every month when you sign into Microsoft Edge with your Microsoft Account.
While the point of the Microsoft Edge Secure Network is to improve privacy, there is something that the privacy-minded will want to be aware of; Microsoft advises:
To provide access, we store minimal support data and access tokens which are only retained for the duration of the required service window.

A Microsoft account is required to access Microsoft Edge Secure Network and is retained to keep track of the amount of Microsoft Edge Secure Network data that is used each month. This data retention is necessary to provide 1GB of free Microsoft Edge Secure Network service and to indicate when the data limit has been reached.

Signing into Microsoft Edge with a Microsoft account will also turn on sync. With Sync your browsing data is available across all signed-in versions of Microsoft Edge. You can sync your browsing history, favorites, settings, form fill data including addresses and more, passwords, extensions, open tabs, and collections. Each synced data type may be turned on or off individually.
While Microsoft makes it clear that 1GB of VPN traffic will be available free of charge, the company has not yet given any indication of how to go about increasing this limit, or given any hint at pricing.
More information is available on the Microsoft Support site, but there is no suggestion of when the service could launch fully.