Microsoft Edge is getting an integrated crypto wallet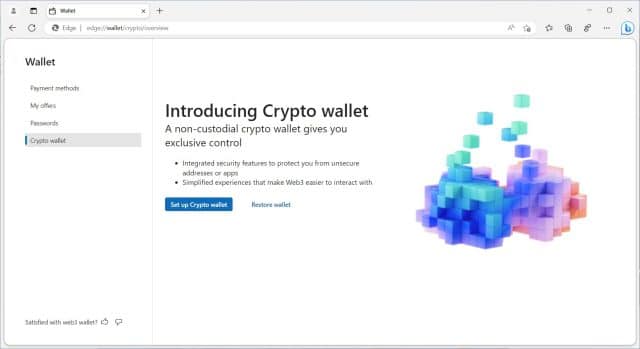 Microsoft is working to bring a cryptocurrency wallet feature to its Edge browser.
Known simply as "Crypto wallet" the feature is currently undergoing development and is being trialed on a test group of unknown size. Microsoft highlights the benefits of having the non-custodial wallet embedded in Edge, eliminating the need for a browser extension.
See also:
At the moment, it seems that the cryptocurrency wallet is only being tested internally, and there is currently now indication of when it may undergo public beta testing. While we can tell that the wallet will support multiple cryptocurrencies, there is not yet confirmation of precisely which.
The news came courtesy of serial leaker of Albacore, who shared details via their @thebookisclosed account:
In a couple of further tweets, Albacore shared more screenshots of what the crypto wallet currently looks like:
As can be seen from the screenshots, Microsoft washes its hands of responsibility for any funds that may be lost for whatever reason, as well as pointing out that it is unable to help retrieve lost passwords. Such is the nature of non-custodial or self-custodial wallets: the user bears full responsibility for them.