Windows 11 Canary Channel Build 25324 comes with an evolved widgets board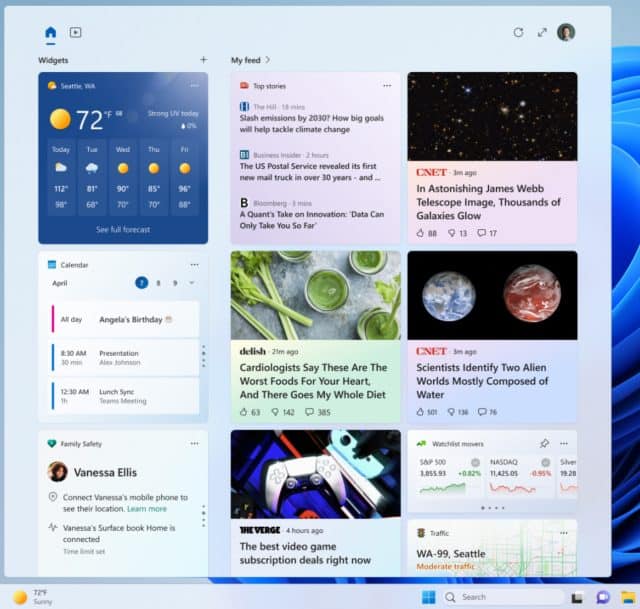 Yesterday, Microsoft released Windows 11 Build 23419 for Insiders in the Dev Channel. Today, it's the turn of testers in the cutting edge Canary Channel to get a new flight to play around with.
Windows 11 Build 25324 comes with an evolved widgets board that sports a larger canvas (up to three columns), with dedicated sections for widgets and feed content.
SEE ALSO:
This build also comes with the USB4 Settings Page that debuted in yesterday's Dev build, and the OS will now also warn on unsafe password copy and paste. This will show up for users who have enabled warning options for Windows Security under App & browser control > Reputation-based protection > Phishing protection.
This build also introduces SHA-3 support.
Other changes and improvements in this Canary Channel release include:
[Widgets]
Microsoft is beginning to roll out animated icons for Widgets on the taskbar. The animation triggers when you hover or click on the Widgets taskbar entry-point or when a new widget announcement is displayed on your taskbar. Currently, only a few weather and finance icons are supported.
[Search on the Taskbar]
Once you have access to the new Bing, the search box on the taskbar will include a button that opens the Bing chat experience in Edge. If you don't have access to the new Bing, the search box on the taskbar will feature a dynamic search highlight button. Microsoft is beginning to roll this out to Insiders, not everyone will see it right away.
[Input]
Microsoft has updated several simplified Chinese fonts and the Microsoft Pinyin IME to support GB18030-2022. With this update, you can enter and display characters from conformance level 1 or 2 via the additions to Microsoft Yahei, Simsun and Dengxian. Unicode Extensions E and F are now supported in our Simsun Ext-B font to meet the requirements for level 3.
[Settings]
As part of the deprecation of Microsoft Support Diagnostic Tool (MSDT) and MSDT Troubleshooters, Microsoft has begun redirecting some of the troubleshooters found under Settings > System > Troubleshoot and in other areas of the OS to the new Get Help troubleshooting platform.
If you have multiple cameras that support Windows Hello, you can now select your preferred camera under Settings > Accounts > Sign-in Options.
[File Explorer]
Made some changes which should noticeably help improve the performance of the "calculating" phase when sending a large number of files at once in File Explorer to the recycle bin.