Apple unveils iPhone 15 and 15 Plus: New design, 48MP camera, USB-C and more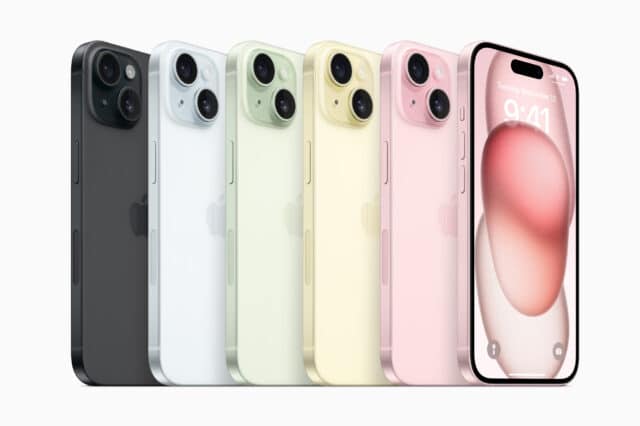 As well as the iPhone 15 Pro and Pro Max, Apple today also unveiled the iPhone 15 and iPhone 15 Plus. Both devices come with an industry-first color-infused back glass with a textured matte finish, and a new contoured edge on the aluminum enclosure.
The two models also feature the Dynamic Island, introduced in the iPhone 14 Pro last year, and an advanced camera system designed to help users take high-quality photos of everyday moments. A powerful 48MP Main camera enables super-high-resolution photos and a new 2x Telephoto option, offering users three optical zoom levels.
SEE ALSO:
Kaiann Drance, Apple's vice president of Worldwide iPhone Product Marketing, stated, "iPhone 15 and iPhone 15 Plus represent a huge leap forward with exciting camera innovations that inspire creativity, the intuitive Dynamic Island, and features like Roadside Assistance via satellite that make a real difference in users' lives."
The new 48MP Main camera features a new 24MP default for super-high-resolution photos, a new 2x Telephoto option, and next-generation portraits with sharper detail, more vivid colors, and improved low-light performance.
For the first time, users can take portraits without having to switch to Portrait mode. When there's a person, dog, or cat in the frame, or when a user taps to focus, iPhone automatically captures depth information, so users can turn photos into stunning portraits later in the Photos app on iPhone, iPad, or Mac.
The Dynamic Island feature provides an innovative way to interact with important alerts and Live Activities.
The new iPhone models will be available in five new colors: pink, yellow, green, blue, and black, and in 6.1-inch and 6.7-inch display sizes. Both devices will be available in 128GB, 256GB, and 512GB storage capacities.
Pre-orders for the new models will begin on Friday, September 15, with availability starting from Friday, September 22. Pricing starts at $799.