iOS is more profitable ad platform than Android, but for how long?

Ad network reports about mobile platforms are a dime a dozen. Many boast about iOS presence and the oodles of eyeballs. Opera has joined in, releasing their first State of Mobile Advertising report, which, for the second quarter of 2012, focuses on mobile advertising revenues. The browser maker puts all the big players -- Android, iOS, BlackBerry, Symbian and Windows Phone -- under the microscope.
Like other ad network reports, Opera's puts iOS at the top of the revenue food chain, with an average eCPM (effective cost per thousand impressions) of $2.85. iOS' main rival, Android, follows, with average eCPM of $2.10. On the tablets, iOS is even more profitable than on the smartphone market, with a $3.96 eCPM.
If we look at these numbers alone, it would make much more sense to invest into iOS rather than Android. But as a whole, iOS isn't that far off from Android with the average eCPM of $2.49, making it just $0.39 more profitable than the Google operating system. According to the numbers, if you're an iOS developer and you focus on both iPhone and iPad, you're losing money, as each device is more profitable on its own, with iPad having the best potential.
We've seen how Android and iOS are doing, but what about the rest of the pack? The results are disappointing for other platform owners, especially Microsoft. Windows Phone is at the bottom of the pack, with an eCPM of $0.20, 10.5 times worse than Android and 12.45 times less than iOS.
BlackBerry and Symbian do three times better than Windows Phone, with an eCPM of $0.64 and $0.59, respectively. Of the two, only RIM has a future as even Nokia is abandoning Symbian for Windows Phone. My colleague, Joe Wilcox points out that the Nokia – Microsoft partnership isn't on the right course with the situation likely to worsen if they don't take action. The new BlackBerry platform is delayed until Q1 2013, which is still a long way to go for a company faced with numerous problems.
HTML5 and Video Ads are the Most Popular
The report also highlights a trend of ever-increasing HTML5 rich media and video ad implementations, which rose from 28 percent of all online advertisements in January to 51 percent in June 2012, an 82.14 percent increase over a six-month period. Video advertisements have grown from 6 percent to 13 percent of online ads, a 116.66 percent increase. Two methods of delivering ads have grown in importance in just six months, while the other two have seen a major fall.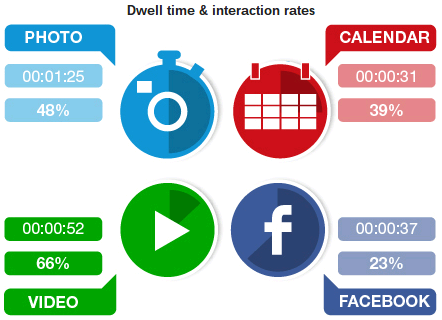 The standard advertisement methods are falling -- from 35 percent to 21 percent over the same period, a 40-percent decline in just half a year, while expandable banner ads have decreased by 51.61 percent, down from 31 percent of all online ads in January to 15 percent in June 2012.
There's a shift in focus from advertisers, which benefit more from HTML5 rich media and video ads than they did half a year ago, a very narrow timeframe. The loss of standard and expandable banner methods is likely to accentuate considering the very steep decline they have seen since January.
Pick the Right Target through Ads
So what and where should the ad target be? It's very important to make the right call by choosing the appropriate field and destination of your ads. So far, the most profitable field is Business & Finance, which generates the most revenue per impression (30.84 percent) compared to any other category. At a distant second comes News & Information, with just 14.67 percent. North America is the biggest ad request generator, at a whopping 73 percent, with the European Union at just 13 percent and Asia Pacific closing in at 10 percent of ad requests. Targeting North Americans in the Business & Finance field seems to be the right call right now
It remains to be seen whether Windows Phone 8 will change the poor ad revenues that the current Microsoft operating system is facilitating, while we all know BlackBerry is declining. For the best bang for your buck the right plaform is still iOS, but Android isn't too far behind and with 54.9 percent of North American smartphone users owning an Android device the state of the Google ecosystem is likely to improve over time, while iOS has already reached its peak.